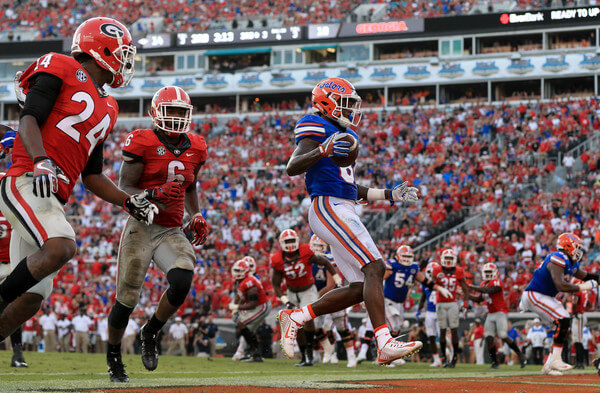 Not the best way to start the "100 days til kickoff" countdown.
Star wide receiver Antonio Callaway has been cited for possession of marijuana. The report stems from a traffic stop in the wee hours of Saturday morning, and a court case has been set for early next month.
Callaway was pulled over for a seat belt violation, during which the police officers smelled marijuana and searched the car for it. The cops found approximately seven grams in Callaway's pocket, and another five and a half grams in the car. Callaway admitted to owning the marijuana and was given a citation but was not arrested.
This is not the first time Callaway has gotten into trouble with marijuana. He was previously kept away from the team for a large portion of the 2016 offseason for a sexual assault he didn't commit, although he did admit to being "so stoned I didn't want to have sex with anybody" in that case.
This figures to be a one game suspension at most, as marijuana possession is hardly one of the worst offenses a person can commit. The problem is that in this particular case, it could be fatal. Florida opens up the 2017 season against Michigan, ending a time honored tradition of kicking off the season against a sacrificial lamb. And while Michigan loses practically all of its production from a year ago, teams are best equipped to beat them with all hands on deck.