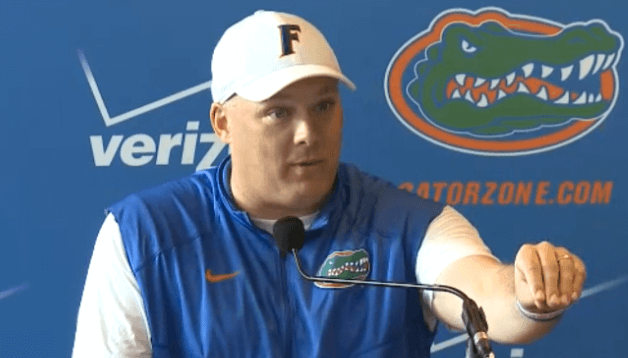 There wasn't a whole lot Jim McElwain's defensive coordinator could do on New Year's Day. Michigan's offense was strolling up and down the field as casually as teenagers make their way through their high school hallways, and Geoff Collins was only able to watch in frustration as the Wolverines racked up over 500 yards in a stunningly easy 41-7 Citrus Bowl victory over the Gators.
That's not the kind of performance Collins was imported to oversee, especially not after the drama his hire caused. Take a moment to remember how snatching him away from Mississippi State hurt Dan Mullen enough to call his DC's departure a "lateral move" (it wasn't) and point out that his defense was burned on multiple occasions in 2014 (it was). But lost among the jibber-jabber was the fact that Collins, aka the Minister of Mayhem, came to Gainesville with a pedigree of coaching nasty, physical defenses.
And for the most part, he delivered on that front. The Gators' defense was physical last year, and the results usually reflected that. Florida held five of its eight SEC opponents to 10 points or fewer, and held a sixth to just 14. So think about that: the Gators limited three quarters of their SEC competition to 14 points or less. That's enough of a majority to declare that the norm, so it's fair to say that Geoff Collins did indeed coach a dominant defense.
However, there were also some moments where the defense looked lost. A typical argument to make in favor of Collins here is that he was a first year coordinator, and it's a fair one to make after early season struggles against East Carolina (346 yards through the air) and Tennessee (416 total yards). The argument gets even stronger upon noting that Vernon Hargreaves did not play against ECU, and that Jalen Tabor did not play against Tennessee. So despite the parade of missed tackles, blown assignments and coverage mixups, as a mini-verdict for those two games: no, I can't fault Collins at all.
The questions about Collins began to arise against LSU in October. Sure, go ahead and blame Treon Harris if you want, but the Tigers racked up 423 yards of offense, including 50 on a Hail Mary at the end of the first half. Then there was the South Carolina game, where Florida again got beat deep… with a 17-0 lead, and the knowledge that the Gamecocks were going to go deep with everything else they tried being stuffed and running out of time. And then there was the SEC Championship Game, where Alabama shredded Florida for 432 more yards, including a pair of deep balls to Calvin Ridley over Vernon Hargreaves.
Of course, the season ended with the worst defensive performance of all- the aforementioned debacle in Orlando, a game where Florida's "defense" nearly gave up enough yards to form a new continent. Jehu Chesson made toast of Hargreaves in that game, twice with inside head fakes to free himself outside and once more with a nice stop and go. And the Gators missed several more tackles in that game, with everybody from Hargreaves to Jonathan Bullard to Dante Fowler's ghost contributing to that. With a month to prepare, no less. Say what you want about the up and down regular season, but that really doesn't do much to validate confidence in Collins.
None of this is to say that Collins "can't coach," is a "bad defensive coordinator," or wasn't "worth the hire." These criticisms are aimed at the defensive coordinator of the nation's 6th ranked defense last year, and some of the blame has to lie on the players for failure to execute. And none of that is to say he's on the proverbial hot seat entering 2016, either; for a coordinator to be in jeopardy requires the "do better or else" ultimatum former Georgia DC Willie Martinez faced entering the 2009 season, a situation that arises only after years of ineptitude. The overall body of work for Collins' first year in Gainesville has to be seen as a good one, and insinuating otherwise ranges from eye-raising to downright ridiculous depending on the degree of adamance.
But Collins also knows two things heading into his second year.
First, his defense has lots of room to improve, both in terms of the stats as described above and in terms of his players' fundamentals/technique, which don't always reflect in the stats if the offense chooses to attack a different piece of the defense. Missed tackles (Tennessee), dropped interceptions (Georgia), messed up assignments (Michigan) and getting burned deep (Alabama) all became patterns, most notably in the games in parentheses. Sometimes they cost the team (Michigan and Alabama) and sometimes they didn't (Tennessee and Georgia). But you can never know when your team will be able to survive these types of mistakes and when they won't, and so in order to be safe, it's imperative that these things get cleaned up. Plus, you know, that's his job.
Second, Collins knows that he took over a defense that was previously led by a highly regarded defensive mind. He's a very smart defensive mind, and after what amounted to getting his feet wet a year ago, now it's time for him to prove that. The reputation he'll have when he someday interviews for a head coaching job will be built more on what he does this year. Now he has a team that's a bit more his, so the results going forward will be more reflective of him as a coach. Translation: how his defense performs matters more to him personally than it did last year.
I like Collins, and I know he won't stay at Florida for very much longer. I obviously want him to succeed now because he's currently a Gator, and his success would be the Gators' success, but also because on an objective fan of the game of football, I enjoy watching the aggressive style of defense he oversees. So I'm rooting for him going forward.
This is the big time for Collins. Now that he's got more of his recruits, and key returning players like Tabor, Caleb Brantley, Jarrad Davis and Cece Jefferson who are used to what he does, let's see what he and his defense can really do.
In other words, it's go time.