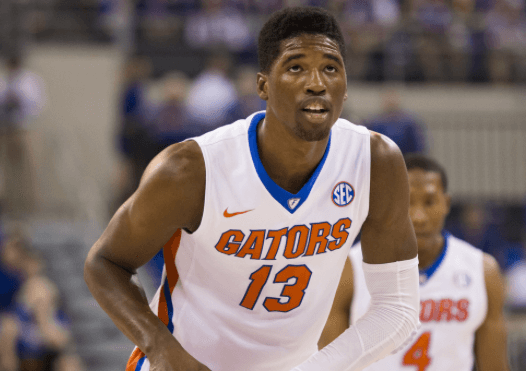 For those of you who are not aware of the current situation, Florida's basketball team is hot right now. Really hot.
The Gators had never beaten three straight opponents by 30 points or more in school history. The Gators had never beaten Kentucky by more than 20 in school history. And this last point is more subjective, but the Gators had probably never gone from such a miserable low point to such a euphoric high point in the span of fifteen days in school history.
Florida has engineered this turnaround with a lot of different pieces, of course, but it can all be traced back to one simple area of the game: offense. The Gators' losses to South Carolina and a sub-.500 Vanderbilt team were due in large part to unsuccessful shooting beyond the arc and just plain bad offense, period. In those two losses, Florida's defense was fine, for the most part, but bad shot selection, no ball movement and giving up points in transition killed the Gators both times. You you may get away with it once or twice, but you can't win many games scoring under 70 points.
The common denominator of Florida's last four games? They shot the damn lights out. A school record nineteen made threes in a shockingly easy 106-71 beatdown of LSU was followed up by eight more against Oklahoma, eleven more against Missouri and ten more last night. Oh, and along the way, Chris Chiozza notched the school's fourth ever triple double against Mizzou. Unselfish play led to better shots, which led to more of them going in.
And that's great when it works. If Florida can drop in ten or eleven three balls a game, there's not a team in the country that can beat them. The Gators led mighty Gonzaga for most of the game despite making just two three pointers before their lack of depth caught up to them; had the Gators finished 5-19 from three point land instead of 2-19, they would have beaten the nation's current #1 team.
However, that also brings up a problem. Florida needs more productivity from their big men on nights when shots aren't falling, and they still would have beaten Gonzaga if they'd gotten it. Without John Egbunu's 12 points against the Zags, Florida isn't even in that game. Kevarrius Hayes didn't do much that night, though, and so the Gators didn't get any help when Egbunu was resting. Instead, that was when the Zags launched their game-clinching run.
Both Hayes and Egbunu have developed since then, though, and so I'm not writing this to point any blame at either of them. They're two tough kids who've grown into man beasts on the board and can finish inside. It's just that they haven't really gotten the opportunity to shine since their teammates have been on fire with their outside shooting lately, and them playing well has been lost in the shadow of things like Chiozza's triple double and the nineteen made threes in one game.
But I say this without any doubt: there's going to come a time in the near future where the Gators struggle to shoot from beyond the arc. That's just how it goes with teams that are as streaky as Florida. That time may come tonight against Georgia, it may come in a week or two, or it may come in the NCAA Tournament.
Whenever that time comes, Hayes and Egbunu have to be ready to shine. And I think they will be.