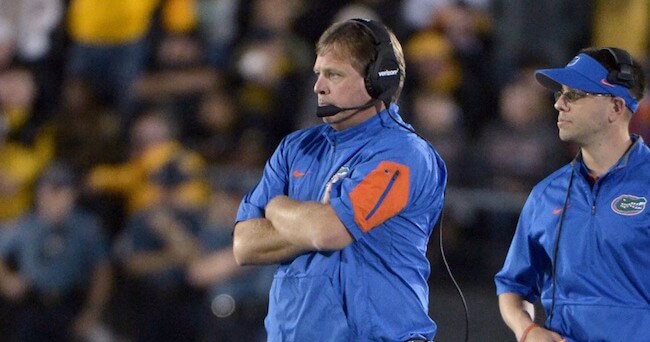 In order to be best equipped to move forward, one must be fully aware of and familiar with the past. So one final time, let's go back and revisit it before we move forward.
You know what I mean by "it," too. The state of the Gator football program in December of 2014, when Will Muschamp was fired and Jim McElwain took over. A program that went 10-13 in the second half of Muschamp's ill-fated tenure in Gainesville. A program that brought in some talented players, but consistently underachieved.
Most appropriately for our purposes here, it was a program that was nearly completely devoid of talent and experience when it was handed over to McElwain. Florida began spring practice in 2015 with just six, count 'em, six offensive linemen, one proven running back in Kelvin Taylor, one semi-proven receiver in DeMarcus Robinson, and no real quarterback to speak of. Yes, McElwain inherited a solid defense, but that defense had lost its best player in Dante Fowler. And yes, Will Grier developed into a star in his short time in Gainesville, but his rise to stardom has to be fairly credited to McElwain given that he never took a snap in Muschamp's tenure.
Essentially, Will Muschamp was as bad for the Florida Gator football program as any coach could possibly be. I'd even argue he was the worst coach in Gator football history. Sure, there were coaches with worse winning percentages than the .571% Muschamp finished with, but you'd have to go back to the late 1970's and early 80's to find one (Charley Pell), and the Florida program was little more than a glorified Vanderbilt at that time with zero SEC championships to speak of and absolutely no expectations of winning one. And before Pell? You'd have to go back to the 1950's to find a Gator coach with a worse winning percentage.
But reliving all this isn't done with the intent of beating a dead horse. Instead, realizing the extent of Muschamp's ineptitude is critical when judging the job Jim McElwain has done so far. No Florida coach has ever done less with more than Will Muschamp, and McElwain just waltzed in, melded the shattered pieces of the program together and turned it into SEC East winners in his first two years.
And that's something that's to be commended. No coach has ever guided a school to the SEC Title Game in both of his first two seasons, which makes it even more amazing when you consider the list of names who had the chance to do so and didn't. That list includes Nick Saban twice (at LSU and Alabama), Urban Meyer, Philip Fulmer, Mark Richt, Gus Malzahn, Kevin Sumlin, Les Miles, Gene Chizik and Bobby Petrino. I count three surefire Hall of Fame coaches in there, and maybe as many as five depending on how the careers of Sumlin and Malzahn progress going forward. So, yeah. Pretty impressive.
Yet none of that is to insinuate that where Florida has been the last two years is acceptable as a ceiling. It's acceptable for a transition season, but by no means is that the best the Gators should ever be. At some point down the road, McElwain will have to win the SEC and win or at least reach a New Year's Six bowl in order to keep his job for the long term. That point is not necessarily this year, or even next year, but if we're entering the newest Roaring 20's without a single SEC Title under Mac's watch, there's going to be a problem. And that, of course, is assuming the Gators plateau at 10-4 and don't actually take a step backward the next year or two, or that point will come much quicker than 2020.
Now, is McElwain on the hot seat? Absolutely not. To put a win total on his 2017 agenda in order to keep his job is borderline insanity, and to even insinuate that he has to win X number of games or beat a certain team, with the alternative being the dreaded "or else" is similarly ridiculous. It's unfortunate that I have to say this, but there are some fans who claim to be losing patience with him. So I'll state this very clearly to McElwain's critics: there is no level of ineptitude the 2017 Gator football team could sink to that would result in McElwain being fired before 2018. Even in the apocalyptic scenario where Florida goes 0-12 this year, he'll be back in 2018.
There's a middle ground that has to be seen here. McElwain has done a great job so far, but now comes his true test. He's got his players, a more established system, and veteran assistant coaches. Quarterback Feleipe Franks was intentionally kept off the field last year so he could grow and develop. His three most prized skill position signees- Tyrie Cleveland, Antonio Callaway and Jordan Scarlett- have similarly taken strides since last year. And the defense, while young, consists of guys McElwain specifically wanted, went after and then signed on the recruiting trail.
McElwain's got everything he wants now. There's no longer the excuse of Will Muschamp's obvious deficiencies holding him back. This is his team, with his personnel, and it will function in his style, and while he's not obligated by any realistic fan to do anything in his third season, the time has come where any failure his team suffers will be fairly attributed to him. Or to spin that more positively, he's broken free of the handcuffs Muschamp placed on him; let's see what he can do without limitations.
And now that McElwain has had ample time to load his team up for a title run, it's time to see him take that next step.