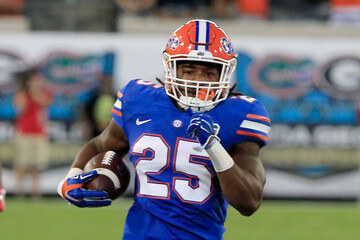 On a Monday night in February 2015, two nights before National Signing Day, Jim McElwain gained a big time pickup in tailback Jordan Scarlett. That night began a roller coaster ride for Scarlett at Florida.
Part of the genius that made up former Gator coach Will Muschamp was his refusal to even recruit Scarlett, a unanimous four-star running back with worlds of potential. But when Jim McElwain came along and showed some interest, he knew where he wanted to take his talents. He just didn't know how much he'd get to show them off.
Scarlett got some carries in garbage time against New Mexico State, and a few more against East Carolina the following week, but never really made another impression on anybody after that- until mid-October. We all remember what happened: Will Grier got suspended for using PED's, and that gave Florida the unenviable double task of preparing a new quarterback out of the blue while simultaneously working the defense nonstop to try and stop Leonard Fournette. The only true way to prepare for Fournette was to find someone who could mimic him, and as it turned out, Florida had that someone buried on the depth chart.
The Gators could not stop Fournette that night in the Bayou, but Jordan Scarlett did earn a heaping of praise for the job he did playing the role of Fournette on the scout team offense. His impressive performance that week even earned him a carry, which he nearly scored on. Scarlett then became a featured part of the offense, ripping off a 60 yard run against Georgia and a 20 yard run against Vanderbilt before eventually fading back into the background.
And then came the Citrus Bowl, a disaster of a game that Scarlett did not play in because he got caught smoking marijuana in December. After that incident, a strong freshman season by Jordan Cronkrite, plus the ensuing departure of Kelvin Taylor, McElwain asserted that the running back position was wide open heading into 2016.
Scarlett knows he made a mistake. He's admitted as much. "I'm just looking forward to putting that behind me and doing good things," he commented back in January. He showed some positives but negatives as well.
So now let's fast forward a few months. Mark Thompson replaced Taylor as the non Jordan running back in the Gators' tailback rotation, and appeared to be the favorite to start at running back due to his power and speed. And when LaMical Perine quickly asserted himself into the offense and earned some carries, it figured to cut into Scarlett's impact even more.
So Scarlett certainly had a lot of work to do to become that featured back in an offense that looked like it had four good ones. And slowly but surely, he did that work and got that distinction.
For four games, Scarlett shared carries with Cronkrite, Thompson and Perine. All four of them had their moments in the sun, but none of them really proved to be head and shoulders above the rest. The talk in Gainesville was about a four headed rushing attack that could take the pressure off the passing game, and with other parts of the offense that warranted a lot more worry, that didn't seem like such a bad thing.
Then came the Vanderbilt game. Austin Appleby struggled against a solid Commodore defense, and thus the offense did as a whole. But the lone bright spot in that anemic offensive performance was Scarlett, who saw an opportunity to win the coaches back over and seized it. Scarlett ran like a man possessed that day, churning out a team high 55 yards on the 12 carries he got against that solid defense. Many of those yards were after first contact- or what would have been first contact if Scarlett hadn't made defenders miss entirely. Most notably, Scarlett juked a defender in the backfield to avoid a two yard loss before trotting in for a four yard touchdown.
The Missouri game only solidified Scarlett's status as alpha back. Perine actually wound up with five more rushing yards (106) than Scarlett (101) thanks to a 59 yard run in mop up time- and make no mistake, Perine appears set as a respectable second in command tailback- but it was Scarlett who got the key carries when the game's outcome was still in doubt. And Scarlett rushing for over 100 yards against the starting unit of an SEC opponent, even one named Missouri, all but locks him up as this team's featured back. The Gators may have four good ones, but every team needs that one guy to count on in crunch time.
Now Scarlett and Florida will head back out to Jacksonville, the site where Scarlett first broke out onto the scene a year ago with that long run against the Bulldogs. Georgia's defense hasn't been bad against the run so far this year, but the Gators' offense is balanced by nature and the running game has proven much more dependable than the passing game, even with Luke Del Rio at the controls.
There will be a time when the Gators face a third and one to keep a critical drive going, maybe even to salt the game away. That's when the leader of this offensive unit will have to step up and will his way through the line of scrimmage against what's sure to be a stacked Georgia front in this situation.
And against a team with a recent history of being lit up on the ground against the Gators, the time has come for Scarlett to put his past to bed and be that leader.