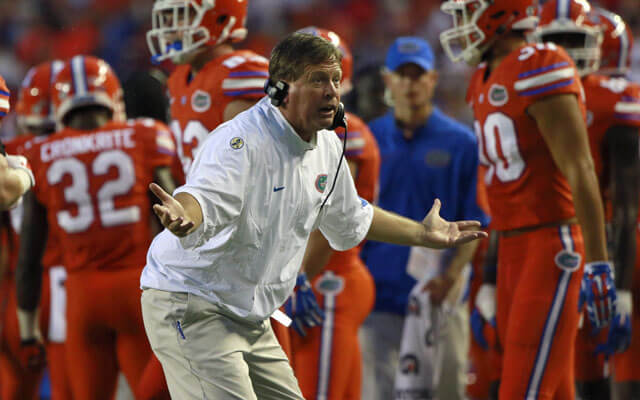 Though it may feel like forever ago given all that's transpired since, it was just two months ago that Florida lost nine players due to their legal misadventures with credit cards. Each of the succeeding layers of the story that were uncovered only made the situation look worse and worse. And when the 2017 season turns from a living nightmare into an aggravating chapter of history, it will almost certainly be the first thing people point at in an attempt to explain away the failure.
As it stands right now, many of those who support Jim McElwain are quick to point it out in their efforts to absolve him of blame for the Gators' ugly 3-3 start. And on the surface, it makes sense. I'll be the first to admit that losing nine players from an 85 man roster, including two firmly entrenched starters, is never a good thing. But it's time to bust the myth that Mac's problems- and thus, the Gators' problems- stem from them. Because they don't.
To refresh your memories, the two starters involved in the case were star wideout Antonio Callaway and solid, but by no means great, running back Jordan Scarlett. The other seven players were Keivonnis Davis, Ventrell Miller, James Houston, Richerd Desir-Jones, Kadeem Telfort, Rick Wells and Jordan Smith. Five of those seven had never played a down, and only Davis had played more than four games.
As it turned out, Florida would find more than adequate replacements for those two starters. Freshman running back Malik Davis has rushed for 506 yards in five games of action, plus one carry against Michigan, which means he is well on his way to surpass the 889 yards Jordan Scarlett rushed for as the featured back last year in one or two fewer games, pending Florida's bowl eligibility. And while not the purebred receiver Callaway is, freshman Kadarius Toney is even more naturally explosive, while Tyrie Cleveland is taller and more of a physical matchup problem than him.
Florida is also able to replace those two by committee with its depth at both positions. Despite being overshadowed by Davis, LaMical Perine has totaled a healthy 272 yards on 63 carries so far this year, with Mark Thompson proving to be a relatively strong third string running back with the few opportunities he's had in his career.
And even with the injuries to Cleveland and Toney, Florida isn't hurting for bodies at receiver, either. Wideouts Freddie Swain and Josh Hammond and tight ends DeAndre Goolsby and C'yontai Lewis have, for the most part, done well when given the chances to do so. That gave Florida four adequate weapons to utilize without its top three in the mix, and that was before Dre Massey finally gave us a taste of what he can do.
So the talent to replace Callaway and Scarlett is there. We have more proof in the running backs' cases than the receivers', and that's because there's another component needed to showcase the talent at receiver that Florida doesn't have, but the talent is there at receiver, too. Which is as tailor-made of a segway into what you're about to read as possible.
Let's imagine for a moment that the credit card disaster had never happened. What issues would having those nine players solve?
It wouldn't solve the Gators' decade-long struggles at quarterback. Feleipe Franks is now the sixth player to have taken a snap at QB for Florida under Jim McElwain. None of the six have looked particularly great for more than one game, and that game was played two years ago with a guy named Will Grier that Florida no longer has.
Franks consistently misses reads, stares down receivers, and is woefully inaccurate. Worst of all, he seems to have no feel for the position, which not even the mightiest of cannons for arms can compensate for. A common excuse is that he's raw as a redshirt freshman, but that's even worse. He was redshirted for the purpose of learning and improving for a year behind the scenes before being thrown into game action, and this is what we get? Meanwhile, up in Athens, true freshman Jake Fromm looks leagues better than Franks despite not having that redshirt year to grow.
Franks, though, is no exception. By no means did Treon Harris look like a Heisman winner in 2014, but he certainly looked like a serviceable SEC quarterback in Kurt Roper's offense during Will Muschamp's last year. It was only in 2015, when McElwain came along, that Harris really began to struggle. He went from replacing Jeff Driskel to singlehandedly save the Gators in Tennessee in 2014 to not being able to hit a barn with a pass by the Vanderbilt game the following year, and it culminated with possibly the single worst performance by a QB in school history- or at least one of them- against FSU that Thanksgiving weekend.
We're two and a half years into his tenure, and we haven't seen the slightest sign that McElwain is the QB genius he was hailed to be. This is, of course, despite McElwain being a self-proclaimed quarterback developer who could coach himself to a win with his dog Clairabelle at QB. Maybe the issue is that McElwain isn't the brilliant quarterback developer he claimed he is. Maybe the issue is McElwain hasn't had good quarterbacks. Maybe it's some combination of both.
In any case, how many of those suspended players were quarterbacks?
---
It wouldn't solve the Gators' issues with play-calling. Doug Nussmeier is the one of the worst I've ever seen at adjusting to what a defense does, and we've gotten to see this on loop for two and a half years.
As I've detailed before, the one thing Nuss does well is craft successful opening drives. This is because he has an entire week to sit at his desk and draw it up. He then calls that first drive with confidence because he's edited and double checked it throughout the week. More often than not, it works well. The problem is that once defenses see that opening drive, they adjust, forcing Nussmeier to make adjustments of his own. And he can't do it. Once things go off script, Nussmeier is completely out of his element- as we see almost every week
Making matters worse, Nussmeier often gets overly conservative and tries to run out more clock than any offense possibly can and runs the same five or six plays over and over again. But this isn't a new problem that suddenly arose once the nine players got suspended. In fact, statistically speaking, this is the best offense he's had at Florida. Under Nussmeier's stewardship, Florida's offense ranked 112th in 2015, 116th in 2016, and midway through 2017, it sits at 106th out of 130 FBS teams.
I've heard varying theories from those inside the locker room as to why the offense has remained so inept since Mac's arrival in 2015. Some swear that Mac micromanages Nussmeier, and he can't get anything done with him constantly looking over his shoulder. Others say Nuss is too afraid to do anything with a quarterback he doesn't trust. Still others say that Nussmeier is simply a bad offensive coordinator.
In any case, how many of those suspended players were successful offensive play-callers?
---
It wouldn't solve the Gators' overall game-planning and decision making woes. And that goes for McElwain, Nussmeier, special teams coach Greg Nord and defensive coordinator Randy Shannon.
For some reason, Shannon never placed a spy on the Aggies' fleet-footed QB, Kellen Mond, and he burned them for 52 yards on the ground. Included in those 52 yards was a ten yard touchdown run that the Gators looked completely bewildered by. Yet Shannon's mistake pales in comparison to McElwain's late game blunder.
Mac's decision to punt on fourth and less than one against the Aggies directly led to Christian Kirk's big return and Daniel LaCamera's ensuing game winning field goal. Had he elected to go for it, Franks could have simply fallen forward behind his strong offensive line for the first down and the Gators could have burned another few minutes off the clock before punting from farther away from their own goal line, or better yet, gotten more first downs and ended the game with the ball. Instead, Johnny Townsend kicked the ball right to Kirk, and the rest is history.
Many blame that big punt return on Townsend for kicking the ball right to Kirk. Others blame it on McElwain for not going for it on fourth and two feet and trying to extinguish the Aggies' hopes with a simple QB sneak.
In any case, how many of those suspended players were coaches who could have prevented these letdowns?
---
It wouldn't solve McElwain's inability to manage the clock. Mac has now botched end-of-game/half sequences in egregious manners twice this year alone with the kind of tactical errors that most coaches don't make more than once in their careers.
With :36 remaining in a tie game against Tennessee, Florida had the ball at its own 34 with two timeouts following a seven yard run from Franks. All Florida needed was 30 yards to get into Eddy Pineiro's range for a game winning field goal. Instead, McElwain elected to let the clock run- and allow 21 more seconds to bleed off the clock before the ball was snapped again, after which Thompson fell forward for three yards and a first down. Then McElwain called timeout. That left Florida with nine seconds, one timeout and exactly three yards closer to either field goal range or the end zone than it had been 27 seconds earlier. Only because Franks then hit Cleveland on a miraculous walk off 63 yard bomb that Tennessee failed to even consider defending against did Florida win, and that was despite McElwain's failure to realize that gaining 30 yards in about 30 seconds or so would win his team the game. More often than not, this kind of clock managing blunder will lose you the game.
And he did it again last Saturday against the Aggies. With the ball at A&M's 47, a timeout in his pocket and six seconds to go in the half, Mac ordered a Hail Mary looking play where Franks just heaved one towards nobody in particular, eating up all six seconds and ending the half. Most people who know the game of football would have considered it a good idea to throw a quick slant for seven or eight yards to set up a realistic field goal for Pineiro. But not McElwain. In fact, McElwain didn't even know he had that timeout until the postgame press conference.
In any case, how many of those suspended players were head coaches who would have overseen this end-of-half sequence correctly?
---
By no means am I saying that the whole credit card incident is immaterial. It sucks having two of your most proven players taken away from you, particularly when it's for something as felonious and downright stupid as credit card fraud. Of course this team would be in better shape if it had those nine guys.
But the issues we're seeing this year aren't new. Florida is losing football games because of the same issues that have haunted them since Jim McElwain arrived, and in fact since the departure of Tim Tebow. The Gators lost plenty of games with McElwain at full strength in his first two years (or at least full strength minus Grier). If Florida had gone 12-2 with Sugar and Peach Bowl wins and top 25 offenses in 2015 and 2016, it would be different, but that's not what happened. So we don't get to look at the struggles this team is facing right now as anything other than continued patterns of ineptitude under Mac.
I'm not calling to fire McElwain, at least not yet. All I'm saying is that I'm not fooled by the smoke screens or excuses. And wherever you as the individual reader stands regarding McElwain, I pray that you aren't either.