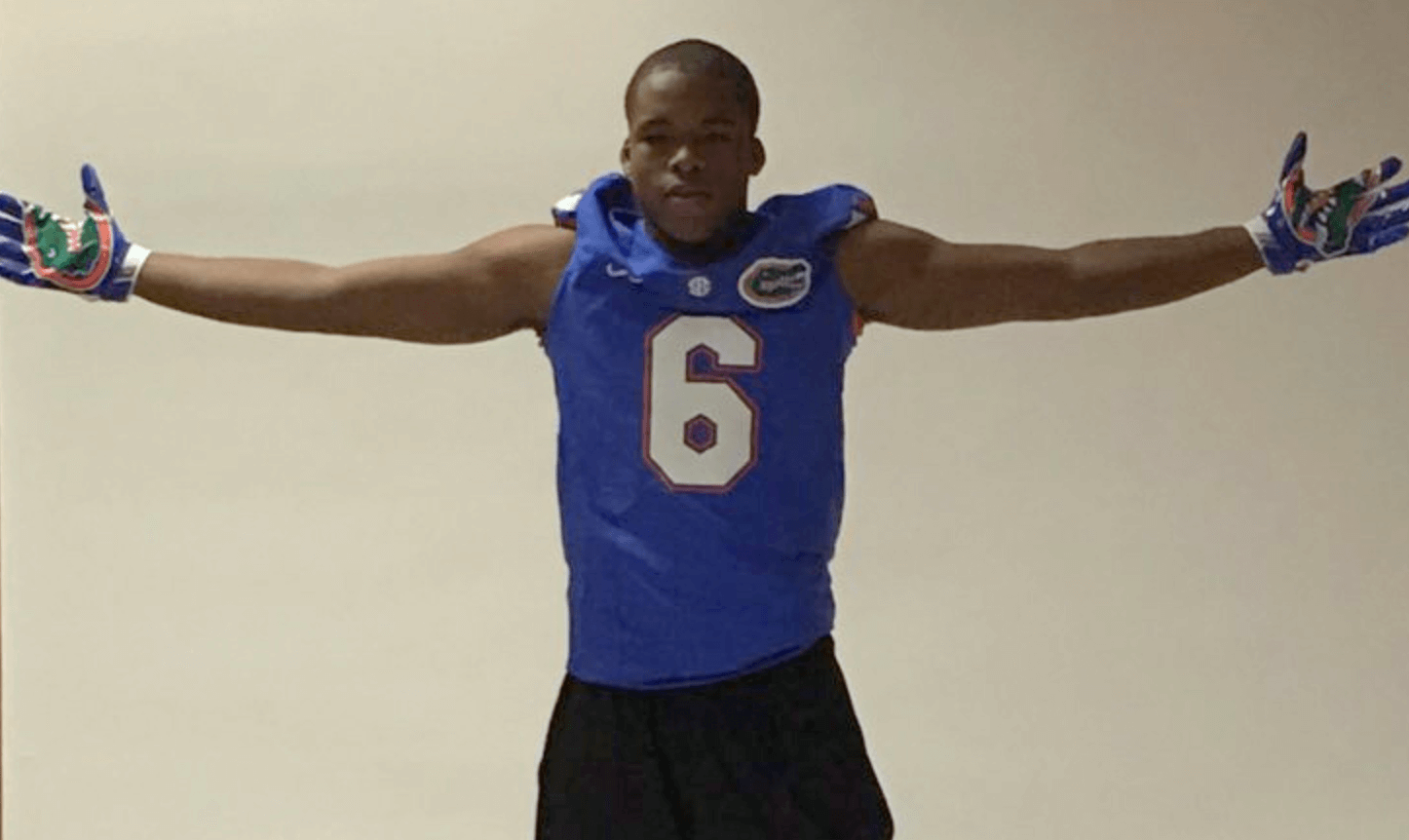 Florida enjoyed a great start to its week on the recruiting trail when it landed Curtis Dunlap on Tuesday. But that may wind up being a drop in the bucket by the end of the week; tight end Kyle Pitts is set to commit today, and the Gators' annual Friday Night Lights camp is tomorrow.
Speaking of Friday Night Lights, Jim McElwain and his staff have amassed quite a list of participants. As of now, here are the list of attendees (which as always, is subject to change):
2018 QB Justin Fields (uncommitted)
Perhaps the biggest QB target Florida has sought after in years will be on hand tonight. That's all you really need to say in terms of a synopsis for him. FSU and Georgia are also going all in with him, and he seemed to enjoy his visit to Tallahassee last night. But the fact that he was willing to leave Tally so quickly to come to Gainesville- after initially being set to visit Tuscaloosa this weekend- leaves me with a good feeling about him.
2018 QB Matt Corral (uncommitted)
Matt Corral is one of the best QB's in the class. The former USC commit is down to Florida and Georgia, with a visit scheduled to Athens next week, and will likely commit by the end of the summer. Here's Florida's chance to lock him in.
2018 RB Dameon Pierce (uncommitted)
For those select few who like projecting starters three years into the future: here's your dark horse starting running back for the 2019 season opener against the Miami Hurricanes. Pierce, a former Alabama commit, is thought by many to be a Georgia lean, but with Zamir White's commitment to the Dawgs, he may soon find himself looking for a place where he can be a big fish in a small pond. Florida gets a golden opportunity to land its second tailback of the 2018 Class.
2018 RB Iverson Clement (committed: Florida)
Clement knows he's going to be a Gator. Now, he's out to test his skills against the nation's elite and do some recruiting. And the more committed players in attendance to be in uncommitted players' ears, the better.
2018 RB Leddie Brown (committed: West Virginia)
Florida isn't likely to land a third running back in this class if Pierce does indeed commit, but Brown being willing to attend is at least worth a second of the coaching staff's time.
2018 WR Jacob Copeland (uncommitted)
The Gators are widely thought to be Copeland's favorite school, and now they have a chance to solidify that status with him. The Pensacola receiver has an endless offer list that's highlighted by Alabama, Clemson and Auburn, and the skill set that earned him all those offers is why he's one of Florida's most highly sought after recruits in this class. He's set to make his decision at the Under Armour game next winter.
2018 WR Tyquon Thornton (uncommitted)
It's between Florida and Miami for Thornton, a consensus three star receiver from the Hurricanes' backyard. It feels like a coin flip for his services, but it would be a nice pickup for the Gators if they can land him.
2019 WR John Dunmore (committed: Florida)
Here's another guy that's here to work out and recruit. I'm looking forward to seeing how he fares against elite talent.
2018 WR Ja'Marr Chase (uncommitted)
Chase appears to be down to TCU and LSU, but it's encouraging that he's at least willing to make the trip to Gainesville, according to SECCountry. Then again, he may just be coming to test out his skills. Don't count on landing a commitment him.
2019 WR Maurice Goolsby (committed: Florida)
Same as Dunmore. The junior is here to recruit and work out.
2019 TE Keon Zipperer (uncommitted)
An early riser in next year's class, Zipperer could be the steal of the cycle for somebody. And Florida seems to be as good a guess as anybody to be that somebody.
2018 OL William Barnes (uncommitted)
Florida won the battle with Alabama to get Barnes to visit this weekend. But they have a long way to go in the recruiting process to win the war for his services for the next few years. Barnes has said he'll commit on National Signing Day, and the Gators will have to fend off North Carolina and Georgia until then. Making a good impression on him this weekend is key.
2018 OL Ed Montilus (uncommitted)
All signs point to Montilus winding up with the Miami Hurricanes. But he and Barnes are high school teammates, and if both enjoy their time in Gainesville this weekend, that could change.
2019 OL Andrew Coker (committed: Florida)
Another committed junior who can do some recruiting in between drills. Good deal.
2018 DL Coynis Miller (uncommitted)
Miller's top two schools are Auburn and Alabama, and Florida doesn't appear to be in the running. Stranger things have happened, though, as he's never been to Gainesville before. And Florida doesn't have a ton of top notch defensive linemen on its board yet this cycle, so whether it's Miller or somebody else, they're going to have to go after somebody soon.
2018 DL Azeez Ojulari (uncommitted)
Ojulari appears destined for Georgia. The kid or coach who talks him into committing to Florida wins a prize.
2019 DL Jaqueze Sorrells (committed: Florida)
Sorrells hasn't gotten a ton of hype yet at this early stage of his recruitment process. Here's his chance to shine. And, you know, recruit.
2018 LB Channing Tindall (uncommitted)
It would be a pretty big shock if the Gators could pull Tindall away from his hometown Gamecocks, but he's certainly open to looking at other options. He'll be visiting FSU after the camp this weekend, and just came back from a trip to Athens to look at Georgia. He'll be deciding within the next few weeks and this might just be the Gators' last- and best- chance to sway him.
2018 DB Amari Burney (committed: Florida)
Burney is probably the most highly touted member of the Gators' 2018 Class, even with Dunlap's commitment. Now, he gets to show how good of a recruiter he is on top of that.
2018 DB Gilbert Frierson (committed: Miami (FL))
Despite being committed to the Hurricanes since February of 2016, Frierson is still hearing what coaches from other schools have to say. One of those schools is Florida. Putting him on flip alert might be pushing our luck, but I wouldn't put it past him, either.
2018 DB Divaad Wilson (committed: Florida)
Same as the other Gator commits. He's here to recruit and work out.
2018 DB Randy Russell (uncommitted)
The former Miami Hurricane pledge from Opa Locka is thought by many to be a Gator lean. Go to work on him, current Gator commits and coaches.
2019 DB Jaleel McRae (committed: Florida)
See line beneath Divaad Wilson.
2019 DB Tyrique Stevenson (committed: Florida)
See above.
2019 DB Trent Whittemore (committed: Florida)
See above again.