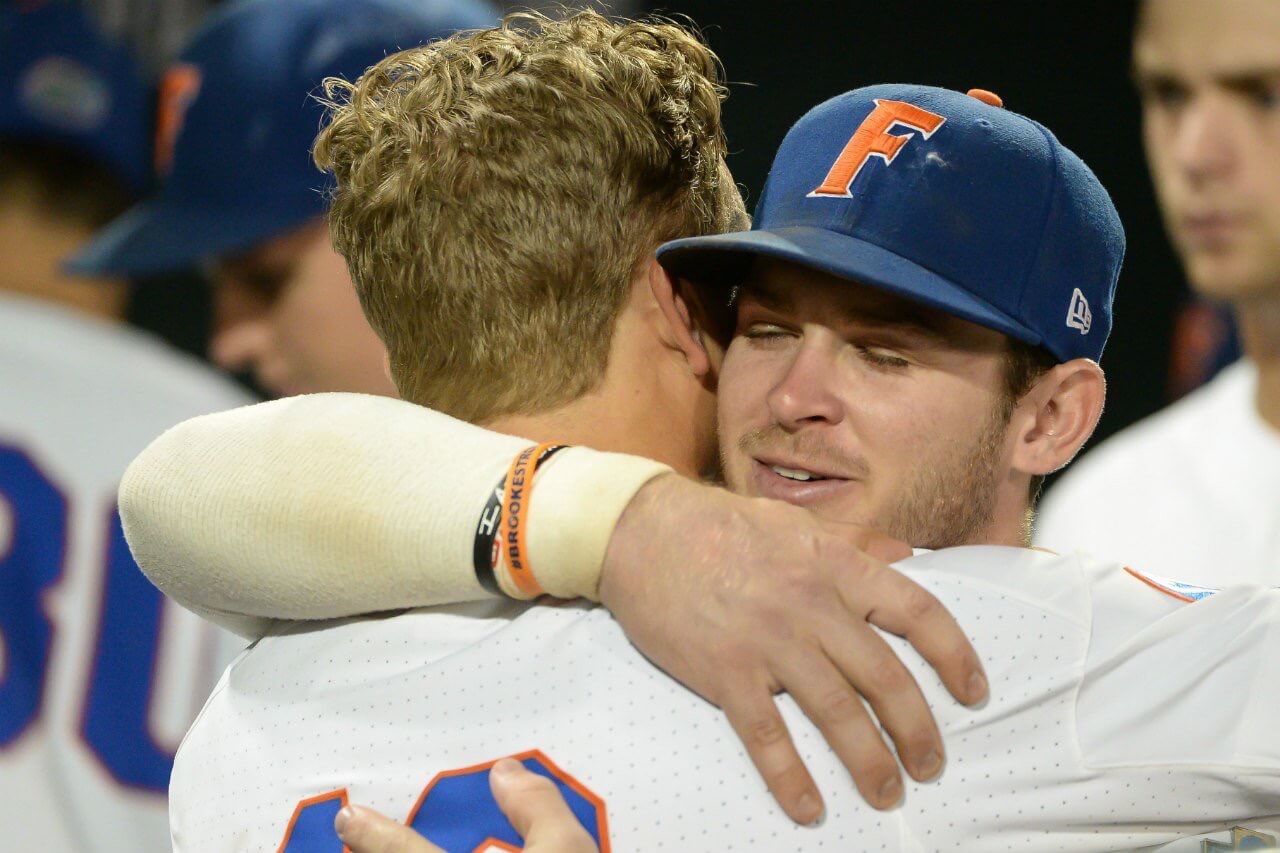 Though the Gator baseball team put together a stellar season that by no means anybody involved should be ashamed of, their quest to repeat as national champions fell just short.
Brady Singer ended a phenomenal career on a sour note, Florida reverted back to its recent hitting slump to the tune of just three hits and the Gators lost 5-2 to Arkansas in the College World Series semifinals, ending their season. The Gators put themselves behind the eight ball in Omaha in a major way by losing their opener to Texas Tech; though they did bounce back to win two elimination games to reach the semis, they needed to get two more since they already had a loss and Arkansas did not.
And they just ran out of gas- the punishment they have to deal with for placing themselves in elimination games one too many times. Over the last two postseasons, the Gators developed a terrible habit: they'd win the first game (in the best two out of three formats) or two (in the Regionals and CWS pool play format) of each double elimination stage of the NCAA Tournament to put themselves one win away from advancing to the next stage; they would then have two chances to advance by virtue of being undefeated in each stage of the double elimination format, and they would almost always blow their first chance and need the second one.
Consider: Florida needed two shots to beat Bethune Cookman in the 2017 Regional Finals, two shots to clinch the Super Regional series against Wake Forest, and two shots to knock out TCU in the CWS semifinals last year. To their credit, Florida did sweep LSU in the championship series last year (maybe that's the Joe Alleva curse?) but then in this year's tournament, it was rinse and repeat. Florida needed more second chances to beat FAU in the Regional Final and put Auburn away in the Super Regionals.
The point is, the Gators have been living dangerously for a while. For all they accomplished this year, such as running away with the SEC Championship, holding onto the #1 ranking throughout the overwhelming majority of the year, and more than doubling their home run total, Florida kept leaving itself vulnerable by failing to slam the door in each round, and after surviving seven straight elimination games, they couldn't escape an eighth straight time. Winning elimination games in the NCAA Tournament is not the kind of streak that's wise to keep giving more opportunities to extend, impressive as it is given the resiliency it displays. But now that sentence is no longer a warning; it's the epitaph on this team's grave. They played with fire one too many times, and finally got burned.
The feeling I'm left with for this team is sadness, and regret for what could have been. The Gators took two out of three against the Razorbacks in the regular season, including a 17-2 clobbering in one of those games, so it wasn't like it was unfathomable that Florida was capable of beating them twice. This team achieved a great deal of success this year, and had what most people would agree was a great season. Unfortunately, the expectations surrounding this team were not to be great, but they were to win a championship. That's what happens when you're the defending national champions, and when you bolster that offseason belief by absolutely dominating the sport's most powerful conference and stay at #1 throughout the year.
It's extremely difficult to defend calling a season that ends in the national semifinals a failure, but given those monster expectations, it kind of is. I don't really like to be a championship or bust guy, as it provides credence to the notion that our fan base is spoiled, but going by the standard last year's team set and this year's team raised with its dominant regular season performance, if you're binary about whether a Gator season gets a thumbs up or thumbs down, this one gets the thumbs down. Florida's goal was to repeat as national champs, and they didn't do it. That's a failure.
But the real sadness I feel is for the slew of Gators who suited up their last game in orange and blue last night: Jonathan India, JJ Schwarz, Jackson Kowar, Brady Singer, Nick Horvath, and possibly Deacon Liput and Nelson Maldonado. They know they didn't end their careers on the best note, and that's a horrible feeling to have, especially for guys like Schwarz, a four year guy who earned the distinction of being the first ever captain in the 106 year history of Gator baseball, and joined Matt Den Dekker, Preston Tucker and Matt LaPorta as the only four guys to belt 50 career homers for Florida. Schwarz definitely suffered a bit of a dip in his sophomore and junior years, but even so always found ways to come up with clutch hits. Pardon the recentism, but he's got a strong case to be the greatest Gator baseball player ever with those 50 homers, managing many different pitchers so effectively over the years behind the plater, and making the play of the year for Florida by throwing out Kramer Robertson at home in last year's College World Series finals.
Florida will reload next year, of course. The Gators aren't going anywhere. Kevin O'Sullivan has recruited extremely well this year, and will have a few key pieces to its offense back next year, including Will Dalton, Blake Reese, Keenan Bell, and Brady Smith for sure and possibly Liput and Maldonado. Florida will also have Tommy Mace, Jack Leftwich, Jordan Butler and in all likelihood Michael Byrne back to give the Gators what, if O'Sullivan's track record of developing pitchers is any indication, could be a fearsome pitching staff.
But that doesn't serve as the slightest bit of solace for the long list of Gators who have played their final game and leave with a bad taste in their mouths. Sometimes, there just ism't a silver lining for everything. Those guys will go on to play baseball at the professional level, or move onto something else professionally, but this sting won't be easy to erase.
So: to all those who are departing, I thank you for your contributions in helping make history with the school's first ever national championship, and wish you nothing but the best in whatever it is you do the rest of your lives. In all kinds of weather, y'all.