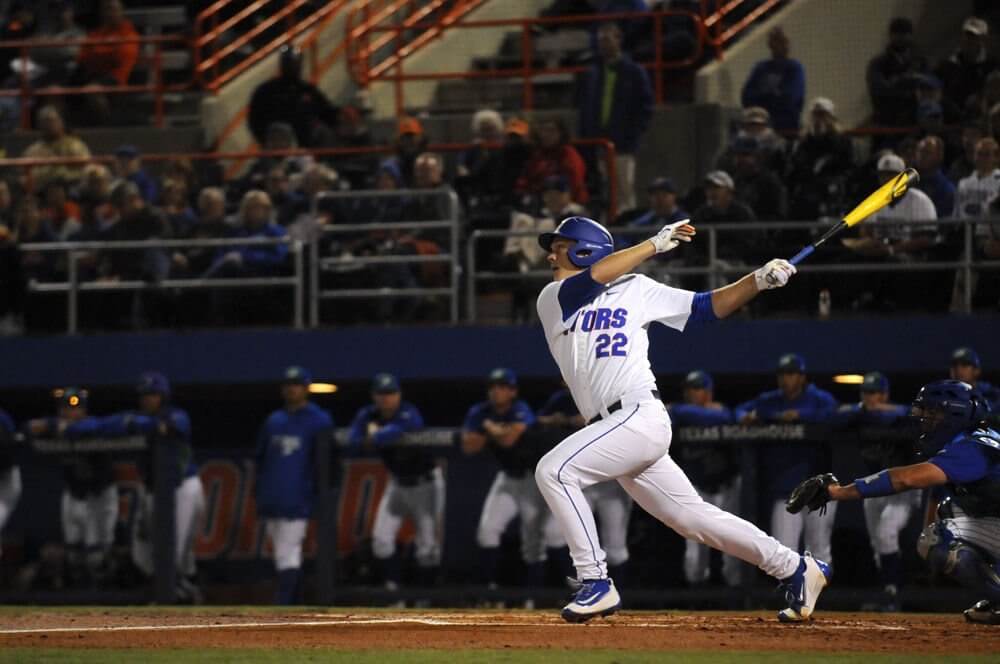 The old adage is that the teams who play their best toward the end of the season are the ones best suited to win a championship.
Good thing that the Gator baseball team is playing its best baseball toward the end of the season.
Once squirming uncomfortably at 20-11 and 5-6 in the SEC, the Gators have suddenly won 15 of their last 17 games, including nine straight. Florida has scored six runs or more runs in eleven of those last 17 games, and broken into double figures in the run column in four of them. And while their pitching hasn't been quite as dominant as it was early in the season, it's still been more than good enough to win each of the last three SEC series.
It starts with JJ Schwarz. At one point, fans were ready to give up on him and add him to the "Peaked as a Rookie" category alongside Jeff Driskel, Brett Nelson, Kyle Jackson and Preston Tucker, but he's collected 18 hits- three of which left the yard- in his last 44 at bats. That's a stat that dates all the way back to the series finale against Vanderbilt, which will be a month ago this Friday. With Mike Rivera still sidelined, his emergence has been critical to the team's success.
And it isn't like he isn't getting help. Dalton Guthrie has had seven multi-hit games in that stretch, Ryan Larson has been a surprisingly dependable source of power all year and Christian Hicks, Nelson Maldonado and Keenan Bell have all continued to impress after being the only reliable hitters early on. But the Gators' offense just hasn't been with its biggest name in Schwarz producing the way he was used to.
Until now.
Kevin O'Sullivan has an insane track record of putting pitchers into the professional ranks, and this team is no exception with starters like Alex Faedo, Jackson Kowar and Brady Singer. Part of it is recruiting, sure, but this track record isn't possible without his knowledge of pitching and ability to coach his pitchers to improve. So while the pitching has regressed a little bit recently, it has neither been awful nor directly cost the team any wins recently. It's also not as worrisome of an issue as the team's offense was a month ago after the Tennessee series.
That's the Gators' biggest issue, right there. A ridiculously talented pitching staff that's dipped from lights out to good-but-not-great. You can still win games against good teams with a good-but-not-great pitching staff and an explosive offense like the one we've seen recently; the Vanderbilt, South Carolina, Ole Miss and Florida A&M teams the Gators just beat are all probably heading to the NCAA Tournament, even if FAMU is doing so because they're the least weak team in a really weak conference. And so the trade-off Florida has experienced- an offense that's improved leaps and bounds with a pitching staff that's taken a slight step back is undoubtedly a net positive one, without even mentioning the possibility that the pitching staff will find its groove again before postseason play begins.
This Florida team might not be the best team in the country. But it might be the hottest. And the NCAA sometimes gives trophies to teams like that.