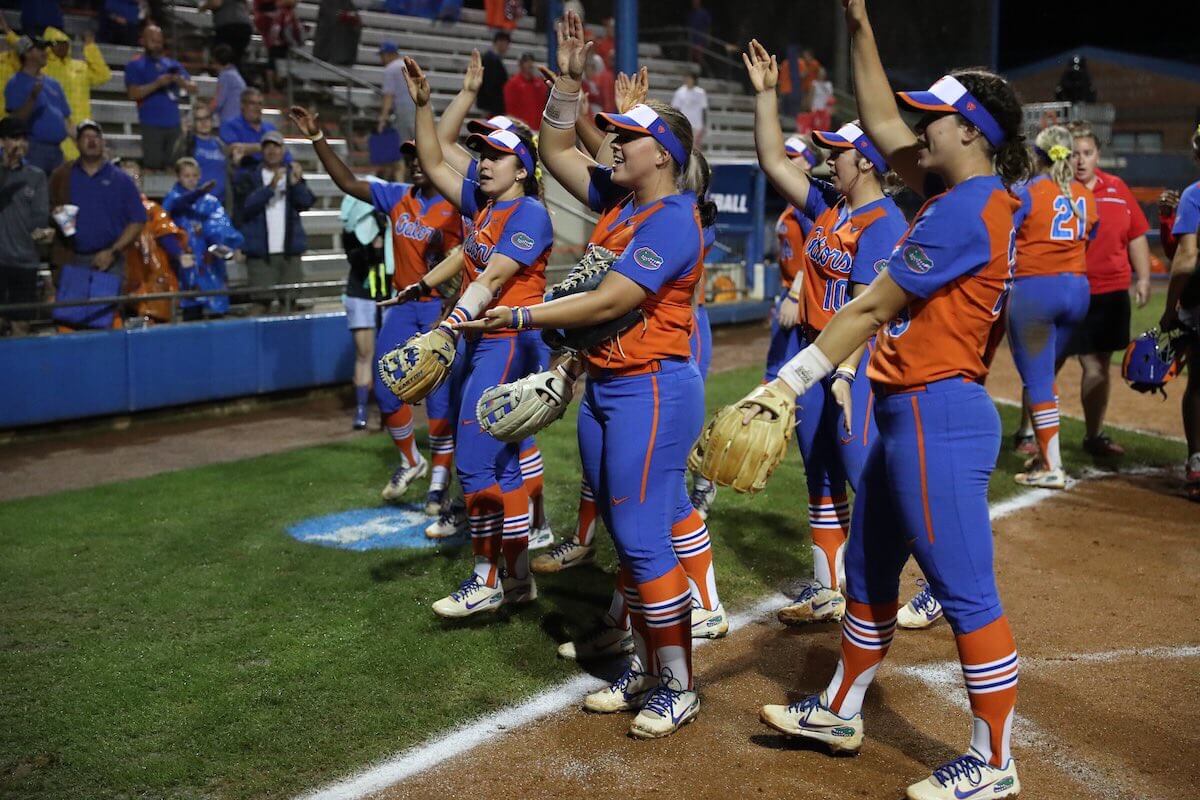 For the four seniors of Gator softball (Aleshia Ocasio, Nicole DeWitt, Kayli Kvistad and Janell Wheaton) the goal is to leave the program in the same situation in which they entered it- as national champions. They took the first big step toward doing so last night, completing a three game sweep through the Gainesville Regional over Bethune Cookman (8-0) and Ohio State twice (10-2 and 4-0).
And all things considered, they didn't even play their best.
Florida didn't have any issues with Bethune Cookman on Friday night, using a walk-off homer from Nicole DeWitt to induce the mercy rule (it's technically called the run-rule, but we all know what its purpose is) but found themselves in some hot water against the Buckeyes on Saturday afternoon. Ohio State pitcher Shelby McCombs walked eleven batters on the day, but Florida left ten runners on base in the first four innings and couldn't break onto the scoreboard. The Buckeyes, for their part, did score on a solo homer from Ashley Goodwin and again on an RBI single from Lilli Piper. Going into the fifth, it was 2-0 Ohio State.
Then the Gators got their bats going.
With the bases loaded yet again, Jaimie Hoover singled home the first run of the game to cut the lead down to 2-1 in the bottom of the fifth. Moments later, Amanda Lorenz gave the Gators the lead for keeps with a two RBI single. Though Florida would then leave the bases loaded for the third time on the day, they would then explode for seven more runs in the sixth, the last of which- an RBI single from Aleshia Ocasio- brought the mercy rule into effect for the second time in nineteen hours, and prematurely ended the game with Florida up 10-2.
For a finale, Florida beat the Buckeyes up again on Sunday night. Ohio State had major issues with Kelly Barnhill's riseball on Saturday, and then they got the reverse treatment from Ocasio and her low ball the next night- which nobody ever did figure out how to hit. And though Florida didn't score ten runs this time, they did score four, including two more off Ocasio's bat, and with Ocasio simultaneously throwing a no-hitter on the other side of things, that was more than enough. Florida could only get two hits on the night, but they got them with runners in scoring position and played small ball well enough to turn their productive outs into runs. And that was much more than Ohio State could say about their offense with Ocasio keeping the Buckeyes' hit total matching their famous block O logo.
That 4-0 win was somewhat overshadowed by two subplots: one, a cruel and absolutely pointless cheap shot from Piper against Kayli Kvistad…
Here's the video: Ohio State shortstop Lilli Piper charges at and elbows Florida's Kayli Kvistad right in the breast as she reaches up for a throw.

You gonna do anything about this or nah @OhioState_SB? pic.twitter.com/7k7muKaqek

— InAllKindsOfWeather.com (@AllKindsWeather) May 21, 2018
…and two, the fact that Florida can now add softball to the list of sports in which they own Ohio State…
Beating Ohio State in the postseason is becoming a tradition like no other.

✅2007 BCS Title Game
✅2007 NCAA Basketball Title Game
✅2012 Gator Bowl
✅2016 NIT Round of 16
✅2018 NCAA Softball Regional
✅2018 NCAA Softball Regional (again)

Florida. Just. Owns. Ohio State.

— InAllKindsOfWeather.com (@AllKindsWeather) May 21, 2018
…but while those two subplots are both certainly worth discussing for their own different reasons, they shouldn't take away from what Tim Walton and his program have accomplished and what they could potentially accomplish this season. Nor should they take away from Ocasio throwing the first complete game NCAA Tournament no hitter in Gator history, but even that, incredible as it is, remains a subplot given what comes next. Beating the Buckeyes twice booked their tickets to their eleventh Super Regional in the last twelve years, where they'll face a Texas A&M team they swept with three straight blowouts back in March. Should the Gators beat the Aggies for the fourth and fifth times this season, they'll reach their ninth Women's College World Series in the last eleven years, where they'll try to win a third national title in the five years.
And knowing that they still haven't even peaked yet, the ride that they figure to take us on is as likely to end at the top as it possibly could be.