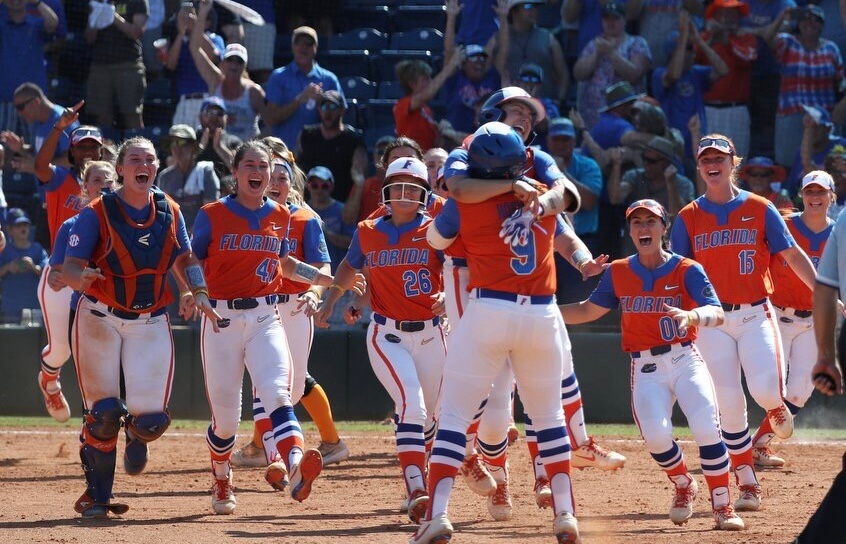 Once again, Tim Walton's team found itself locked in the rubber match of a Super Regional series, needing a run in order to book passage through softball's biggest stage in Oklahoma City. Once again, the momentum was trending away from Florida and towards its SEC opponent after a phenomenal Gator pitcher had just uncharacteristically given up a home run. And once again, the Gators came through.
One year exactly to the day after Jordan Matthews had closed the old Katie Seashole Pressly Stadium with a bang on a three run walkoff homer to beat Texas A&M and send the Gators to the Women's College World Series, teammate Jaimie Hoover replicated the feat against Tennessee with an RBI single to become the 2019 team's hero- and cap a wild ride of a weekend.
Florida had little trouble taking Game 1, as ace Kelly Barnhill silenced the Vols and the offense did what it had to do in a 3-0 win. But Game 2 was far more interesting, and taxing. Tennessee scored first on a Chelsea Seggern RBI single to right in the first inning off of Barnhill, who clearly did not have her best stuff on this day. Florida would answer back in the fourth when Hoover singled in Amanda Beane, but Tennessee replied immediately with an RBI single by pinch hitter Madison Pacini. The Gators' Hannah Adams would bring Florida back to tie it with an RBI single the ensuing inning, and then neither team could do any further damage on the scoreboard… until Barnhill worked her way into trouble in the ninth inning, and Walton felt he needed to replace her with a reliever. The move backfired when Katie Chronister gave up a base hit to load the bases, and when her replacement Natalie Lugo walked the next batter, it forced in a run and ended Game 2 by virtue of Tennessee being the home team.
In the decisive Game 3, Florida scored first on a Tennessee miscue. The Vols couldn't handle a routine popup, which advanced Florida's Amanda Lorenz to third; moments later, Sophia Reynoso drove her in. The score then stayed 1-0, and looked like it would end that way… until Barnhill, the #1 overall National Pro Fastpitch draft pick, left a mistake pitch over the plate for Tennessee's Haley Bearden, who belted it over the right field wall to tie the game at 1 in the seventh. Barnhill then gathered herself to send Tennessee down in order after that to prevent further damage. But when the Gators couldn't score in the bottom of the seventh- not even with Matthews, the hero of the 2018 Super Regionals, getting an at bat- the two teams went to extras for the second straight day.
To her everlasting credit, the senior Barnhill bounced back to mow down the Volunteers again in the eighth and set the stage for the top of Florida's lineup. With one out, leadoff hitter (and undoubtedly the team's offensive MVP) Amanda Lorenz belted a double off the wall. Tennessee then chose to walk #2 hitter Kendyl Lindaman to face the white-hot bat of Hannah Adams, and she laced a lightning-fast one hopper to the first baseman, who managed to play goalie and block the ball before picking it up and stepping on first for the out. But now the winning run (Lorenz) was on third base.
But she wasn't for long. Because Jaimie Hoover was responsible for one of the most exhilarating conclusions to a high stakes game in Florida Gator athletics history.
The shot heard 'round Rocky Top. @JaiHoover pic.twitter.com/LTgLKSWTYs

— InAllKindsOfWeather.com (@AllKindsWeather) May 26, 2019
And that base hit scored Lorenz, and sent Florida back to the Women's College World Series for the third straight time, and tenth time in the last twelve years. Florida has basically lived there in the early summer under Walton, which may jade some to the accomplishment of returning there- though it shouldn't. Each year, passage to the sport's greatest stage must be earned anew, and this team did just that despite moments where it seemed like it would not.
That's some feat given where this team was just three weeks ago.
As it usually does, Florida cruised through the non conference portion of its slate, entering the SEC schedule at 21-2 when suddenly it stalled and fell into a nosedive. The Gators began their SEC championship defense by getting smoked by Tennessee, 9-1 and 3-0, in their first two conference games. Though they would rebound to take the finale, the dive would continue with series losses to LSU and Mississippi the following week. Somehow, they recovered to sweep Arkansas and Texas A&M in their next two weekend series. But then they totally collapsed, getting swept by Alabama at home and splitting its last six SEC games against Auburn and Mississippi State just to finish .500 in the conference.
Then they got, and dangerous. Florida used a walkoff home run by Matthews to shock South Carolina in their first game of the SEC Tournament, and went on to blank LSU and Auburn by identical 3-0 scores to set up a rematch with Alabama for the SEC Tournament title. Lorenz would come through in the sixth inning of that one with an opposite field, two RBI double to bring Florida from down 1-0 to up 2-1, and Barnhill would continue the mastery that she'd demonstrated throughout that game to silence the Tide for two innings more to claim the SEC Tournament title. Florida then blew through its Regional to earn a rematch with Tennessee, and the rest is history.
Lorenz deserves all the credit in the world for what she's done this season, as well as over the three seasons prior to this season. She's going to leave Gainesville with a career batting average of well over .400, which even in the game of softball is extremely rare, and an on base percentage of somewhere around .530 depending on how she does in Oklahoma City. And true to form, she saved one more demonstration of how to be an on base machine for her final set of games ever at UF's Katie Seashole Pressly Stadium; Tennessee wanted no part of her and walked her six times, as well as gave up two hits to her, the latter of which proved to be fatal.
Similarly, Kelly Barnhill put on a dazzling show in her final trio of games in her home park. Various umpires decided it would be fun to squeeze her like a ketchup packet with a wildly inconsistent strike zone throughout the weekend, and she occasionally missed her spots and got hit hard. But she also served as a magisterial firefighter, extinguishing potential rally after potential rally before they could really come to life and allowing a grand total of four runs in 25 and 1/3 innings pitched. And for a finale, Barnhill served up one final 1-2-3 inning to cap a stellar career at KSP Stadium.
Florida also wouldn't be in the Women's College World Series without less prominent but no less important contributions from others. The Gators' infield is among the nation's best with not just a near flawless fielding percentage but an ability to make the spectacular play. Between Hannah Sipos at the hot corner and Reynoso anchoring the infield at shortstop, Barnhill could rest easy every time the ball was put in play on the ground. To boot, Hannah Adams stepped up as the #3 hitter in the lineup with five hits in her final nine at bats of the series to take the pressure off of Lorenz and Lindaman at the top of the order.
So while of course Hoover serves as the hero, she is merely one member of a team that's starting to figure it out at the same time. This Florida team is not the best team in the WCWS, and so they won't be the favorite. In fact, they'll be the road team by every definition of the word in its first game against Oklahoma State, and likely in its second game as well with Oklahoma if the first game results of the Gators and Sooners match up. But being the favorite has seldom been the path to lifting the trophy at the end of the WCWS.
And there certainly would be no better ending than for Barnhill and Lorenz- two of Florida's all time greats- to end their illustrious careers with the one achievement that has eluded them to date.