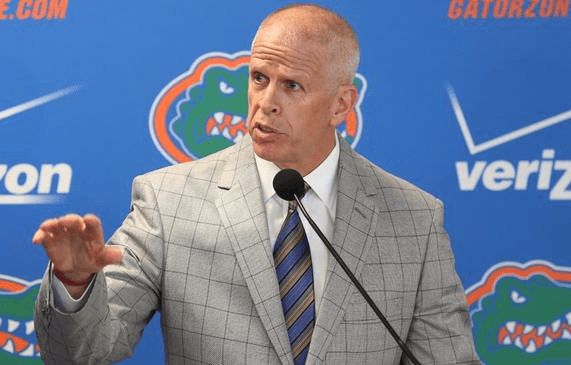 The final chapter of the former ticket boy's story has still yet to be written. But the chapter where he oversees the nation's most overall dominant athletic program is over.
Jeremy Foley is set to retire in October, bringing an abrupt end to a remarkable 25 year run as Florida's AD. The Gators have won 27 national championships in those 25 years under his stewardship, including three in football and two in basketball. (And they still have a shot at #28 if the baseball team can pull it together.) In addition to that, Foley became the first AD to ever witness his football and basketball programs each win multiple national championships… including a clean sweep of Ohio State in football and basketball championship games in a three month span.
There is no comparison or perspective existing in the modern sports world, so let's just spell it out: that is incredible. Foley turned a Florida program that was good, but not great, into a perennial, versatile national power. Which basically means that winning national championships became the norm.
The championships came because Foley is one of the best there was at hiring coaches. He kept Steve Spurrier on for ten years after he became AD, snatched Urban Meyer away from Utah and withstood the ensuing snickers that Meyer's spread offense would never work in the SEC, and imported Jim McElwain from Colorado State- so if McElwain wins a national title in four years, that's to be attributed to Foley, too. Oh, and let's not forget his home run hires in other big sports: Billy Donovan from Marshall, (a pair of national titles, four Final Four berths) Tim Walton in softball, (two national titles, four WCWS finals appearances) and Kevin O'Sullivan in baseball (four CWS berths in nine years).
Were there mistakes? Sure there were, and Foley admits that. The hire of Ron Zook alone could be pardoned as an aberration, but the decision to hire another guy with no coaching experience six years later turned out to be a supremely bad idea- so much so that we're not even going to mention that guy's name.
It goes to show that nobody is perfect. But Foley is the closest thing to it. And so while he will remain on as Emeritus AD after October 1st, the decision for him to retire effectively puts an end to the tenures of one of the all time greats in a role that's greatly under appreciated in college sports (except when fans want a coach fired, of course).
To go from selling tickets as an intern in the athletics office to the greatest athletic director in the game is not something most people could do. So I'll try to sum it all up with an understatement: you'll be missed, Jeremy.