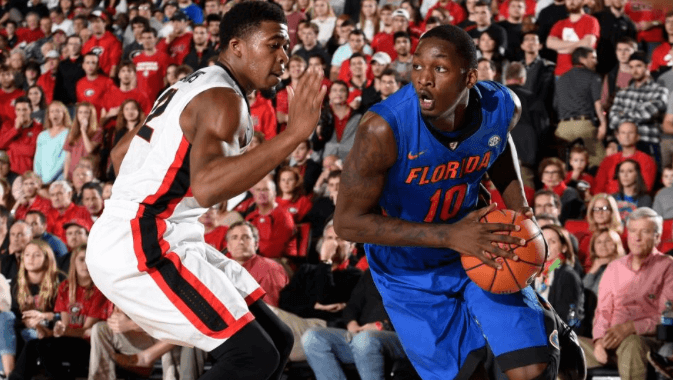 Booed throughout the night for no apparent reason by rival Georgia fans, Dorian Finney-Smith shut them up in the best way possible.
He sank two free three throws to help finish off an ugly, but absolutely vital 57-53 win over the Dawgs. And in doing so, he might have sank their season, too.
The Florida-Georgia basketball rivalry may take a backseat to its football counterpart in terms of intensity, but they do seem to share the theme of drinking. Specifically, this rivalry resembles a tequila sunrise- with the orange on top, red on bottom. And as the Gators salted away their 20th win in the last 24 meetings with Georgia, they left an a somber Bulldog crowd that included Todd Gurley with no doubts about which school would raise the final toast.
Speaking of drinking, that's probably something both fan bases did a lot of throughout the game.
Florida, for the second straight game, struggled beyond words offensively. Not only did the Gators miss 18 of their first 19 attempts from three point land, they could only manage eleven buckets from the field in the game's first 31 minutes. Compounding the matter was that when the Gators got to the free throw line- surprise!- they couldn't score from there, either (57% on the night).
Georgia, for its part, was only slightly less inept offensively than Florida- but they did hit several big threes early on to stake themselves a 25-19 halftime lead. Then the Gators locked down defensively, started to score every now and then, which matched Georgia's every-now-and-then pace, and eventually turned the game into a back and forth contest that would have been exciting if the level of play had been any better.
But good teams don't always win pretty. No, sometimes, good teams have to find ways to win that are quite ugly. And in a game that was as ugly as it gets, Florida did just that to complete the season sweep.
Despite their laughable offensive woes (32% from the field), Georgia managed to regain a three point edge- and then totally collapsed on both ends of the floor as Florida dominated the game's final few minutes. KeVaughn Allen nailed a clutch three to give the Gators the lead for keeps with 3:25 to go, and on the very next possession, Kasey Hill drew defenders toward him on a drive, only to feed John Egbunu for a dunk. That capped an 11-3 Florida run to make it 52-47 with two minutes to go.
Of course, being the poor free throw shooting team that they are, the Gators let Georgia hand around by missing the front ends of one and one situations, the second of which (from Finney-Smith), set into a motion what could be described as a rather nerve wracking sequence. First, Kenny Gaines "made" a three that bounced off the front of the rim, high into the air, and fell through to cut the lead to two with :39 left on the clock. Chris Chiozza then came through by making both free throws… and then Gaines hit another three to trim the lead down to one.
That's when Finney-Smith came through, knocking down both free throws to push the lead back up to three. And when Gaines' desperation three attempt missed, Kasey Hill made the free throw that put the game out of reach, and Florida had at long last secured a game it at one point had no business even being in, later seemed to have taken control of and then seemed to be watching get stolen from right under their noses. Luckily, there are no style points in college basketball. Beauty doesn't count. And on a larger scale, although the loss to Alabama at home was admittedly bad by any way you want to define that word, the Gators essentially overwrote it with this win tonight.
Florida now has five games left, plus the SEC Tournament, of which they probably need to win three to lock up an NCAA Tournament bid. Two more, and they're still probably safe, though they'd sort of be leaving their fate in other teams' hands. But tonight's game began a six game home stretch that, frankly, I thought they'd be doing a good job by splitting. Given Georgia's desperation for a signature win coming into tonight, plus their lack of such signature wins so far this year, the Dawgs needed this one just as badly as Florida did. Coming into this game at 14-9 put the Bulldogs in a position where they had to win five of their last six games to realistically have a shot to make the Big Dance (because really, very few teams are out of the mix in mid-February), and now they have no margin for error having lost the first of them.
So yes, the game was somewhat less than aesthetically pleasing, but let's understand that Georgia was as desperate as could be. That 57-53 loss may have been the fatal blow for the Bulldogs, and so Florida should be proud of itself for that- not just for causing their rival such anguish (though that is a nice feeling, I'll admit) but because they beat a team that was fighting for its NCAA Tournament life on its home court. And in the process of landing what could be the coup de grace, the Gators seem to have resurrected a season that started slow, turned promising, and then as recently as Saturday, looked like it was destined for disaster.