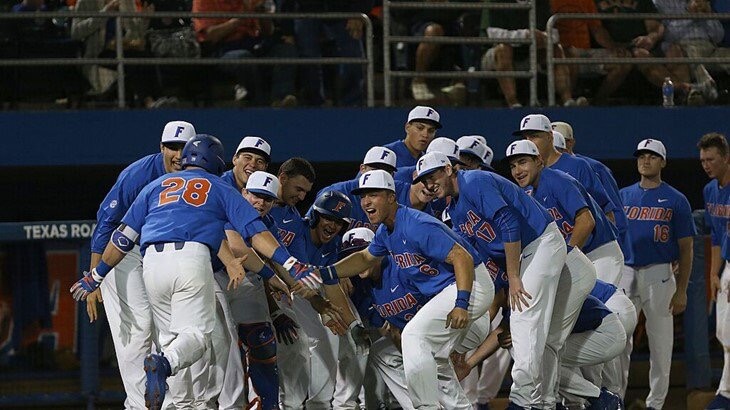 In the aftermath of recording the final out of their season sweep over Miami, Florida players casually jogged onto the field to shake hands. Some yawned while others stared into space, as if they were bored with it.
Maybe they were. After all, beating Miami has become something of a formality in recent years, as the Gators have now won 26 of the last 32 matchups with the Hurricanes. Never before has this rivalry seen such a long running display of one-sidedness. In fact, Miami has never won more than two thirds of the games in any 30 game (or longer) stretch in series history.
It's a Gator thing. Miami wouldn't understand it.
This time, the Florida domination came in the form of a three game sweep with scores of 1-0, 2-0 and 6-2. Those first two games served as the first pair of back to back shutouts in the rivalry's storied history.
And this latest bit of domination may have been the most frustrating for Miami.
Alex Faedo got the weekend started with a brilliant performance on Friday night. His stuff was absolutely filthy, consistently hitting the mid-90's with his fastball and frequently making batters look silly with his breaking ball. He nearly pitched a complete game shutout, but a two out error in the ninth by Dalton Guthrie kept the Canes alive; Frank Rubio then came in and cleaned it up for the save. Faedo held Miami to just two hits, and since neither of them scored, Jonathan India's third inning RBI single was enough to get the job done.
Saturday was more of the same. Florida's bats went silent for the most part, as Miami pitchers combined to throw a three hitter. But two of those hits (from India and Mark Kolozsvary) left the ballpark. Meanwhile, Brady Singer held the Canes to five far less damaging hits, while striking out eleven in 7.2 innings of work. Nick Horvath finished the 8th for him and then Rubio came in and snagged his second save of the weekend in a 2-0 win.
And then today, Florida finally let Miami on the scoreboard in the fourth inning before exploding for six runs and ten hits (three of which came off the bat of Dalton Guthrie) in their final five at bats. It mattered not the least that Jackson Kowar gave up two homers to Romy Gonzales, as nobody else could do anything against him or his successors (Michael Byrne and Austin Langsworthy) in the finale.
The schedule gives Florida a breather now, with Columbia and Seton Hall coming to town the next two weekends and UCF and FGCU each playing two game home-and-home midweek series against the Gators. It'll get harder after that, so these next few weeks are a great chance to boost the overall record and work on some things (namely hitting) before SEC play starts.
But we got a great look at what could be the driving force to Omaha this weekend, and proof that the hype surrounding it is validated. Kevin O'Sullivan always recruits great pitchers, but it's not always so easy for young hurlers to put it all together so quickly. It's too early to say that Kowar and Singer will be stars, but they've shown that they absolutely can be. And if the offense can get going, Florida will be virtually unbeatable.