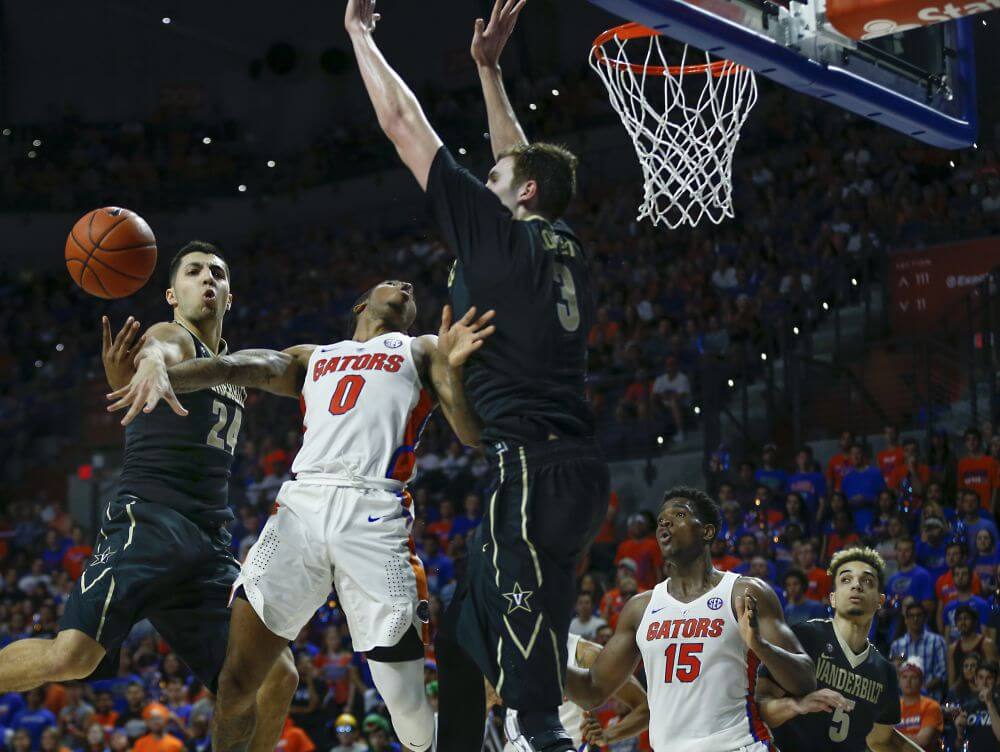 Once again, the Gators entered crunch time against Vanderbilt with a legitimate opportunity to win.
Once again, they wasted that opportunity.
Florida, the #2 seed in the SEC Tourney, exited the tournament without a single win for the first time in a decade thanks to a 72-62 overtime loss to the Commodores in the quarterfinals. The defeat was the third to Vanderbilt on the season, and Mike White has now lost all five matchups against the Dores as Florida's head coach.
This one may have been the most frustrating.
Despite one of the worst shooting nights in recent memory (35% from the floor), Florida somehow erased a six point deficit in the waning moments of regulation after trailing for most of the night. The Gators didn't make many shots from outside, but Kevaughn Allen made one of them, finally tying the game on a crazy three that he managed to square himself up for only after his feet left the ground. Devin Robinson then got fouled on the ensuing possession, and split a pair of free throws to give Florida a 58-57 lead with 30 seconds to go.
The Gators were then given a series of chances to win the game, and capitalized on none of them. Luke Kornet missed a go ahead three, but Vanderbilt's Jeff Roberson got the rebound with nine seconds to go and was fouled. He then matched Robinson's split free throws with one of his own, and now Florida had the last shot. So what did they do? Did they run an iso play for Allen? Did they try to feed the post? Did they run an offensive play, period?
No. Instead, Kasey Hill drove to the hoop and tried to finish it himself- despite overwhelming annual evidence that this was not a good idea- and missed. Kevarrius Hayes got the rebound, but he couldn't finish either.
So the game went to overtime- where Vanderbilt dominated.
Florida had a lone free throw and a meaningless three from Hill when the game was over to show for the additional five minutes of work, which served as the ultimate testament to how unbelievably bad they were offensively. The Commodores, on the other hand, took full advantage and scored 14 points, including twelve of the first thirteen in the extra session. Put simply, Florida was about as bad as one could have imagined yesterday, and worse than most could have imagined in the overtime.
And yet the Gators still had a chance to win despite all that because of their defense, and that's something that will serve them will in the NCAA Tournament. Regardless of how embarrassingly bad Florida was offensively- and let's not sugarcoat it, they were horrible- they will be able to keep themselves in a lot of games by locking down defensively and making the opponent earn every point.
The Gators won't be this inept offensively most nights, either, which is another thing to factor into your predictions for Florida's tournament fate. We've seen this team score over 100 points on multiple occasions this year, and turn opponents' turnovers into points in transition to complement their shooting. Yesterday was a rare occasion where Florida did neither, and I do mean rare. A quick scrolling session through the Gators' game by game results will prove that that was an anomaly, so I'm not inclined to believe that this was an indication of what we'll see next week.
What last night was an indication of is just how bad the lows can be for a streaky team that takes itself and its fans to some lofty heights and some seriously low depths. But there are no more learning moments for this team, no more mulligans, and no more excuses.
Their last defeat probably cost them a top four seed, and maybe the right to open tournament play in nearby Orlando. Their next one will cost them their season.