 Two weeks ago, they were dead.
Leaving behind a disgraced Swamp with chants of "Fire Muschamp" still echoing across Gainesville, you were certain their spirits were crushed. More certain was the notion that Will Muschamp had finally done it, and for good. It would only be a matter of time now, and with Georgia on the horizon, it seemed like the beheading of Florida's coach was inevitable. Many Gator fans would have called it overdue.
The leash that Athletic Director Jeremy Foley placed upon Muschamp, (you know, the ones that seem to stretch out…oh, roughly about as long as it takes to cripple a football program) well, Muschamp finally stretched it past its breaking point. Foley let him tug and tug, and there went Coach Boom — screaming and sweating and flailing about — dragging on until the leash snapped right at the center, whipping the entire program across its face as he approached the edge of a fiery cliff.
You can't blame the fans for their collective sentiment towards Muschamp. A loss to Gerogia had to result in his firing.
After Florida's 42-13 Homecoming loss to Missouri, what else was there to say? It was worse than Zook's loss against Mississippi State. Even worse than Georgia Southern. It was the epitome of fireable offenses at the University of Florida.
It seemed this 2014 season, once filled with hope and redemption, would end in October; just like the season before.
This year was finally supposed to bring us answers. Instead, leading up to the 92nd edition of Florida-Georgia, it had delivered nothing but a trick-or-treat-sized bag full of despair, and full questions: Why is this coach still representing this program? Why is Driskel so bad? Why'd we think this year would be any different? Why isn't it basketball season yet?
That last question alone, in all honesty — despite our passion and love for Gator basketball — should never rest in the minds of Gator fans, certainly not the week before Georgia. And yet, it's a crystal clear reflection of how bad it has been for such a large portion of Muschamp's tenure. Missouri was simply the culmination of all the frustration.
If there were any Gator fans still supporting Muschamp before the Missouri game, they flipped like a switch after that rancid Homecoming night from Hell in The Swamp.
All except one — Jeremy Foley, ironically — the only man with the power to end this nightmare. All he needed to do was say two words.
Instead, it turned out the team that died two weeks ago still had a pulse. And as Mike McNeely raced to the goal line on a fake field goal, the beating pulse was about to kick-start a beating of its own against the stunned Bulldogs.
Even if it only meant for one night, the Gators would put this nightmare to rest on its own. Led by the powerful rushing combo of Matt Jones and Kelvin Taylor, the growing confidence level was palpable, and Georgia had nowhere to hide. The Gator offense was commanding, disciplined, and shockingly impressive. Jones and Taylor ran behind an offensive line that played with a chip on its shoulder, having its manhood questioned. The linemen opened holes and surged through Georgia's front seven, getting stronger as the game went on. The receivers, in particular Ahmad Fulwood and especially Demarcus Robinson, played a tremendous role in the running game themselves with their blocking efforts.
You couldn't believe it. You hoped it'd never end. And now here we are, still getting goosebumps over the Saturday in Jacksonville that not even the wackiest, die-hard Gator could have predicted.
You almost forgot how it felt to beat those Dogs. You almost forgot how it felt to watch the red and black side of Everbank Field evacuate the premises when there was still plenty of football to be played.
And it felt better than ever Saturday night.
Shoot, by now you had probably forgotten what it was like to see a performance like this from a Gator team at all. But at the same time, almost as if you'd been waiting for it, you knew the Gators had a game like this in them.
Florida's 38-20 triumphant upset of Georgia will now go down in the history books of this storied rivalry in one way or another. Did it save Muschamp's job? Will it become a turning point for the Florida program?
We don't know. At this moment, I'm not even positive that we care. All we know is that the season was over in October, and now it's alive again in November. Nothing more than that — I mean, really, it's not like any expectations have re-emerged.
Florida could lose to Vandy this weekend, and the "Fire Muschamp" chants will be back in queue. That's just the reality of it all. It's a much better reality than the widely accepted idea that Florida would probably head to Nashville at 3-4 overall, with its fourth straight loss to Georgia under its belt.
Remarkably, an SEC Championship berth isn't quite out of the question — but that's only if a whole lot of stuff happens. The Eastern Division teams have displayed a knack for shooting themselves in the foot recently, so I'd expect it to come down to the final week of the season.
Obviously, questions about the program remain and you can never take too much out of an emotional victory like we just experienced — but one vital question concerning this Gator team was definitively answered in Jacksonville:
This team is going to put it all on the line for its coach, who was given the game ball in the locker room following his first victory in the rivalry.
Make no mistake, Florida still has very little margin for error offensively; it would be unrealistic to count on replicating that kind of performance again, and I doubt anyone is. From a fan's perspective, it has to be said how encouraging it was to watch a these players prove that they understood both the magnitude of the game as well as the condition of the program. If there was any question of division among the players, it was answered Saturday on the field by the way they came together and competed. That can make for a dangerous team.
It's hard to believe, just two weeks ago it seemed as if they had nothing to play for. That's no longer the case heading into Nashville to play Vanderbilt, a place where Florida has historically played poorly.
Will it put too much pressure on them, knowing they're potentially a bad game away from losing their coach? It could, but pressure is no stranger to this team. Confidence, however, now that's been a stranger around the offense in Gainesville for quite some time, and this team picked up a ton of it last weekend.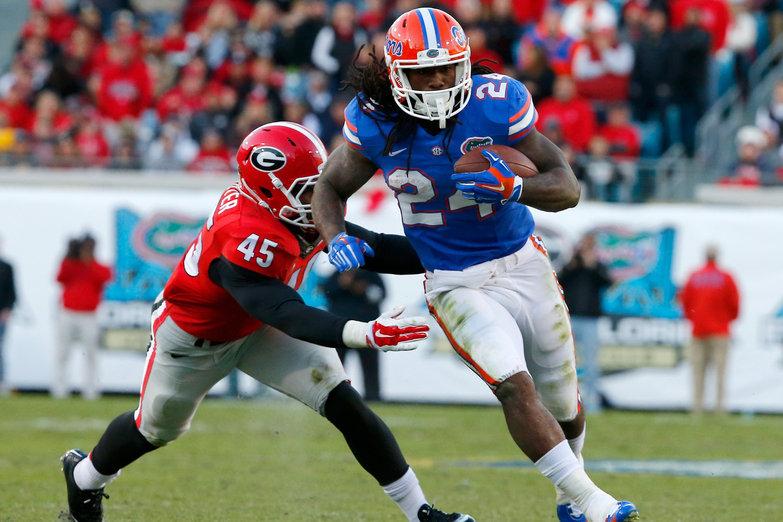 Another thing to add — Saturday proved that no matter what, Florida should always believe it has a chance to beat Georgia every year. Mark Richt may have thought he had the Gator curse figured out, but not anymore. Three out of the last four years, Florida has entered the Cocktail Party with four wins or fewer, and Georgia, while finding ways to win, can't seem to put the Gators away without a fight. Saturday, Florida had them tapping out by the 3rd Quarter.
The Gators were determined to leave Jacksonville without any regrets or doubts.
These guys didn't come here to go 4-8, and they didn't come here to go an entire career without beating Georgia. They came here to add another championship to the walls of Ben Hill Griffin Stadium's South end-zone, however unlikely as it may be.
These players came to the University of Florida for moments like Saturday. And for the first time in a long time, they never let that moment slip from their grasps.
It won't be easy, and you probably won't see the Gators run the ball 60 times in a game again as long as you live. Treon Harris will have to throw some balls and his receivers will have to make the catches that have escaped them nearly all season. We all know the road ahead will be a tough one to travel.
But at least, for now, that Dead End sign on the horizon has been torn down.
Because for now — Will Muschamp, his team, and the Florida fan base still have a chance ahead of them. That's all you can ask for in life.
Especially for a team that was dead two weeks ago.