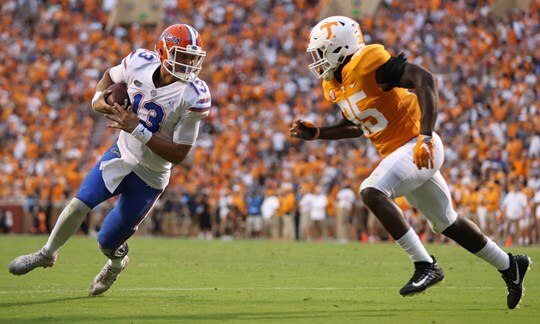 Yes, Florida has played seven games of its twelve game regular season. But since the goal at Florida is to play an extra game in Atlanta and then in a bowl game, I decided to mark this as the unofficial midway point of the season.
Thus, here are how I have felt the Gators' various positions have played out.
Quarterback: C-
Here we go. Feleipe Franks has undoubtedly made strides from what he was a year ago. But he was so awful a year ago that the end result of the admitted significant improvements he has made is still a below average quarterback. He can only make three or four different types of throws with any consistency; take away his primary receiver and you're in for an adventure. And since I'm grading positions as a whole here, as opposed to individual players, it really doesn't speak well for the entire QB group that Franks is the best we've got. He's passable, though- and who knows, that just might be enough.
Running back: A
Even with Malik Davis out, Florida objectively has one of the best backfields in the country. Between powerful runners Jordan Scarlett and LaMical Perine and explosive back Dameon Pierce, the Gators employ a three headed monster that's capable of wearing teams down and out. There have been individual plays throughout the course of the year that weren't perfect, such as Scarlett failing to see the hole a couple times and Pierce's fumble against Vandy. But an A+ means perfection, and while this group isn't perfect, it's as close to perfect as you can realistically ask.
Wide receivers/tight ends: A-
This is a tricky one to grade because Franks's limited ability as a QB has in turn limited his pass catchers. But with what Franks has let them do, the results have been exceptional. The heavy screen game works because these receivers can block for their teammates, and can make plays in the open field to boot. Transfers Van Jefferson and Trevon Grimes have lived up to their expectations, while Tyrie Cleveland has seen his production go down but has made the plays when asked to. And bonus points to Freddie Swain for becoming a terror in the return game and to Kadarius Toney for being a one man spark plug.
Offensive line: C+
This line got off to a horrible start, even getting pushed around by Charleston Southern. But there's been a constant positive trajectory since the Kentucky game: the line went from one of the worst in the country to looking just plain bad against Colorado State, to looking below average but serviceable against Tennessee, to looking average against Mississippi State, and finally seems to have plateaued at looking solid- not great, but solid- in its last two games. Tyler Jordan has quietly become a rock at his guard position, and Martez Ivey is finally putting together the flashes of brilliance that made him so highly sought after with some consistency. In any case, while the improvement from the first week of the season to now has been tremendous, the sum total of the line's effort so far has been about average. But look for more of the latter level of play the rest of the season.