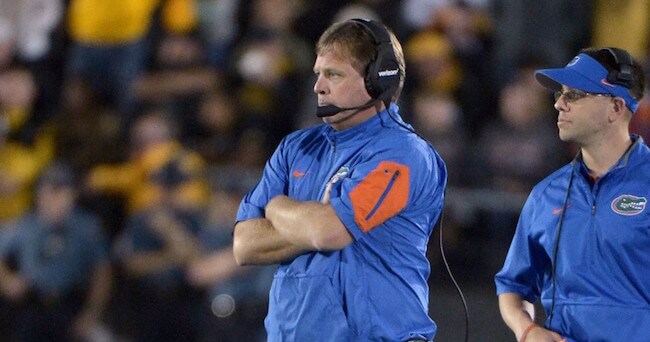 Once upon a time, Jim McElwain claimed he could win a game with his dog at quarterback.
The heavy sarcasm behind that line- and its underlying meaning- gave Gator fans a pretty good indication of what Mac was all about. Give him a living, breathing organism, and he can insert it at quarterback and still win games.
This theory was, of course, tested by Treon Harris, but to his credit, Jim McElwain has never lost a game as Florida's head coach with his starting quarterback. So that's not exactly winning with his dog, but it's an impressive stat nonetheless.
But now for a transition that will make more sense later on: forget winning with his dog, how about winning against the Dogs?
If Mac wants to keep that whole "undefeated with his starting QB" streak going, he'd better figure out how to guide his team into the end zone on Saturday. If he doesn't, Florida could very well lose a game they shouldn't by any honest and unbiased comparison.
The Gators have struggled mightily in the red zone this year, whether it was Luke Del Rio or Austin Appleby at quarterback. And it was the most recent game that was the most concerning.
Florida had three trips into the red zone that resulted in a combined three points: an Eddy Pineiro missed field goal and a fumble at the goal line by Jordan Scarlett cost Florida any points on two of those three drives. And settling for field goals, even if Pineiro makes them (which he usually does) is not ideal for a rivalry game like this one, and certainly won't suffice against the teams Florida will have to beat later on down the road.
Even before they reached the red zone, Florida had some trouble maintaining drives. Another stat that tells a similar story: the Gators' first four possessions all got got inside the Missouri 40, but the Gators could only manage six points out of those four drives.
Now let's flash back to 2009. Urban Meyer's Gators were undefeated heading into the World's Largest Cocktail Party, but the offense, even with Tim Tebow, was struggling in the red zone. Meyer used that bye week to tinker with the offense, and unveiled a surprise on the day of the Georgia game: Tim Tebow lining up under center. Florida essentially ran the same plays that day that they usually ran that year, but the difference of the formation three the Dogs off. The result? A 41-17 Florida beatdown.
Back to the present. I know Jim McElwain didn't literally mean he could win a game with his dog at quarterback, but the confidence he displayed in his coaching abilities when he said that set some high expectations for himself. Arrogance and cockiness in yourself is fine, as long as you can back it up and validate it. Well, here's his chance.
McElwain was compared to Meyer by some when he was first hired by Florida in December of 2014. If he's to make that comparison look legitimate, he'll have used this bye week to come up with some necessary tweaks to ensure that Florida makes the most out of every drive- especially those that have promise. Maybe he's come up with a new play or two, maybe he's going to have Doug Nussmeier call the plays differently, and maybe he's even added a trick or two to the playbook. I don't know what it could or will be, because I'm not supposed to. That's the element of surprise.
But whatever it is, Mac has to have done something this week. That's what bye weeks are for (well, that and getting healthy). And hey, if he can win with his dog at quarterback, it shouldn't be too hard to figure out how to cover the last 20 yards of the field.