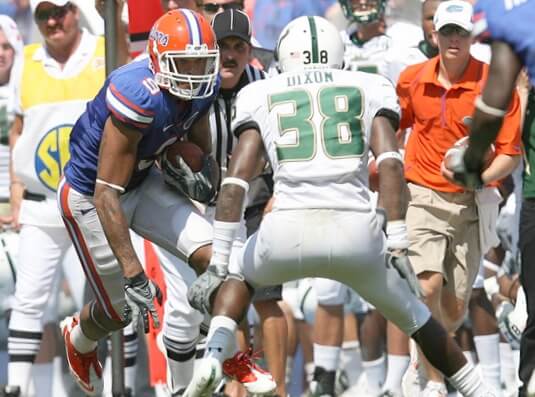 One of the strangest football series in Gator history has finally received its resolution.
Once upon a time, Florida and USF set up a two game series against each other in 2002 and 2003. The series was then delayed to 2008 and 2009, and then again by two more years, with the first game being played in 2010. Florida won that game, 38-14, thanks to a big day from Jeff Demps and a pick six from defensive lineman Justin Trattou. Due to apparent disagreements regarding the location of the second game, it was pushed back twice, first to 2012, then to 2015, and then finally postponed indefinitely– which, with neither side seemingly interested in a resolution, appeared to be the end of that.
If you ask 100 different people from both UF and USF what really happened, you'll get 100 different answers. The truth of the matter is that there was a fundamental disagreement somewhere along the way and the teams resolved to just not play the remaining game.
Now, that whole mess has been buried, and Florida and USF have started fresh and set up a new series against each other. The Gators will host USF in 2022, travel to USF's home field of Raymond James Stadium in Tampa (which objectively feels like Florida's pseudo-home anyway given the huge alumni base in that area) for a game in 2023, and then will host the Bulls again in 2025.
Part of what makes this so newsworthy is that the Bulls are currently coached by longtime Florida defensive coordinator Charlie Strong, although there's no telling if he'll still be coaching them in four, five or seven years. If the current coaches of both teams are on the sidelines for these games, it will mean that the offensive and defensive coordinators of Florida's 2006 and 2008 national championship teams will square off. But beyond that, this is a chance for Florida to play in an NFL stadium, even against an opponent of lesser caliber, and it's an excellent recruiting opportunity for the Gators to boot. USF isn't exactly the cream of the crop in terms of tougher out of conference schedules, but it's certainly a step in the right direction. I'd much rather see USF than, say, Idaho, Charleston Southern, or New Mexico State. Or even FAU for that matter.
Let's see if this serves as a sort of bridge to even more exciting schedules in the future.