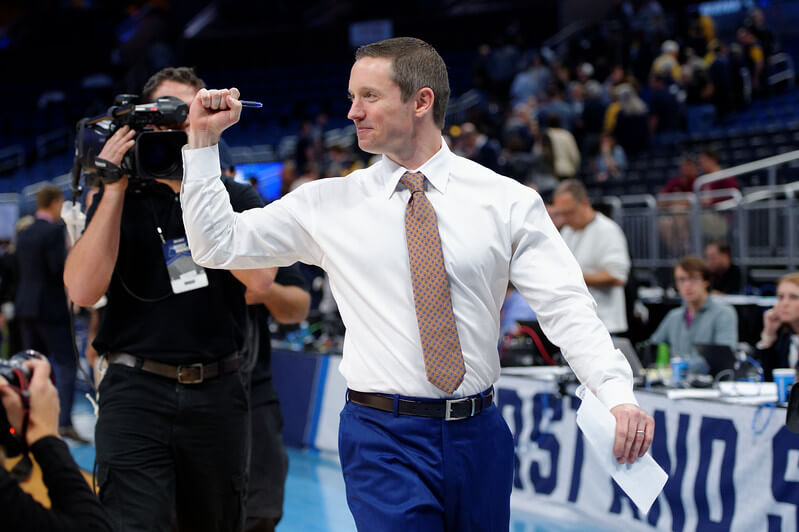 By every objective way of measuring it, Mike White's third season at Florida was not as successful as anybody hoped. Lofty preseason expectations were attributed to White's Gators after reaching the doorstep of the Final Four last season, and for a multitude of reasons, his team simply didn't live up to them.
And when that happens at a place like Florida, answers are demanded from a fanbase with a penchant for caterwauling.
After enough losses piled up to exceed the patience of each individual fan, fingers began being aimed at a laundry list of things as explanations eluded them. Many fans argue that White, as the head coach is to blame. Many others claim that there's nothing White can do if his players simply don't listen or execute. Still other claim that White and his players entered the year at a critical disadvantage without the interior presence of John Egbunu and potential immediate spark plug of newcomer Isaiah Stokes.
So, what's the answer? Where does Mike White stand, and what happens now?
The argument in White's defense is that coaches can only do so much when working with ineffective personnel, and it's obvious that White was not put in an ideal position to succeed this year. Four key contributors from last year's dominant squad- Kasey Hill, Devin Robinson, Justin Leon and Canyon Barry- were gone. And that's not even counting Egbunu, who had Florida looking pretty scary before his ACL injury against Auburn. Throw in the fact that the Gators never had Stokes either, and it becomes totally understandable to not blame him for this season's failure. Not only did White lose five key pieces from last year's team, but he's missing 40% of what he expected to be his starting roster by this point.
Making matters worse, the players White did have weren't helping. KeVaughn Allen was so explosive as a freshman that many thought he'd leave for the NBA after just one season, and he's since regressed to the point of being a complete non-factor. Chris Chiozza will forever have not one, not two, not three but four special places in Gator lore for his triple double against Missouri last season, his miracle three to beat Wisconsin in the Sweet 16, walk-off-pick-two against Missouri this year and the school's all time assist record, yet even he had his less than memorable moments of driving into the trees and throwing passes to fans in the third row. Transfer Egor Koulechov could be deadly, but was wildly inconsistent and could also be a liability when his shots weren't falling. Same with Jalen Hudson. Same with Keith Stone. And so on.
But the biggest problem with the players isn't their general inability to live up to their expectations. The Gators were saddled with a team wide inability to make critical layups and free throws. You can live with bad shooting nights, because those are going to happen and that's just basketball. Missing free throws and layups is a whole other dimension of ineptitude, though, one that's completely unacceptable at a school like Florida and one that White is ultimately powerless to fix. And the Gators compound making physical errors like that with mental errors on defense, like ill-timed fouls late in the shot clock, blowing assignments, and failing to corral uncontested rebounds- the result of which is the ball bouncing harmlessly out of bounds to give the opponent a free possession.
So, to this extent, White can't be blamed. White can't shoot threes for the kids. White can't even shoot layups or free throws for the kids. White can't ESP himself into Kevarrius Hayes' body and not foul with four seconds on the shot clock late in a tight game against Georgia, or into Chiozza's with two seconds on the shot clock late in the Round of 32 game against Texas Tech. White can't ultimately play the game.
But at the end of the day, the responsibility falls on the head coach to ensure that his team is doing everything he can to bring the best out of his team. It's a thankless job that only a very select few can do, but White has elicited some serious questions about whether he is among that select few- which is a prerequisite of coaching Florida in any sport- this year.
(Side note: no, the Texas Tech loss did not elicit any of those questions. White drew up a solid play at the end of the game, his players had two chances to tie the game, and missed them both. That's not his fault. He crafted the right play, and the shots didn't go down.)
Let's start with the more black-and-white stuff before delving into the X's and O's. You cannot lose on your home floor to a mid major, both major rivals, a team that beat you in last year's Elite Eight, and an offensively challenged team that you've owned for the last two decades and expect to survive very long. You just can't. Bad nights are one thing, and they happen to even the best teams, but when they happen five times in one season to teams that fall under those aforementioned categories, it becomes an unpleasant pattern. Lose any one of those five games against Loyola-Chicago, FSU, Georgia, South Carolina and Alabama, meaning you go 4-1 in those games, and we aren't even having this conversation. Nor are we having this conversation if those were the Gators' only five losses on the season, or even five of seven losses on the season. Because in either case, then you can pardon them as bad nights for a good team.
The problem is that the Gators did virtually nothing to prove that they're a good team since the #PK80 in Portland other than beating a dilapidated Kentucky team in Rupp and a crumbling Auburn team toward the end of the year in Gainesville, so those aforementioned performances look more like epitomes of the team than exceptions. And they're at their worst when it matters most. The Gators held double digit leads against Duke, Clemson, South Carolina (at home), Georgia (also at home), Alabama (also at home), and Vanderbilt. Guess what? They lost all six of those games. Say what you want about the effort the players are giving, but if a team peaks in November and then begins blowing leads against teams it shouldn't lose to on a regular basis, that's on the head coach.
The frustration with White comes from more than just wins and losses, though. White is frequently referred to as one of the brilliant young basketball minds in the game, and indeed has demonstrated flashes of this at times. But White has made just as many questionable decisions as laudable ones.
For starters, White completely botched the end-of-game sequence against Georgia. The Gators held a seemingly comfortable seven point advantage with under two minutes to go, but then they allowed Yante Maten to get free and bury a triple. Why White didn't scream at his players to guard the three point line late in a game in which his team led by three possessions was beyond me, but worse was his refusal to do so after Maten hit the first three. At the very least, White could have ordered his team to foul up three with under 20 seconds left, as the maximum amount of points a team can get from shooting two free throws, is, of course, two, and so for a team up three this would have been a solid strategy (Note that Syracuse did this in their Round of 32 upset over Michigan State, and it worked). White opted to do neither, and what happened next was inevitable- Maten hit another open three against a team that looked completely disinterested in defending the perimeter, and Georgia took that game to overtime and eventually won.
The coaching decisions against Vanderbilt down the stretch were bad, too. After his team had blown yet another double digit lead, White elected to run three consecutive isolation plays for Chris Chiozza- despite two hours' worth of evidence that this was not a good idea- to try to retake the lead. Predictably, Florida scored on none of them, and allowed Vanderbilt to end the game on a 5-0 run over the final two minutes. A circulating explanation for this was that White was just trying to get Riley LaChance to foul out, but that's even worse. If White's primary reason for running a specific play three straight times with the game on the line is to coax an opponent into his fifth foul, and not to, you know, score, then White has the deeper issue of not being able to mentally run an accurate cost-benefit analysis in crunch time.
Those were the latest examples of his coaching blunders, but by no means are they the only ones. We'd be here all day if I listed all of them. And I'll soften all that with two things: one, no coach is perfect and makes the correct decision all the time, and two, he's also made some in game adjustments that proved to be brilliant. The point is that White has made some decisions that warrant legitimate criticism, and because of them, he has to at least share the blame.
But at the end of the day, this is a results driven business. At some point, the nuances of the game, the how and why, and the X's and O's won't matter. Nobody really believes White is in danger of being fired this season both because of last year and because a good portion of his team has been injured all season, but should his team struggle like this next year, the internal heat may intensify.
Truth be told, I can't really see a scenario other than off the court bullshit that results in White losing his job next year, unless Florida is really bad and finishes something unfathomable like 11-20. On a scale of one to ten, with one being Steve Spurrier right after sledgehammering FSU 52-20 and ten being Will Muschamp after getting skunked 42-13 by Missouri, I'd estimate that White's job security is somewhere between a three and a four; his seat is somewhere between cool and room temperature. He's pretty safe for now, and he should be, but isn't so safe that one single season that completely goes off the rails wouldn't change that in a heartbeat.
I don't want that to happen. I like him very much, and want him to be the Gators' head coach for a long time. The perk of hiring him so young is that if he succeeds, he'll stay in Gainesville until his coaching days are through. And there is some evidence that this could happen; his head coaching record at Florida (69-37) is far better through his first three years than Billy Donovan's was through his first three years (49-41), and though the program is obviously in a very different place now than it was in the 1990's, it stands to reason that White deserves some more time to build the program in his image.
So I don't want to pull the plug on White, and don't feel as though it's reasonable for anybody to want to do so before seeing what the 2018-19 team looks like. White will have most of his guys back from last year, including a few new guys (Andrew Nembhard and Noah Locke to name a couple), Isaiah Stokes and possibly even John Egbunu.
Let's see what Mike White's fourth team looks like. Let's see how White grows and handles the situations that he's previously botched when given additional chances at them. Let's see if White can grow into what Jeremy Foley dreamed he would when he hired him.
I know I want him to.