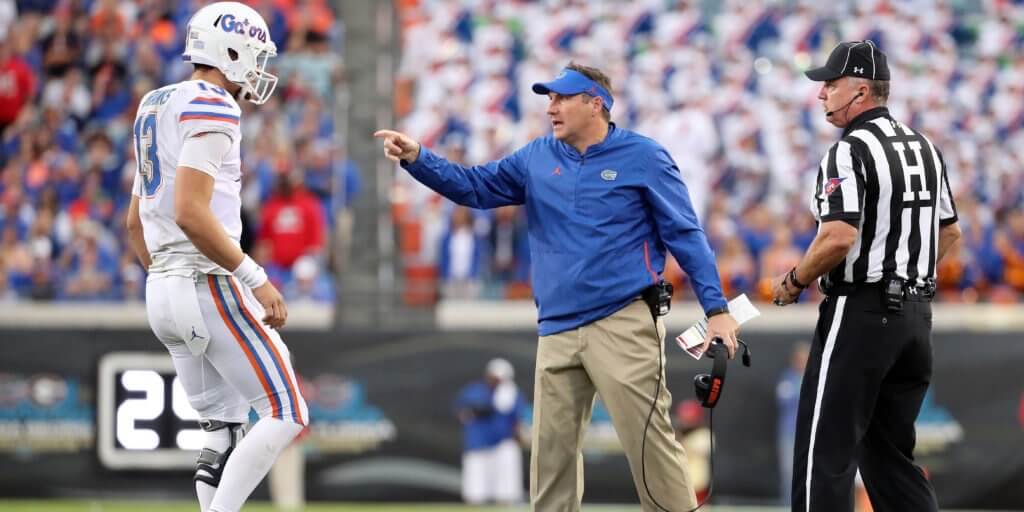 I want to provide a quick disclaimer to the rant that I am about to provide to you wonderful ladies and gentlemen. I live in Atlanta. The Cocktail Party is my Super Bowl. It is the only game that matters to me on a yearly basis. At the end of the MSU game I wasn't thinking about LSU I was thinking about Georgia. At the end of the LSU game I was thinking about Georgia, not Vanderbilt. This probably creates a "that's not really our problem" kind of response, but as I said on Twitter, if you don't live in the state of Georgia, you can't quite grasp the hatred of I have for the very existence of Georgia fans.
Now, with saying that, Florida played poorly today.
This is where opinions start to differ, because a lot of people will try, and try poorly, to sell you on Florida playing well today. Though I'm not quite sure how anyone plans on selling you on a strong game from this Florida football team.
The offense was as I expected, which is to say put into the hands of arguably the worst QB to ever take a snap for the University of Florida. Franks is a guy that you actually say "I wouldn't wish Franks on my worst enemy", because Franks is so bad that it just seems flat-out cruel to wish Franks as the starter for anyone else in the country. Franks is a bust. It would take a miracle from whatever God you believe in for Franks to cancel out all of the bad he has been responsible for in his time at Florida. From costing Florida the Texas A&M game last year or throwing a bad pick and an inexcusably unforgivable fumble vs Georgia today, Franks is a guy that will very likely NEVER live up to his recruiting numbers.
The offense was flat out average. Mullen more or less called a solid game in the 1st half. He dialed up a TD on the first play of the game that not surprisingly Franks severely overthrew so badly the WR quit on the route as the ball was at its apex. Emory Jones finally got playing time today and that wasn't pretty either. I don't quite understand the thought process of the staff here, Emory hasn't played since the Charleston Southern game and was suddenly brought in to do exactly what Toney could have done, except Toney would have done better (minus the deep ball that drew a flag). This is NOT an attack on Emory, it's a criticism on Mullen not playing Emory in a single game between Charleston Southern and Georgia, and then suddenly putting him in a game, on a neutral site, against a top 10 team, and expecting for Emory to be the game changer.  So again, this is NOT a shot on Emory, I'm lost at what exactly Mullen expected when he called multiple plays that I think Toney could have accomplished more in the same spot running.
After the TD pass in the 2nd half by Franks, Georgia immediately answered and for the rest of the game Mullen tried to run his way back into the game. I get it, Franks is bad. Actually, Franks is trash. He's quite possibly the worst starting QB to ever stand behind center for Florida. Ever. I'm a fan of context, so while Florida fans may point to a variety of QBs under Muschamp or Mac, Franks was a highly recruited kid who was once committed to LSU and deemed an immediate playmaker when he got onto campus. That hasn't been the case and you can count on two hands the number of good passes Franks has made while at Florida.
So I get Mullen's concern with trying to pass his way back into the game. But that doesn't make the play-calling from Mullen acceptable. When you're down nearly 2 TDs, I don't think it's wise to go run only. If you need to create passing yards through trick plays with Toney, do so. I just wasn't a fan of what Mullen did in the 2nd half outside of the teams lone TD drive in the 2nd half. Mullen never adjusted, UGA did, its why Florida could barely buy a first down when it needed it. The offense was flat out bad in the 2nd half outside of that one TD drive.
Defensively?
Woosah.
The bad Todd Grantham showed up tonight. And when I say Grantham was bad, he…..was…..bad. Now, the D was solid for most of the first half. But once again, and this has turned into a weekly occurrence under Grantham, the defense allowed UGA to move the ball at will on the first drive. I don't know why this is, I really don't, but Florida is really bad at starting games off strong on defense. For me, that is a coaching problem. Sure, Franks threw the most accurate pass of the day to a Georgia DB, but on Georgias TD drive that followed, two DBs were on the WR and neither of them were in position to make a play on the corner route.
Grantham then preceeded to go soft for an entire drive with 50 seconds left and allow UGA to get into FG range.
The entire week I talked about Fromm's issues vs pressure, how important it was to get to Fromm. Did Florida get to Fromm? No. No they did not. The lone sack by Florida came on what seemed to be a broken play by Georgias offensive line. Because outside of that sack, Florida created no pressure. Polite, Zuniga, CeCe and company? Ghosts. No QB hurries, no sacks. Fromm had all day to do whatever he wanted and boy did he do whatever….he….wanted. Grantham never adjusted. Where were the corner blitzes? Safety blitzes? Stunts? Nothing? Grantham just stuck with a base 4 man rush more or less the entire game and they absolutely failed to deliver. The sole highlight for Floridas defense was a goal line stand that at the end of the game meant absolutely nothing.
When Todd Grantham was hired by Florida, I said "ahhh damn", and so did a lot of people. But then we all dug into the stats and started rationalizing why the hiring of Grantham would change everything. Listen. Grantham isn't bad. He's a clear upgrade over Shannon, a CLEAR upgrade over Shannon to be frank, but saying that? Grantham was a dumpster fire today and I'm not ready to blame it all on the loss of CJ Henderson. You can't continuously have your defense play this poorly early in games and expect to win. But I feel as if the following is also true, despite the fact I know many people won't agree with it, Florida will never get to Atlanta with Todd Grantham as the DC.  Grantham's play-calling was a huge reason Georgia moved the ball at will in the 2nd half. I said in my game preview that Chaney would not outplay call Grantham. I was flat-out wrong. Grantham got severely outcoached by one of the most average OCs in the entire country. Grantham's defense put a bad Florida offense in a spot bad offenses shouldn't be put, playing from behind. Grantham was terrible today and deserves to be verbally destroyed by fans for how poorly he called this game, but I don't expect that to happen because Florida fans will bring up a goal-line stand that made absolutely no difference in the outcome of the game. Grantham was garbage today, and your feelings have no say in the reality of the situation here. Oh, and yes, I realize that losing CJ Henderson was a big deal, but explain to me how Missouri makes life more difficult on Jake Fromm than Florida does. Are you willing to bet that Missouri's corners are more talented than Floridas? I doubt it. Grantham was really, really bad in the 2nd half and a quarter of the first.
The linebackers started missing a lot of tackles, and whether it be due to being tired or a schematic issue I'll see in the tape later. For whatever good our defensive line did on their lone goal-line stand, they blew their wad because from the middle of the 3rd on, UGA backs were busting out huge runs with little in the way of bodies being there to make their life difficult. For the first time all season Florida having to rely on not highly recruited safeties really caught up and bit Florida in the rear end as the corners saw little to no safety help on passes.
Back to the offense. I've been very vocal about my lack of trust in Mullen making grown man decisions about the QB spot. MSU fans were very vocal about how poorly Mullen has handled the QB spot at MSU. Russell was a guy who was severely limited as a QB and MSU fans widely wanted Dak to takeover. But it wasn't until a big injury to Russell allowed Dak to take over the QB spot and never give it up. And at the time, I thought MSU fans were just running off at the mouth about pent-up frustrations against Mullen. But now? I see that those frustrations are for real because going forward, there is ZERO logic for Franks being the starting QB going forward.
Florida currently has nothing of value to play for this year. Unless you think the decision between a December 30th bowl and a Jan 1st bowl is a big deal, there is nothing important still up for grabs for Florida. The SEC East is now down to Kentucky and Georgia. What is there to play for?
Either Emory Jones is really that bad, so bad in fact, that he can't beat out the worst QB to ever lace up cleats for the University of Florida, and if that's the case than we can start up a new conversation at a later date and time about how Jalon Jones should be given a shot to start right away. But assuming that the rumors I've read of Emory Jones being really awful in practice are false, I see zero logic to running Franks out.
The offensive passing game is lifeless under Franks. There is no reason to me that the exact same, run-heavy approach can't be used with Emory. If you assume that Jones is the guy from 2019 on until he either heads to the NFL or graduates, I don't see any strong counter-argument to Franks continuing to take a single snap for Florida. You can't convince me that Emory can't run this exact same run-heavy, super conservative, heavily screen-based offense. For me, until proven otherwise, Mullen just flat out refuses to put any trust in a freshman. There is nothing in Franks play this season that warrants Mullens blind trust in him going forward and now that there is nothing of importance on the line, in my mind, you have to go to Emory. Imagine walking into a recruit's house and explaining to a top 100 WR or RB that Franks is the guy going forward. You're almost recruiting against yourself by continuing to tell recruits that Franks is the guy.
Let me finish with this, I fully understand that I have a more aggressive outlook on the season than most. But again, it's difficult for me to put into words how big of a game this is for me as I live in Atlanta, hence this aggression and extra pessimism from me. Yes, Florida is ahead of schedule with Mullen right now, arguably WAY ahead of schedule under Mullen. Florida could still finish 10-2 which would be a big year considering that the team won 4 games a year ago. But with that being said, this game really shed a lot of light on a lot of weak spots that I'm not quite confident in Mullen fixing in recruiting right now. And I finally saw why MSU and UGA fans have so much hate in their heart for Grantham, because at the end of the day, he's just flat out not a great DC. At best, Grantham is good, and here's a reality you won't like, you don't win championships with good DCs. So yes, I'm being a bit harsh, but this performance deserves harsh. Florida beat writers and bad podcasters are going to lie to you about how this game wasn't that bad. No. It was bad. Florida led for a couple minutes. Florida was more or less dominated from start to finish, and I'm here to put things in a way that most beat writers and podcasters don't have it in them to put it because they value your listen and follow. I don't. I want to put things honestly, because I'm tired of Florida football fans being told lies by people who don't know the game.