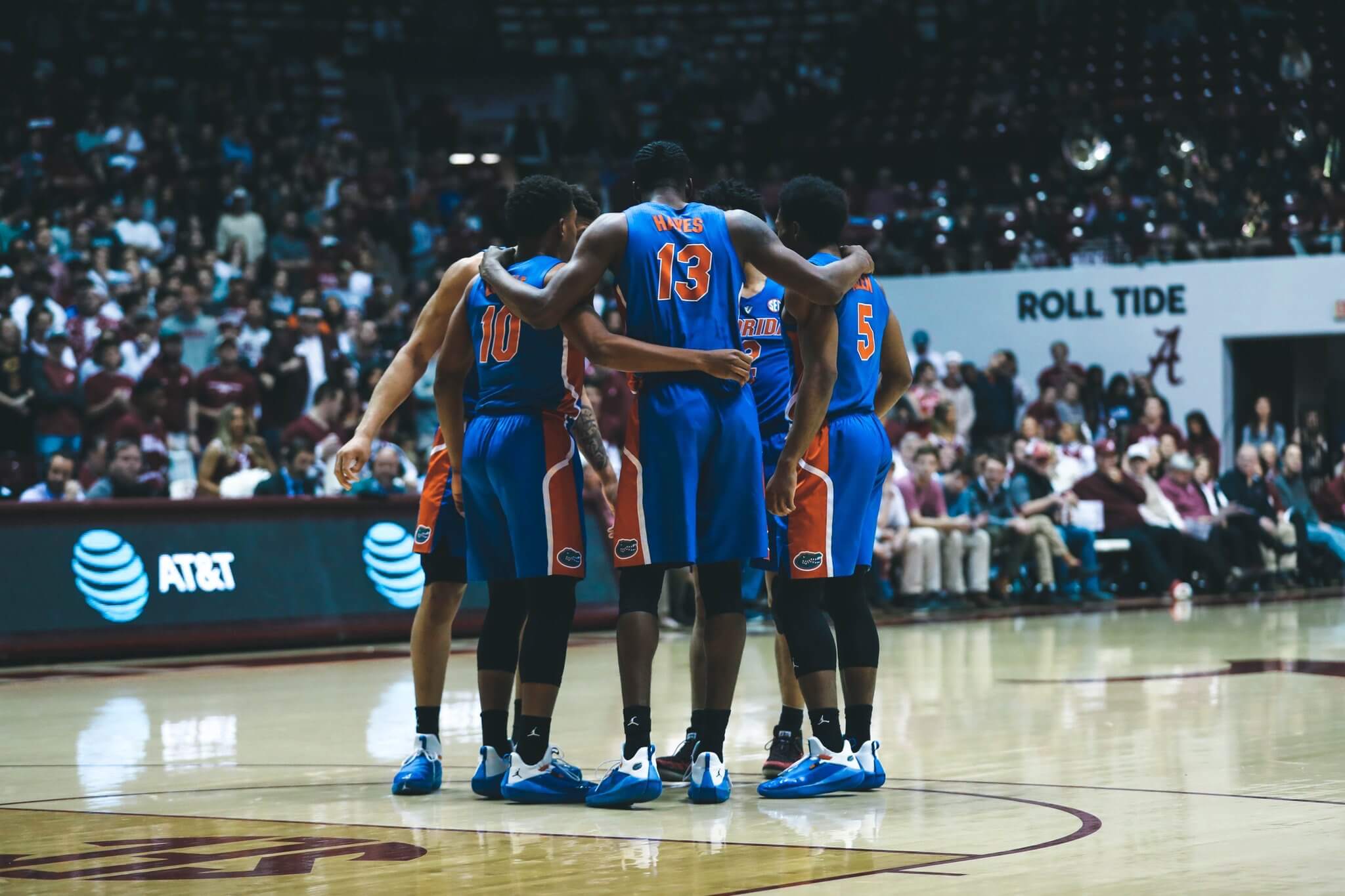 As you likely know by now, Florida beat Alabama in basketball on Saturday, 71-53. The win incited all sorts of one-liners about the Gators' dominance in the Crimson Tide's Coleman Coliseum coinciding with an inability to beat Bama on its own floor, and once that started to die down, the talk turned to Florida's NCAA Tournament chances.
But I'm interested in something much deeper and more important than that. Florida could, in theory, reach the NCAA Tournament as a Regional 10 seed, get wasted by a 7 seed like Iowa or Virginia Tech, and then this team's epitaph reads something along the lines of, "well, at least they made the Big Dance!" with little or no regard to the style and level of basketball the Gators played down the stretch. Which is fine, in a vacuum, but with a team such as the one Florida trots out every night, it's likely more valuable to look farther down the road than that.
Forget about Kevarrius Hayes for a minute. Forget about KeVaughn Allen, and forget about Jalen Hudson. While it's definitely worth pulling for those guys to script storybook endings to their Gator careers, those guys are seniors, they aren't coming back in 2019-20 and so they won't be a part of any sort of rebuilding job that lies ahead for Mike White and Florida. This is about the future of this program- which for the first time all season, looked like it could be something more than bleak.
We've seen Florida play portions of games at a championship level. We've seen this team string together four or five minutes of truculent defense at a time. We've seen individual offensive possessions where this team works the pick and roll, or boxes out for a critical rebound for a second chance at points, or even moves the ball around until it finds a crease in an opponent's zone. And we've seen individual efforts on individual plays- most notably, KeVaughn Allen's diving save against Mississippi- that make you see why, at the very least, this team is capable of beating anybody on a given night.
But against Alabama, we saw this team do all these things, for forty consecutive minutes, against a quality opponent. On the road, no less. And it begs the question: is this a mirage, or is this the start of something real?
It starts in the paint. Alabama has a significant size advantage over Florida, as do most teams the Gators play against. Instead of hammering White for this again, though, Florida's domination on the glass against a bigger team gives me something to be giddy about. Keyontae Johnson pulled down more than half as many boards (13) as the entire Alabama team (23) as part of his first double double as a Gator. Johnson is no mini-me, standing 6'5, 225, but to watch him repeatedly box out the Crimson Tide big guys for rebound after rebound was just exhilarating to watch not as a Gator fan, but as a basketball fan. Johnson wanted those boards. Credit the Gators' so-called big man coach Al Pinkins for this, in part, but Johnson is a guy who's coming back for at least one, maybe two years after this. He'll still need to be complemented by a true 5 player like incoming freshman Omar Payne, but at least going forward, he can be seen as a real option down low.
That inside presence is paired with this team's ole reliable, its defense. We know what this team is capable of defensively, because they repeatedly show flashes of it, but for the first time since the second Butler game, the Gators displayed it for the vast majority of the game. Florida's 1-2-2 zone seldom allowed Alabama to find the seams, and on top of that created several live ball turnovers that the Gators quickly turned into points the other way. To boot, Florida did a solid job containing five star freshman Kira Lewis, holding him to 14 points- his second fewest in five games in February.
But basketball is only partially X's and O's. There's a large mental component to it, too. Like having the fortitude to stand tall when an opponent makes a run and fight off the stampede. Or even more simply, having the composure to finish games off with the same or greater intensity and level of execution as you start. And Florida did just that against Alabama.
With thirteen minutes to go and Florida cruising, Jalen Hudson drained a three to make it 51-34 Florida. Alabama promptly launched a 10-1 run to slice the lead down to 52-44. Florida then settled down, ran its offense and retaliated with a 13-4 run to end any semblance of doubt that this game was theirs. When Andrew Nembhard knocked down a three to adjust the score to 65-48 with just under four minutes to go, this game was over, and the Gators had turned in their most complete game of the season.
Now that we saw this team was able to put it all together for a full game, the next step is finding out if this team can string together consecutive games at this high level. Because the truth is while Florida played well, Alabama really didn't. Subsequent opponents, namely LSU, Kentucky, potential NCAA Tournament foes, and the formidable opponents that arise next year, have to be assumed to play better than the Crimson Tide did on Saturday, and should provide this young but growing team with some tough battles.
And if Florida really is turning a corner, and Saturday wasn't just a hallucination, those battles figure to be fun to watch as the young Gators grow up before our eyes.