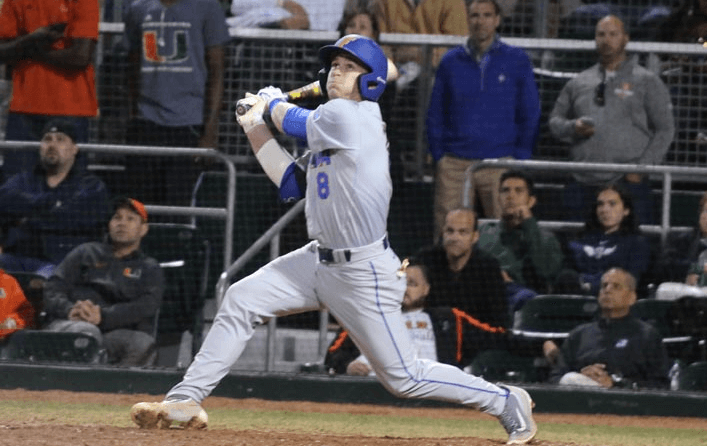 If any opponent was somehow foolish enough to overlook Deacon Liput's importance before this weekend, rest assured they will no longer.
The freshman infielder doubled home the winning run in the series opener against Vanderbilt, and got the rubber match started with a three run homer. And with the score tied 6-6 in the deciding game's fifth inning, Liput singled to begin another Gator rally- one that knocked the Commodores down for the count.
Florida used a tremendous effort by Logan Shore on Friday night to claim the opener 4-2, but Vanderbilt evened the series with a 5-0 shutout win. Each game had less offense than those scores would indicate; all six runs on Friday came in three half-innings, and Vanderbilt clung to a 1-0 lead from the second to the seventh inning before breaking the game open. AJ Puk really made just one mistake in his start against the Commodores, but Florida just couldn't generate any offense.
All that set up a winner take all showdown on Sunday, with the Gators having already locked up a top eight national seed and not really playing for anything but to keep their momentum going. And despite not having Peter Alonso in the lineup (Alonso should be back by the NCAA Tournament after sustaining a broken bone in his hand on a HBP), they saved their best for last.
To Vandy's credit, they got on Alex Faedo pretty hard, and did a nice job climbing out of the hole that Liput's homer dug them into. Jeren Kendall singled home a run in the third to cut the lead to 3-1, and then Bryan Reynolds followed that up with a three run homer. Vandy didn't enjoy their 4-3 lead for long, though, as Florida came back with a three run inning of their own highlighted by an RBI double by Buddy Reed. The Dores' Connor Kaiser then tied the game with a 2 RBI single- and then the Gators just took over the game.
Liput got the fifth inning started with a single to right center field. That was followed up by a Nelson Maldonado single right back up the middle, a Mike Rivera walk, a Jeremy Vasquez HBP, and a Ryan Larson sacrifice fly. The way things were going, though, an 8-6 lead heading to the sixth inning didn't seem too safe.
Luckily, the Gators' pitching staff was able to finish it off.
Faedo flirted with being yanked several times throughout the game, but hung in there and delivered a 1-2-3 sixth inning. Dane Dunning took over in the seventh, and turned in two perfect innings. Meanwhile, the Gators' offense added two more runs in the bottom of the eighth on RBI singles from Dalton Guthrie and Jonathan India. So now it was 10-6 heading to the ninth, and time to close it out. And after giving up a leadoff single, Shaun Anderson validated his job title of closer and did just that, coaxing a double play before striking out Kaiser to end it.
So for the fourth time in the last five weeks, the Gators have won their weekend series, and the only other one (against South Carolina) was deadlocked at one game apiece when weather forced the rubber match to be canceled. Semantics aside, the point is clear: Florida is rolling along right now. There are occasional stumbles, yes, but you can afford one loss per stage in the NCAA Tournament. At the point the Gators will have to get to in order to win the national championship, everything becomes a wash; all the teams can hit, all the teams can pitch and all the teams can, for lack of a better way to put it, win.
The difference will be confidence. And with the way Florida's played recently against one great team after another, you have to feel like they're as well prepared to win those games as any team possibly could be.