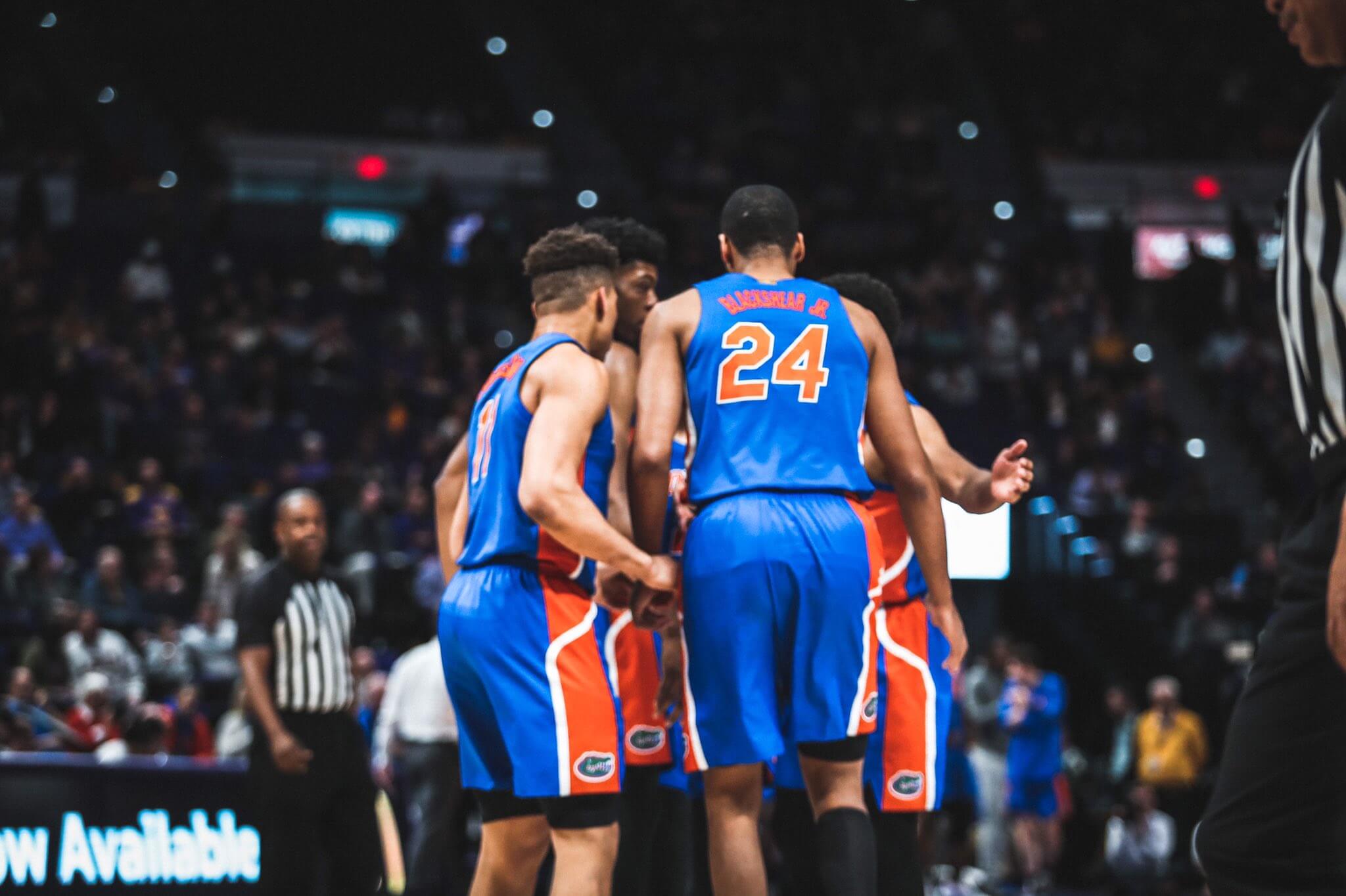 To its credit, Florida fought. To its credit, Florida looked like a cohesive basketball team for much of the night. And to its credit, Florida looked like a much better basketball team than it was back in November.
But at the end of the night, all of that wasn't enough, and the Gators' frantic late comeback fell less than a tenth of a second short as LSU handed Florida a devastating 84-82 defeat in Baton Rouge. The loss knocks Mike White's team back two games in the SEC standings, and more importantly brings about questions about this team's ability to pull out close games late.
In truth, this game shouldn't have been close late.
Seemingly in command with a 79-69 lead and 1:20 to go, LSU suddenly stalled and began an incredible free fall that featured a turnover from Trendon Watford, back to back missed layups and Florida deciding to pick that exact moment of the game to heat up from outside. Noah Locke hit the first three after Andrew Nembhard scored on a layup, and then back to back threes from Keyontae Johnson sandwiched around a pair of Emmitt Williams free throws cut the Tigers' lead down to one. Florida had a chance to tie after Skylar Mays split a pair of free throws to make it 82-80, but Scottie Lewis's foot slipped and he stepped out of bounds with sixteen seconds to go. Mays then hit two more free throws to adjust the scoreboard to 84-80.
But Florida still had one last gasp left. Kerry Blackshear sliced the lead in half with a quick layup, and then following the inbound pass to Skylar Mays, Lewis got a hand in and poked the ball free. After going to the monitor, referees determined that the ball had last touched Mays and awarded it to Florida with half a second left. White's potentially game tying baseline out of bounds play appeared to work; Johnson came off a screen from Locke, caught the ball in the paint with nobody near him and laid it in, seemingly releasing the ball at the exact nanosecond the backboard flared red to signal the end of the game. But super slow motion replays showed that Johnson was just a microscopic fraction of a second too slow on the release, so the refs waved off the bucket and LSU survived, 84-82.
There were a number of irritating moments in this game, of all sorts of genres. A questionable flagrant foul call on Omar Payne early in the second half turned momentum in the favor of LSU after Florida had led most of the first half. The Gators' defense, which had looked solid throughout the first half, got lazy and slumbered throughout much of the second. Some of Florida's shot selection was atrocious, lowlighted by one instance of Andrew Nembhard jogging up the floor with the ball, picking up a weak screen, not even looking to pass and then throwing up a desperate three barely five seconds into the shot clock. And LSU dominated Florida in the rebounding category by a 38-28 margin that truthfully felt much wider than that.
Now, Florida deserves credit for fighting through all that to make a game of it in the waning moments, even though a great deal of the comeback was due to LSU's self inflicted wounds. For all the heat White takes from fans, including me, he did draw up the perfect baseline out of bounds play. With :.6 left, it would have worked. And it's clear that this team has grown a good deal since getting its doors blown off by FSU- which is something White, as the head coach, deserves credit for as well.
But that loss to the Bayou Bengals is going to sting for a number of reasons. First, Florida now finds itself two games back of LSU in the SEC standings. In what everybody agrees is a down year in the SEC, with what everybody agrees is Mike White's best team at Florida, that was and will remain a costly setback on their quest to capture the school's eighth SEC Championship. Second, this team is in a very precarious situation regarding the NCAA Tournament even after beating then-fourth ranked Auburn (who has since plummeted to #16 in the rankings). Most bracketologists had Florida as either a #9 or #10 seed entering yesterday, i.e. one of the last 8-12 teams into the field. And now Florida is starting to run out of chances to pick up impressive wins on the road, a critical factor the Selection Committee looks at. This was a huge opportunity for the type of win the committee couldn't ignore, and Florida just couldn't get it.
Of course, there are two thirds of the conference slate plus a date with the top ranked team in America still to go. And then there's the SEC Tournament. To be clear, racking up a high volume of wins would do the trick and get the Gators safely into the NCAA Tournament, so it's not like Florida doesn't have time to fix things. But with the way this inconsistent team operates, winning the last thirteen games or even going 10-3 feels out of the question. And being unable to pull out close games has become a frustrating pattern for this team.
Hopefully, that pattern won't come to define this team. But the Gators are starting to run out of time to convince me that it won't.