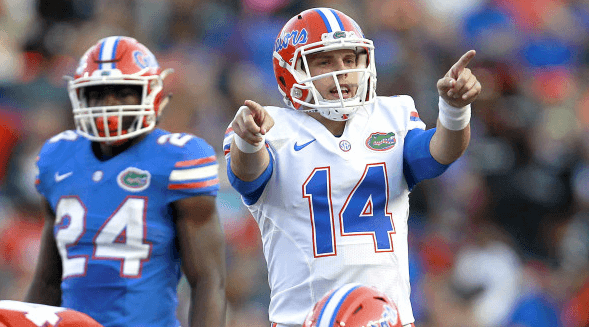 Believe Jim McElwain's uncertain tones about his quarterback situation to fool you at your own peril. The Gators look like they have a clear cut starter.
The teams weren't divided up particularly evenly. In fact, the spring game directly pitted the starters (blue) against the backups (orange) for the night. So it shouldn't come as a surprise that the blue team won 44-6. By the same token, the fact that Luke Del Rio had a great stat line against the second team defense should be taken with a grain of salt.
But Del Rio also played the smart, mistake-free game this team needs him to play this season. Teammates and coaches alike have been very impressed with the way he's taken on a leadership role, and he more than looked the part last night by making the plays he had to. He completed every pass he attempted with the intention of completing; the one incompletion that shows up in the stat book was him throwing the ball away to avoid a sack.
And believe it or not, that may have been his most impressive play on a night filled with them.
Del Rio opened the game with a dart to CJ Worton, who Mike-Dyer'd over a defender and picked up an additional 30 yards after the catch. He capped that drive by throwing a dime to DeAndre Goolsby down the sideline for a 19 yard touchdown. Two drives later, he found freshman Dre Massey over the middle for a 25 yard score. He finished the night with a more than respectable 10-11 and 176 yards.
Even when he wasn't compiling statistics, he displayed the ability to go through his progressions with relative ease, and make the throws he needed to make. In addition, he demonstrated that he isn't afraid to hit his check down option, which can be a great idea; after all, your running back is the best at carrying the football, so why not give it to him and let him get some yardage?
In short, Del Rio isn't going to be another Tim Tebow, or even another Will Grier. That's not who he is. But what fans need to understand- and I think most do- is that he isn't needed to be. This team can function just fine with a game manager at quarterback, even though most QB's react to that label like it's a more offensive term than the "C word." But being a game manager is far from a bad thing. Alabama has won four national championships in the last seven years with "game managers" at the controls because they were equipped with a championship-caliber defense on the other side of the ball.
Wouldn't you know? Florida is too.
The Gators' defense was actually somewhat lost in the shuffle last night, because all fans wanted to see was offense and kicker Eddy Pineiro (who shined- but that's for another day). Yet the defense was every bit as ferocious as we're used to seeing, albeit against the backup offense. Duke Dawson picked off two passes, taking one back for a touchdown, and while that's partly because Feleipe Franks made a few bad decisions (also for another day) Dawson showed off the ball skills and athleticism that make him an easy replacement piece in the Gators' vaunted secondary.
I'll rewatch the game at some point today, and then break down the game some more later in the week. We do, after all, have a long offseason still ahead of us…