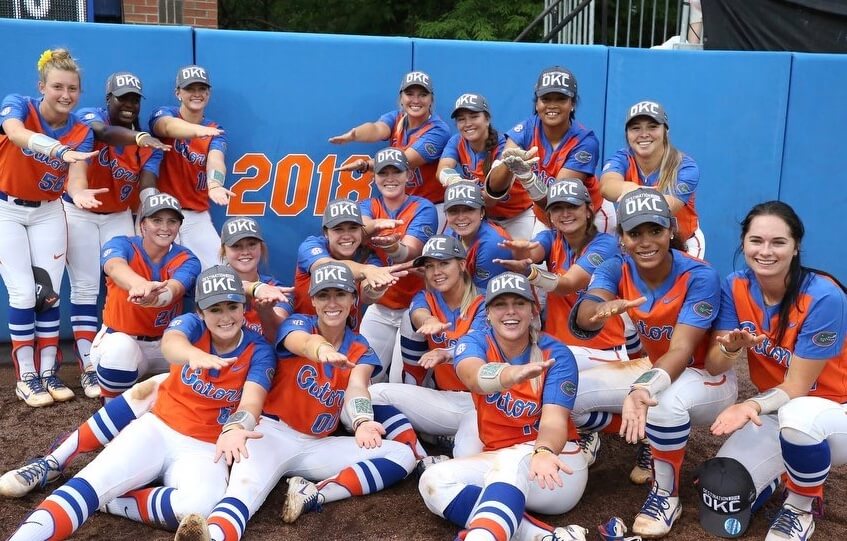 Down to their final strike against Texas A&M in the decisive Game Three of the Super Regionals, Tim Walton's final hope lay in the hands of a freshman named Jordan Matthews. She'd hit four homers on the year, but was now facing the unenviable task of reaching base safely- with failure to do so meaning the team's season would be over without the seemingly annual trip to Oklahoma City.
So much had gone wrong for Florida over the weekend, too. The Gators had just watched a 2-0 lead evaporate with a rare homer off of usually stellar pitcher Aleshia Ocasio, and that was after a barrage of Aggie miscues that gave them Game One to even allow them to participate in Game Three. In fact, Florida- who had swept Texas A&M by a composite score of 23-4 just two months earlier- had simply been outplayed for much of the weekend.
But nobody is going to remember the 2018 Gainesville Super Regionals for any of that because of one sweet swing from Matthews, one that sent Trinity Harrington's pitch over the left center field wall where the Gators proudly list all eight of their trips to the WCWS. Less than ten minutes after Matthews' shot cleared that part of the wall and less than five after her teammates had broke up their dog pile, a ninth was added to it.
Simply putting "2018" on that wall isn't going to do the game justice, though.
At first looked like Florida was going to gut it out in Game Three without needing any eleventh hour heroics, with Hannah Adams and Janell Wheaton driving in a pair of runs on RBI singles in the fourth and fifth innings, respectively. A&M added a run in the top of the sixth and then had the bases loaded with no outs on ace Kelly Barnhill when pitching coach Jennifer Rocha signaled for Ocasio to replace her. Ocasio coaxed two strikeouts and a fly ball to end the inning, and even though a run scored when one of her third strike drop balls got away from Wheaton, the damage seemed to be limited.
But the Aggies threatened again in the seventh, when Sarah Hudek singled to right with two outs to put the tying run on base. Ocasio then got two strikes on Tori Vidales, but then made the seemingly fatal mistake of leaving one up in the zone- which Vidales punched over the center field wall. It was deja vu of the 2016 Super Regionals, when Georgia's Kaylee Puailoa stroked a game winning two run homer off of Ocasio- who, is worth noting, a two time All-American pitcher- to send the 16th ranked Bulldogs to the Women's College World Series.
There was one major difference this time around, though: Florida had last ups. And they took advantage, as Amanda Lorenz and Kayli Kvistad both worked walks to set the stage for Matthews.
WALK-OFF!!! THE FLORIDA #GATORS ARE GOING BACK TO THE WOMEN'S COLLEGE WORLD SERIES!!! pic.twitter.com/XkfEtrTHz7

— InAllKindsOfWeather.com (@AllKindsWeather) May 26, 2018
It's become something of a foregone conclusion these days that Walton's Gator softball team is going to reach the Women's College World Series. It's reached the point where, on the rare occasion when it doesn't happen, like in 2016, the feeling that follows the loss that keeps his team from returning to Oklahoma City is one of absolute disbelief. And with the 2016 Super Regional loss to Georgia continually fading farther away in the rearview mirror with each passing day, it takes a second to remember that it actually happened when trying to comprehend the accomplishments that Florida has stockpiled in its trophy case since Walton's arrival. It's almost as if, when thinking about the times the Gators didn't reach Oklahoma City, it takes a second to remember: "oh yeah, they lost to Georgia in 2016 so they didn't go."
To put a number to it, Florida has now been to the Women's College World Series nine times out of the last eleven years, with the exceptions being 2012 with the whole Fagan/Coyle mess and 2016 with the aforementioned stunner at the hands of Georgia. And that puts Walton and his program in rarefied air.
#WCWS appearances since 2008:

1) Florida: 9
T-2) Oklahoma: 7
T-2) Alabama: 7
T-4) Arizona State: 6
T-4) UCLA: 6@_TimWalton sure has built a powerhouse with @GatorsSB.

— InAllKindsOfWeather.com (@AllKindsWeather) May 27, 2018
But the regularity of the accomplishment should not take away from the accomplishment itself- particularly given that this Florida team really has not played particularly well so far in the postseason.
First, the Gators struggled mightily with runners in scoring position against Ohio State in Regional play. They did break through with ten runs in two innings in the first game and did just enough to win the second game to advance, but then encountered a whole new array of problems against the Aggies. The usually shutdown Ocasio surrendered late game homers to Vidales that ultimately cost Florida Game Two and nearly cost them Game Three. And Florida needed two errors and three walks- all with two outs- to survive Game One.
Luckily, Florida gets a clean slate in Oklahoma City. This team is well aware that they haven't played their best softball, or even close to it, this postseason. They've merely survived by fighting their hardest, three days of which will forever be immortalized in one swing of the bat from Jordan Matthews.
Here's hoping that the big stage will bring out the best in them as it did last year, and the motivation to play their best softball yet will yield the result they're striving for.