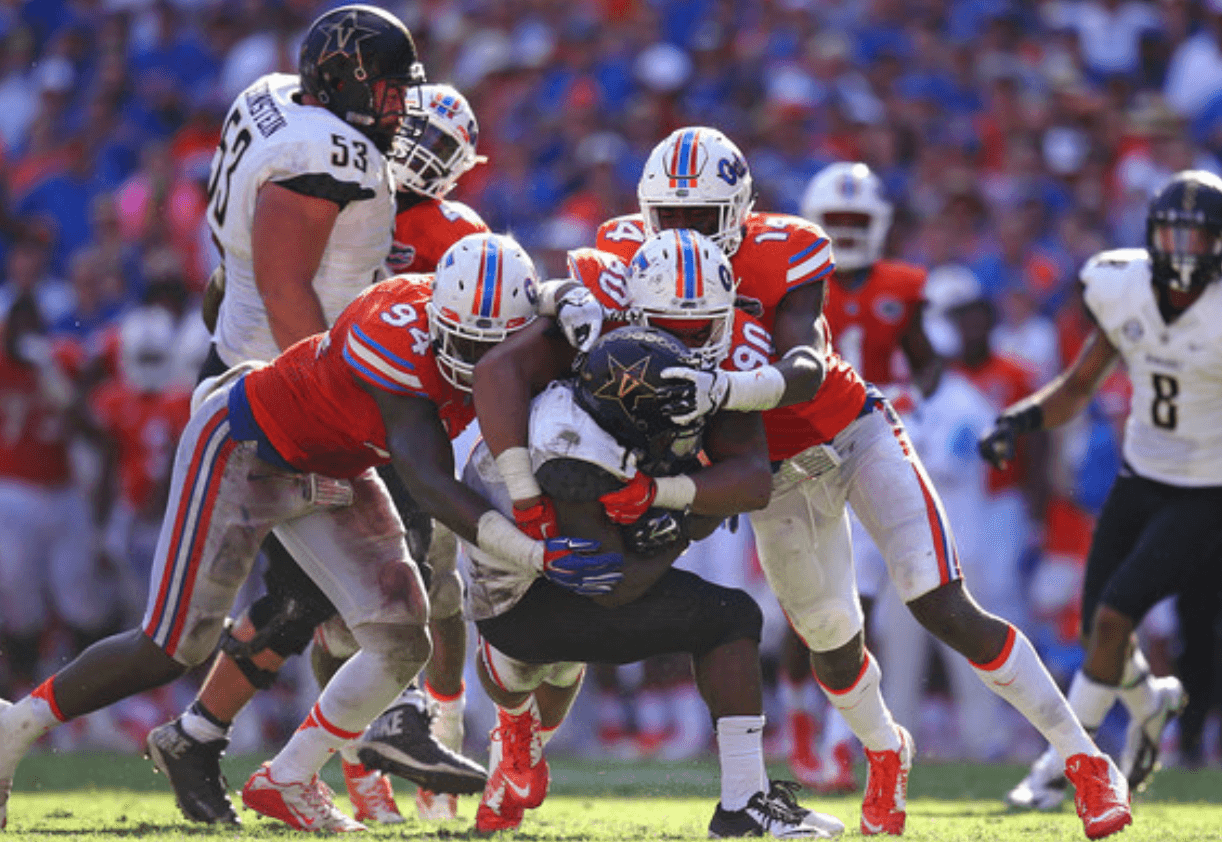 We don't know a ton about the latest Category 5 storm to attack the Caribbean and southeastern United States. What we do know is that it's capable of inflicting incredible amounts of damage, and could hit the shores of the Sunshine State by as early as Saturday- the day that the Gator football team plans to play its first home game of the year against Northern Colorado.
And given that we know it's a possibility that this hurricane ruins those plans, not to mention that we witnessed a hurricane cost us a free win against Presbyterian last year (though it did give us a sweet win over LSU in Death Valley we would not have otherwise had) the University of Florida should be prepared to make some alternate plans. With all due respect to UF administration, that means taking action- the sooner the better.
Computer models indicate that Hurricane Irma will invade the Dominican Republic, Haiti and the Turks and Caicos Islands on Thursday and Friday, and Cuba on Friday and Saturday. Not long after it hits Cuba, the storm is projected to redirect north toward the Florida Keys, and hit the mainland late Saturday night or early Sunday morning. Now, Gainesville is about 310 miles away from the south Florida shore, where Irma is projected to initially hit late Saturday or early Sunday, but just as important to keep in mind here is that the Gators' roster is stockpiled with players from south Florida, and they will likely- and rightfully- be more worried about their families' welfare than playing a football game.
So what UF should do is simple. AD Scott Stricklin, please move the game up one day, to Friday. Set the game to kick off somewhere between 5 and 7pm. That's late enough that most ticket holders in the Gainesville area can dip out of work and make it to the Swamp, and for those coming from out of town early enough on Friday to make it to the stadium by kickoff. But it's also early enough for Northern Colorado administration to assess the situation brewing to the south and then get the high hell out of town Saturday morning or even Friday night if they have to. And it gives Florida players- particularly those from the southern shores- ample time to turn their attention to their families. Whatever time in that window y'all decide on, I'm sure the SEC Network or ESPNU will happily send a camera crew to Gainesville to broadcast it.
Let's play out the scenarios. First, the scenario where UF ultimately does nothing. Let's say Irma's path allows the game to be played on Saturday night. What's the major benefit? Those who plan to drive or fly in Saturday morning for the game, and thus cannot be in town Friday night, will get to go to the game as scheduled. So we get a couple thousand more fans in for a game that probably won't be at capacity anyway. That's the big advantage UF is going for. But those coming from the south may have to rethink their accommodation plans anyway, as Irma promises to ravage the south of the state on Sunday.
Now let's think about what happens if UF gambles, does nothing and Irma does render the game unplayable. Florida will have succeeded in pissing off thousands of fans who paid good money to travel in from out of town on Friday afternoon and leave Sunday, and in losing a tremendous amount of money in refunding the ticket money. And yet that pales in comparison to the effect it would have on the football team, which needs both an ego boost and some live reps before beginning SEC play against Tennessee. Lose that game, and suddenly the season is an abject failure before it even begins- and losing the opportunity to iron out the kinks against Northern Colorado increases the odds of that happening.
Moving the game to late Friday afternoon or early Friday evening will allow the majority- not all, but the majority- of out of town fans to not have to alter their travel plans to get to Gainesville. Most ticket holders not from Gainesville are driving to this game- from Atlanta, Jacksonville, Tallahassee, Tampa, Orlando, Melbourne, Ft. Lauderdale and Miami, if not the smaller cities in between and much closer, like Lake City, Live Oak, Ocala, etc. And most of them who have made hotel reservations have them for Friday night, so they won't even have to change that; those who live close enough can simply drive home afterwards. The ones who may be kind of screwed here are those who plan to fly in for the game, but that's a minuscule minority of the 85,000-90,000 who figure to pack the Swamp for this game. And by making the game late enough on Friday afternoon, you limit the amount of people who have to re-accommodate. It's not going to be perfect, but it's a hurricane. No solution  to a hurricane will ever be perfect, but this is as close to it as you'll ever get.
Football is obviously not as important as the personal lives of those in the paths of hurricanes. That's why Florida did not play a football game as Hurricane Matthew was ravaging the Atlantic coast last October. But there's also no reason this game can't be played given that Irma will hit later in the weekend than Matthew did. And with sufficient planning ahead of time, it can be.
So, please, UF. Make the call within the next 24 hours, and preferably by tonight. Do not "continue to monitor the storm" until your astute monitoring skills lead you to conclude that there's no way to play the game Saturday night… on Friday afternoon. The absolute last thing we need is to wait it out and see what happens, have perfect weather throughout the state on Friday and then get assaulted by Irma Saturday night to render the game unplayable one way or another. To lose another opportunity to play football in the Swamp because there was nothing you could do about it is one thing, but to do so with more than enough time to make alternative arrangements- not to mention that the alternative arrangement I proposed is a feasible one- would make you look ignorant at best, and either incompetent or downright stupid at worst.
I beg of you, UF. Be smart. Don't take any chances. Make the call.