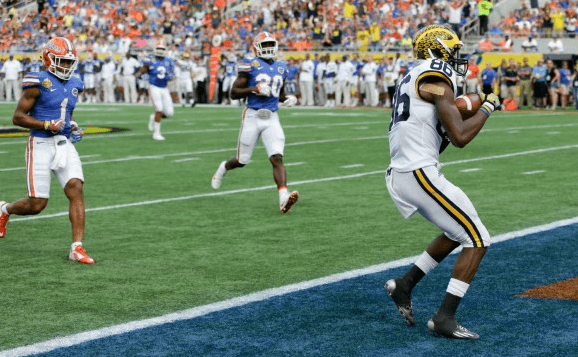 For the second straight time, Michigan dropped 41 points against Florida in the Citrus Bowl. But while their point total in this year's contest matched the 41 they put up in the same bowl game eight years earlier, this game epitomized all that Florida has become since losing Will Grier.
Simply put, the Gators got humiliated. And they deserved it.
Michigan racked up 503 yards of total offense on the day against a defense that showed approximately zero interest in stopping them. Vernon Hargreaves, widely acknowledged to be one of the best cornerbacks in college football, was torched on a deep ball from Jake Rudock to Jehu Chesson for a touchdown. The defense, which carried this team since the suspension of Will Grier, routinely busted coverages, missed tackles and failed to force any turnovers- a requirement to beat Michigan. There's no way this Michigan offense should have had half the success they did against this Florida defense, but that defense played as if they were overdosing on sleeping pills.
Then again, playing with the knowledge that your team's quarterback is horrible and won't ever let you get any rest doesn't help, either.
To its credit, the offense moved the ball well enough early on thanks to a surprisingly solid start from Harris, but three trips deep into Michigan territory ended in a failed fake field goal, a touchdown and an interception in the end zone that came on a potential game-tying drive. The Gators needed 21 points from those three drives to have a chance; they got seven. Of course, Harris's mild success didn't last, and he soon regressed back to the same inaccurate, indecisive, and for lack of a better word, foolish quarterback Gator fans have grown tired of seeing.
And Michigan ran away with it from there.
The Wolverines drove down and kicked a field goal to make it 17-7 at the half, and then it got worse. Way worse. Florida's defense then decided to quit, and predictably, the results were horrendous. Michigan's next three drives went 69, 58 and 84 yards, all for touchdowns, and in the blink of an eye it was 38-7. A harmless field goal on the next drive made it 41-7 to cap the day's scoring.
This game was a mismatch from the start, though, so it's not like this was a total surprise. After Grier's suspension, the Gators were left to play on the big stages he had set them up to play on without him, such as the SEC Championship and the Citrus Bowl. Previous results served as an indication that these games would not go well; beating Vanderbilt 9-7 and needing overtime to hold off 3-9 FAU were clear warnings that this team was not only worse with Harris at QB instead of Grier, but that it was now as bad as it had ever been under Will Muschamp.
Now throw in the fact that the team looked like it didn't want to be there. We've seen that before from Muschamp teams, most notably two years ago against Vanderbilt, last year against Missouri and in the 2013 Sugar Bowl against Louisville. Florida was destroyed in all three of those games, and with the same lackadaisical attitude on display on Friday, the result was repeated.
Florida, it felt like, just wanted this season to be over. They knew they weren't the same team with Harris as opposed to Grier; in other words, as good of a team. And to be a bowl game that was far beneath where the Gators were thinking of going after crushing Mississippi in October or even after knocking off South Carolina in November was not only a disappointment, but a game that they felt too mighty to participate in.
And the result was an absolutely humiliating loss that each and every player aside from Antonio Callaway should be ashamed of, disgusted with and use as personal motivation to do all in their power going forward to make the Florida Gators football team the best they can be, or in the case of those who are leaving, their future NFL teams. Show up and not be ready to play, and they'll be embarrassed again. They deserved it this time and they'll deserve it next time, if there is one.
The Gator program is healing, but this was a setback. Playing a game like you do not want to be there is unacceptable, and while he's taken tremendous strides in his first year, Jim McElwain has a lot of work to do. The flip side, of course, is that McElwain has done an incredible job in his first year, and the terrible QB play he got from Harris and the losses that led to shouldn't take away from what his team accomplished with a real QB, the way it's fair to expect from an SEC program.
However you want to look at it, though: the Gators are on their way back to the top. They've already returned to national relevance, having won double digit games and the SEC East. Now it's time to take the next step, and with an actual quarterback coming in to lead the team (whether it's Luke Del Rio, Felipe Franks or Austin Appleby) there's real promise that it will be taken. And if nothing else, this loss to Michigan should help fuel the players' desire that much more to take it.