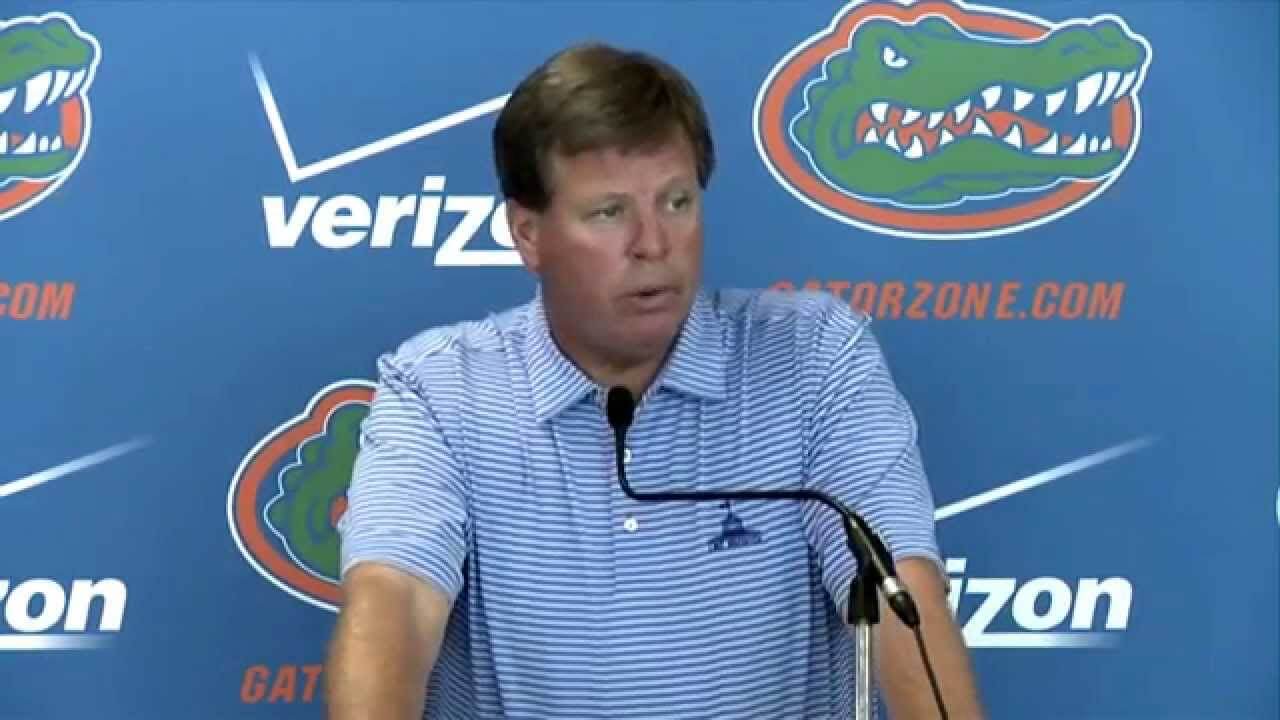 For the first time in a long time, it seems as if the Florida Gators have finally put together a team to get excited about.
Don't get me wrong, the pick-sixes and goal line stands the Gators have produced in Jim McElwain's short tenure thus far were incredible, but the main source of excitement coming out of Gainesville has been the defense, which, when coupled with an anemic offense, is just… unexciting. After years of a rotating door at quarterback, watching the offense take the field almost made you hope they would just punt it away and give our defense a chance to win the game.
Coming in to his third season with two SEC East titles under his belt, it looks like Coach Mac may have a full team to get excited about. With a roster that includes talent on both sides of the ball such as Martez Ivey, CeCe Jefferson, Antonio Callaway, and Duke Dawson along with what looks to be a competent quarterback in either Felipe Franks or Malik Zaire, you can't help but think that Florida might actually have a chance to compete again. The road back to the national spotlight won't be an easy one, with games against Texas A&M, Tennessee, Georgia, LSU and FSU, but if the Gators can start the season off hot against Jim Harbaugh's 9th ranked Michigan team, that momentum could very well lead the talented Gators back to Atlanta for their third straight SEC East Title and a chance to compete in the College Football Playoffs.
Even though a non-conference loss to Michigan won't have much of an effect on their chances of making it back to Atlanta, Jim McElwain and the Florida Gators have a lot more to gain than just a check in the "W" column on September 2nd in Dallas. For the first time since the 1987 opener against Miami, the Gators won't kick off their season in the Swamp. Playing a top ten ranked team in the season opener requires the team to be firing on all cylinders from the get go, something that Florida isn't used to. While there aren't any prior games to work the kinks out, a tough season opener will allow the coaching staff the opportunity to evaluate Franks/Zaire's performance under big game pressure. That's one hell of a way to christen a new quarterback.
So in the grand scheme of things, a first game loss against a top ten team won't hurt Florida too bad in the sense of wins and losses, but it could definitely damage a young quarterback's confidence, which could be hard to shake off before the Tennessee game two weeks later. However, if the Gators can pull off a win they'll hit the ground running with a quarterback that has already had that big game exposure and a coaching staff that is better equipped to fix problems early in the season.
A confident quarterback could mean very good things for a Coach Mac offense that is largely dependent on the quarterback's ability to be in sync with his receivers in order to take advantage of miscues in coverage. His system has proven to be adept at getting players open, but has yet to have a player that could put the ball where it needs to be when it needs to be there. If Felipe Franks or Malik Zaire can figure out how to do that, it's up to our skill players to do what they do best.
Like this.
98 days till @GatorsFB. 98 is for @AAppleby12's 98 yard touchdown pass to @Tyrie_1 against LSU last year. Florida would go on to win, 16-10. pic.twitter.com/0J3CKzbIty

— InAllKindsOfWeather.com (@AllKindsWeather) May 27, 2017
When players like Antonio Callaway and Tyrie Cleveland are able to get the ball in their hands a few more times during a game, their proven playmaking ability will have that many more opportunities to shine. If the Florida passing game can finally become a threat and spread out defenses, that could give Jordan Scarlett the opportunity to put up some big numbers this season, as he managed to average 5.0 yards on 179 attempts with 6 touchdowns in an offense that had no real passing threat to open up the running game. When the defense has to worry about an air attack and spreads out, Scarlett should be able to find holes in the lighter coverage. If the defense tries to stop the run by crowding the box, Franks can dump the ball to a skill position player in open space and let him make a play.
That's the idea of the deceptive, two-dimensional Coach Mac offense we've heard stories about. The way the offense is designed requires credible threats both on the ground and in the air in order to be effective. When both the pass and run games are able to play off of each other, the playbook expands and big plays happen.
But there has always been one piece missing: a quarterback. In order to succeed in this offense, a quarterback must be confident in his timing of routes and analysis of the defense. And if a quarterback can come home from Dallas having found that confidence and rhythm early in the year and build upon it throughout the season, the Michigan game we've waited so long for may be forever remembered as the day the Gator offense was reborn.