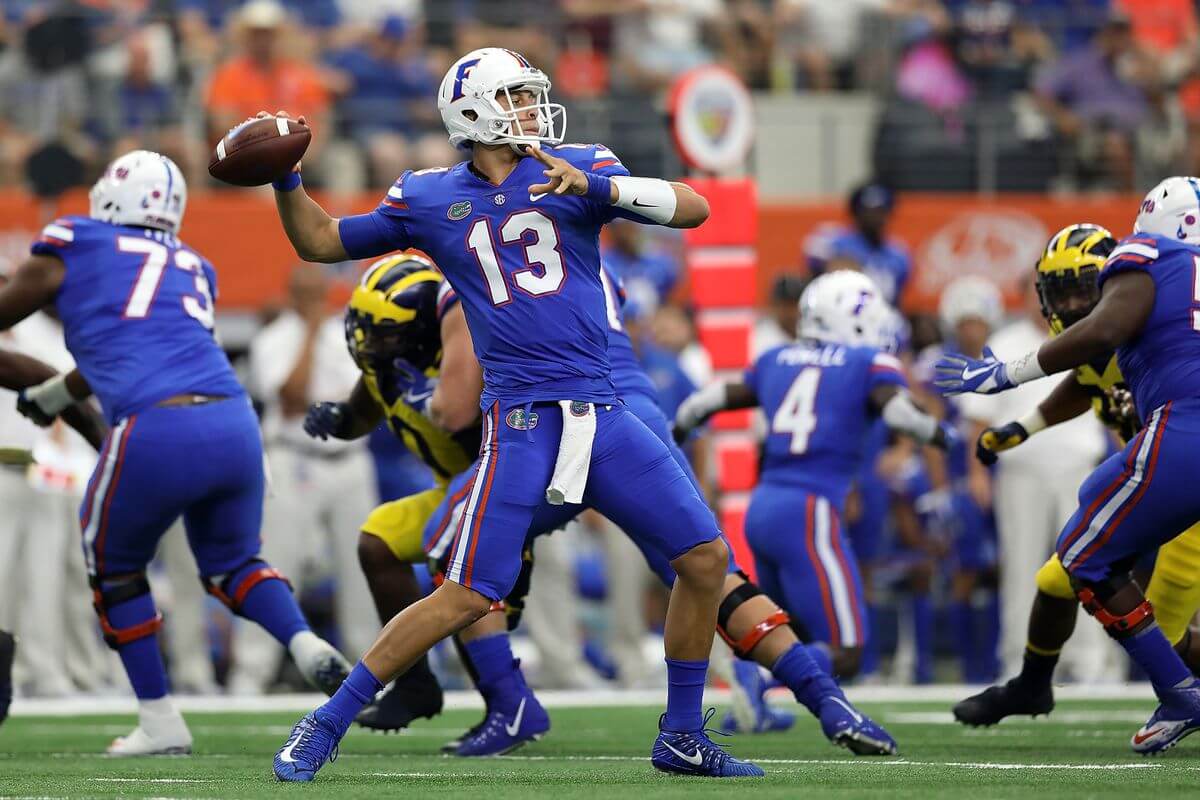 How the story of Feleipe Franks' career at Florida will end is yet to be determined. It certainly seems as though Emory Jones is more likely to be the long term answer at quarterback, as his mobility unlocks an entirely different chapter of Dan Mullen's playbook. But there's also no arguing that Franks has earned the right to start in Saturday's Peach Bowl against Michigan after the way he finished the year.
And so for Feleipe, this could be his chance to finish a career that contained more negatives than positives with an unforgettable positive memory.
As you may recall, Franks' career began miserably against Michigan in the Advocare Kickoff Classic last September. In this case, "miserably" is just a nice way to say that he completed five out of nine passes and fumbled twice before getting benched for Malik Zaire. There was the Hail Mary against Tennessee two weeks later, yes, but on the whole, that Michigan game was the top of the hill from which his snowball initially got pushed down, with things generally getting worse and worse before culminating in the worst game a quarterback could possibly play against FSU that Thanksgiving weekend.
But whereas Franks got worse and worse with each passing week in 2017, the inverse is true of his 2018 season. Under Mullen's tutelage, Franks got off to a rocky start with an ugly, 17-38-with-a-pick performance against Kentucky (no, I'm not including Charleston Southern in any realistic judgment of Franks' play) before, slowly but surely, he started improving. He wasn't great against LSU either, going 12-27 and throwing a costly interception in the end zone, but he showed some guts in that game, making the throws he had to and grabbing a 15 yard pass from Lucas Krull near the goal line. Likewise, it was his grittiness, not raw talent, that saved the Gators from three score deficits against Vanderbilt and South Carolina. And though there was his horrific performance against Missouri, he more than counteracted it by being the quarterback to end a half decade of misery against FSU.
It's at this point that I want to bring back the "be a hero, Feleipe, you can do it" message I published prior to the FSU game. Because as we all know, he did that. Florida beat FSU, as the now-viral photos of Chauncey Gardner Johnson parading around with the decapitated head of Chief Osceola would suggest. I'm essentially repeating that message here, but on a far larger scale. Play smart, Feleipe. Protect the ball. Don't throw every pass five million miles a second. Go through your progressions. Don't force wobbling geese into quadruple coverage. Hit the easy throws. Be the guy you've been since the South Carolina game, and in fact for most of the season. And you'll be a hero.
Because beating Michigan wouldn't just be something to feel good about and restore trash talking rights. Yes, there would be a measure of payback involved after losing to the Wolverines 41-7 and 33-17 in the two games the schools have played in the last three years. But it would mean so much more than that.
Michigan is the winningest program in college football history, and more importantly, the team that best illustrated what was wrong with the Gators under their last head coach. Florida wasn't supposed to beat Alabama either time the two schools squared off in the SEC Championship Game with Jim McElwain leading the Gators, which made the two losses- the latter of which tied the 1996 Fiesta Bowl for the school's most lopsided loss in modern history- somewhat easier to swallow. Michigan, on the other hand, was supposed to be an evenly matched opponent. Instead, the Wolverines beat the Gators up on both sides of the line of scrimmage and embarrassed them, demonstrating as much of a disparity as Alabama did. In doing so, Michigan destroyed two of Florida's three seasons under McElwain, thus proving that he would never make it in Gainesville- and proving that Florida's SEC East titles were nothing more than proof of how bad the division really was.
Lastly, factor in the stage these two schools will share. Yes, Michigan is 4-0 all time against Florida, but those wins came in the Outback Bowl, the Capital One Bowl (which has since become the Citrus Bowl), the Citrus Bowl and a season kickoff game where both teams were ranked outside the top ten. In fact, neither of these teams have ever been ranked in the top ten in any of the four previous matchups. 
Aside from the rankings, though: this is the Peach Bowl, a New Year's Six game. The Peach Bowl may not have all the history and tradition of the Rose Bowl, or the Sugar Bowl, or even the Fiesta Bowl, but since the inception of the College Football Playoff, this game is just as meaningful as those other three games. This is one of the six bowl games that have been clearly designated as part of the highest tier of college football's postseason outside of the playoff. Long ago, in an era where only the best teams were rewarded with a postseason game, there were only five or six bowl games in total. The New Year's Six Bowls are given a higher platform than the other 34 bowl games to reward teams that achieved excellence that season to mimic that ancient era, and serve as an excellent marketing tool for the programs that reach them. And it's on that stage that Florida gets its shot at revenge against Michigan, the source of all proof of the previous administration's ineptitude.
To beat that team, on that stage, would be the piece of tangible evidence everybody needs to see that Florida has indeed rounded a corner and taken a true step toward becoming a national power once again.
And if Feleipe Franks can be the quarterback to do it, he'll forever have a fond place in Gator Nation's collective hearts.