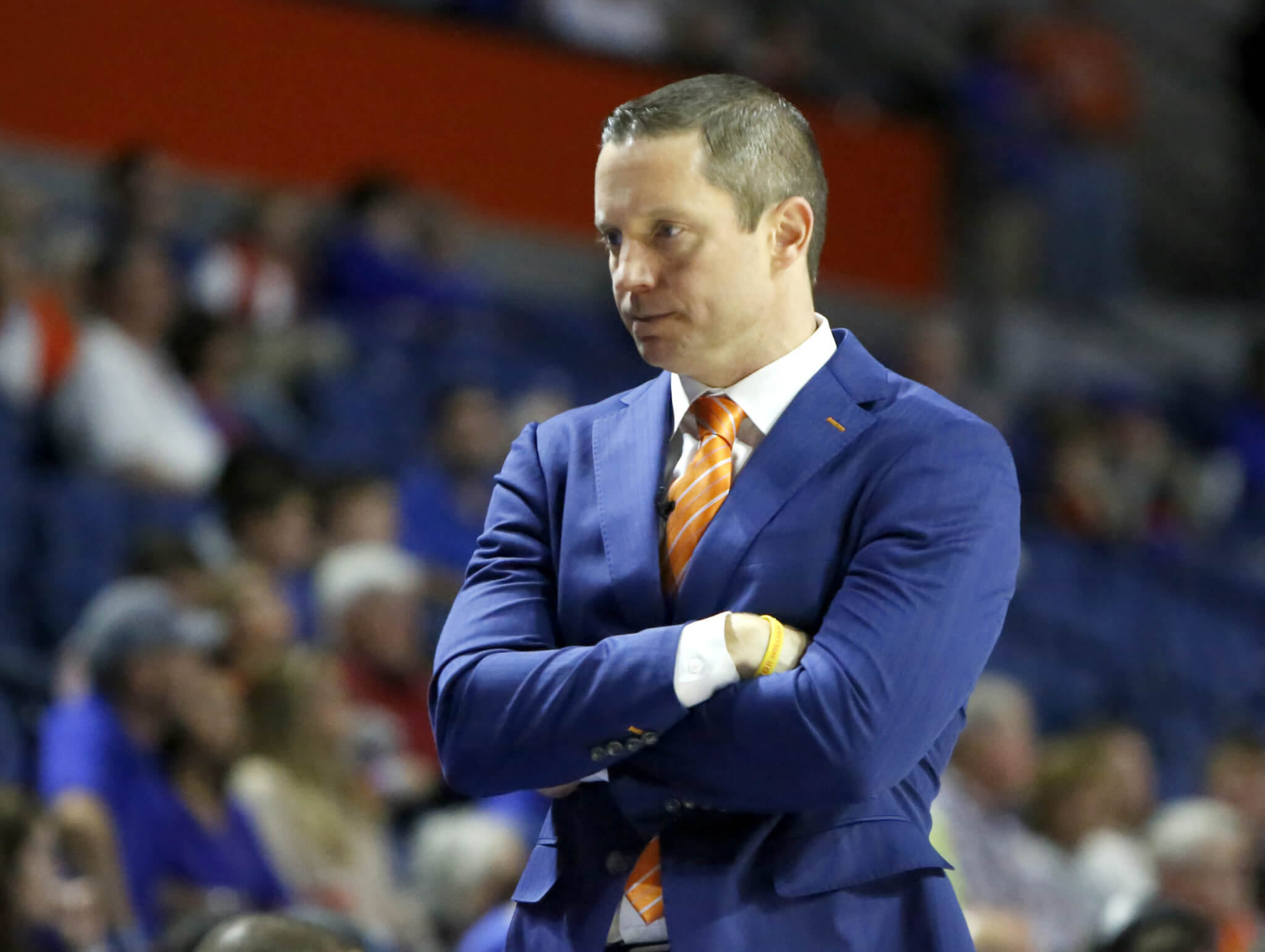 Putting aside Saturday's ugly loss to Georgia at home, there's no debate that Mike White has helped his case to stay in Gainesville long term in the last few weeks. The Gators have begun to improve on the boards, go from good to great defensively, and display their grit and willingness to battle for their coach by diving for every 50/50 ball. And not surprisingly, the results have reflected that, as Florida sits 5-1 in its last six games.
But there's also no debate that the 2017-18 season, in addition to what the 2018-19 season is shaping up to be, are not the standard for the University of Florida. They shouldn't be, and they just aren't.
For the purpose of this article, forget the Georgia loss. I know, it's not really possible to; that wasn't just a "bad loss," that was a near apocalyptic loss. Quite frankly, Florida is just a cold-shooting five minute overtime period in Baton Rouge away from that loss to the Bulldogs being the guillotine on their NCAA Tournament chances. Georgia came into Saturday sporting a gruesome 1-14 record in SEC play, and even with a road win at a top 30 KenPom team and top 50 RPI team, still sits outside the top 100 of the KenPom rankings and outside of the top 150 of the RPI rankings. Anyway, though: yes, it was absolutely abhorrent to lose to that team at home, and yes, there will come a day where that loss and a dizzying array of others like it will need to be discussed, but let's look bigger picture right now.
As it stands, that loss to Georgia was a mere regression to mean, a rude awakening and a hard fall back down to earth. But the Gators are still a fairly safe bet to make the NCAA Tournament, even if they lose their next two games to close out the regular season and then get bounced from the SEC Tournament in their first game in Nashville. If that indeed happens, the biggest hurdle for them would be the optics of ending the season on a four game losing streak. But the metrics (KenPom, BPI, RPI, Sagarin, etc.) all still have Florida safely within the range of the metrics of teams that typically make it to the NCAA field right now.
Merely reaching the NCAA Tournament simply isn't of any interest to me, though. The ultimate goal for the University of Florida- for all sports- is a little higher than simply being one of the 68 schools selected for its championship tournament. The measure of success at UF is by how many championships you win, and how close you come to winning championships in years where you don't win them. And that's not my opinion, but the opinion of Florida athletic director Scott Stricklin, so if you feel like that's an unrealistic expectation, take your qualms up with him. Now, no reasonable person can expect Florida basketball to win national championships every year, or every other year, or even every ten years if for no other reason than the fact that weird stuff happens in the tournament, and one bad day can derail an entire phenomenal season (just ask Tony Bennett). But that should always be the end result that every Gator program chases, and the larger point is that Florida should be competing for- again, note I said competing for, not necessarily winning– national championships in more years than not.
Which brings us to the current state of Gator basketball. Unless you care to argue that Mike White is capable of orchestrating a run to the Final Four as a double digit seed, this program is nowhere near a level at which it can even dream of being that consistent national championship contender. But here's the key. The five games prior to the Georgia loss bought White the entirety of the 2019-20 season to reconstruct the team as he sees fit. There will be no mid-season axing of White next year, and so he will have the opportunity to start the healing process after this program's condition has steadily worsened since his Elite Eight run two Marches ago.
White will have guys like Scottie Lewis, Tre Mann and Omar Payne in his program next year, and he'll have his work cut out in developing them. Each of those three players, while talented, must be expected to undergo some growing pains (though perhaps slightly less so with Lewis, as he looks a little more immediately ready than the other two). But the time for those projects to begin is still eight months away. There are several players on this team (Keyontae Johnson, Andrew Nembhard, Noah Locke and Isaiah Stokes, just to name a few) who will be back next season barring the unforeseen. For them, the time has come to really see what they've got in clutch moments. We've seen them flash potential here and there, but let's see if they can do it with some consistency as the postseason nears.
And as that statement goes for the individual young players, it goes for the team, too. Let's see if this team can establish a real identity for itself. White says he would like to be a dribble drive team? OK, then let's see that over these next few games. Isaiah Stokes is going to be counted on as more of a presence down low next year as Omar Payne develops? Cool, let's see that over these next few games. Fans like to point to guys diving for 50/50 balls? Good. Let's see that over the next few games. And so on, and so forth.
As horrible as that Georgia loss was, as well as other similarly horrible losses suffered in the past, facepalm-inducing losses in the O'Dome are probably not going to come to define White's tenure, at least not by themselves, unless they become so pervasive and common that they directly cost Florida an NCAA Tournament bid next season. But we'll cross that bridge if and when we get to it.
Right now, this program sits at a major crossroads in its history, and these next few weeks can go a long way toward dictating which route it ultimately takes.