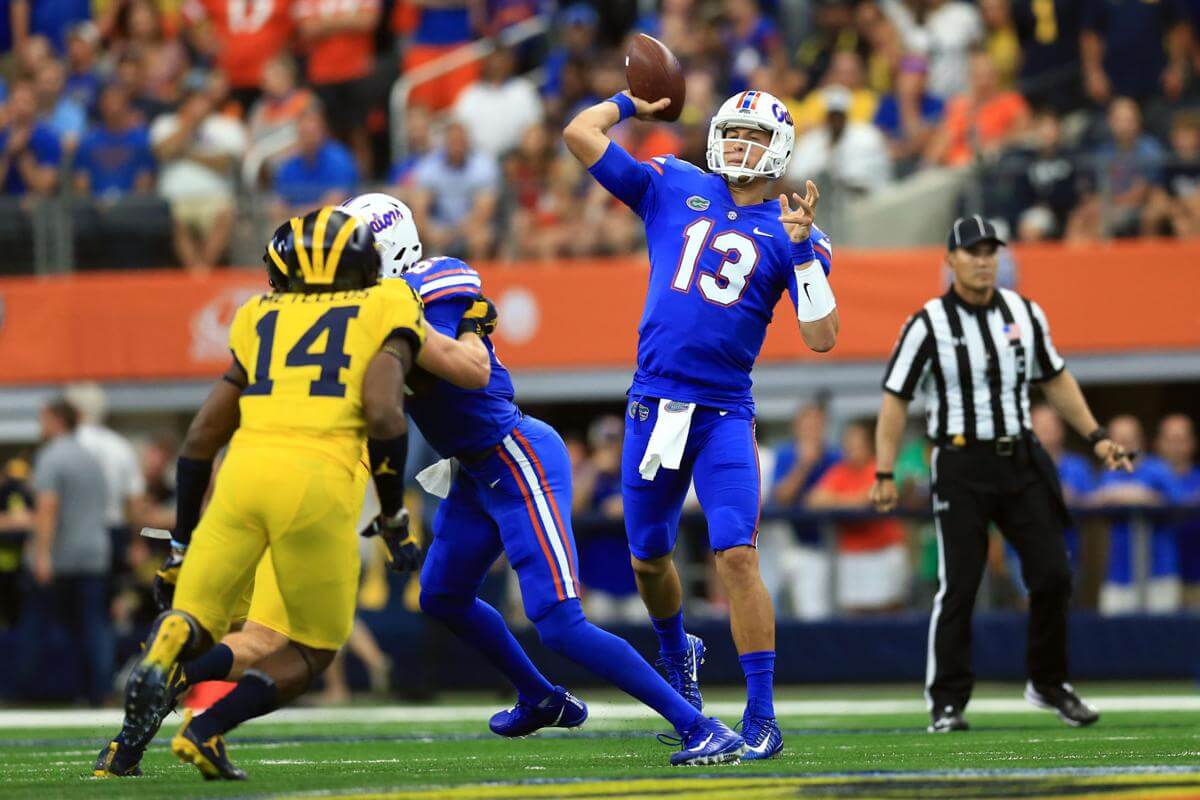 If you can just take a second to remember how low you were feeling about the Gator football program after a season ending 38-22 loss to FSU last November, or even after a streak ending 27-16 loss to Kentucky back in September, you would be able to admit something that seems a little unfashionable to say now: that if the Gators would be sitting at 9-3 and in a New Year's Six Bowl game twelve months later, it would be nothing short of a Christmas miracle.
Yet here we are in that exact same spot that would have been laughable to predict as recently as September, with a chance to get to ten wins for just the third time since Tim Tebow's departure, and finish with the highest overall final ranking since ending the 2009 season ranked #3. In just one full year on the job, Dan Mullen has his Gators in the newly minted New Year's Six Peach Bowl against a Michigan squad that's historically owned Florida, and in truth is the better team this year, but is trending the wrong way.
It's no secret that Michigan is loaded with talent. Jim Harbaugh out recruited Jim McElwain quite badly, at least if you believe the star system and rankings, and he inherited a better situation than McElwain initially inherited to begin with. The results showed in a pair of head to head meetings: Michigan thrashed Florida 41-7 in the 2016 Citrus Bowl, and then again 33-17 in the Advocate Kickoff Classic last September. The scores were bad enough, but for an even better idea of just how badly Florida was outclassed: the lone touchdown in the Citrus Bowl came on a trick play and the two touchdowns in the Advocare Kickoff Classic came on pick sixes. Michigan hasn't just been the better team over the past few years, they've been the better team by such a lopsided margin that the Gators didn't even belong on the same field with them.
But that talent gap might just mean an advantage for Florida.
For starters, Michigan isn't even going to have most of its statistical production on the field Saturday. Leading rusher Karan Higdon, who has more than twice as many rushing yards as second leading rusher Chris Evans, is sitting out. Linebacker Devin Bush, who finished the regular season second on the team in both tackles and sacks, is sitting out. And most notably, defensive lineman Rashan Gary, who many project to be picked in the first round of this spring's NFL Draft, is sitting out.
So all that talent Michigan recruited to play for the maize and blue now has the future to think about. Sure, Florida defensive back Chauncey Gardner-Johnson does too, but the end result of that thinking was his decision to play this Peach Bowl, which should certainly help boost this team's mindset. And that may be the biggest factor of all for this game, given that complacency certainly appeared to play a role in the Gators' home losses to Kentucky and Missouri.
Make no mistake. Florida wants this game, because they have every reason to. The Wolverines have embarrassed the Gators twice in the last three years, but Florida was ill-equipped to face them both times for different reasons. The Gators can't just erase both losses with one game, but they can overwrite themselves for them by winning the highest stakes matchup the two schools have ever played. These two schools have never faced off as top ten programs, or in one of the specified major bowl games, until now. And when you dangle a New Year's Six bowl victory in front of a team that went 4-7 a year ago as a tangible reward, even without considering the opponent, Florida will probably show up.
On the flip side, Michigan doesn't want this game, and they have every reason not to. The Wolverines have been in or near the top five for the second half of the 2018 season, and were eyeing a national championship as they faced the Buckeyes in Columbus. All Michigan had to do to guarantee itself a spot in the College Football Playoff was beat Ohio State and then Northwestern in the Big Ten Championship. Instead, Michigan got run over in a 62-39 loss to Urban Meyer's Buckeyes, and the division went back to Ohio State. And when three of its best players publicly demonstrate that this game isn't important enough for them to play in- not to mention the annoyance the players might feel of having to play Florida yet again- Michigan very well might not show up.
None of this is to indicate a sure win for Florida. You can't discount the X's and O's from a bowl game completely, because that's how broken assignments and big plays happen. Feleipe Franks will still have to play a smart and careful game. And even with three of its stars sitting out, Michigan will trot out a plethora of talent onto the field, because that's just how well Jim Harbaugh has recruited.
But bowl games are an entirely different animal to predict as opposed to regular season contests. Don't mistake this as optimistic speculation; there's a real history here. The amount of times the more talented team wins a non national championship or non College Football Playoff bowl game is directly correlated to the team that's more motivated. Particularly in the BCS/New Year's Six games. As Gator fans, we have personal experience with this, in the 2013 Sugar Bowl. And the Peach Bowl itself is full of such examples since it became a New Year's Six Bowl. 2014 Ole Miss, 2015 FSU, and 2017 Auburn wanted nothing to do with a consolation bowl game after having their national championship dreams dashed at some point in the second halves of their respective seasons. All lost- and in the latter two cases, to inferior opponents.
So even though Michigan is clearly the more talented team, if the Wolverines don't want any part of the game- which you could argue they've already made clear- the Peach Bowl is Florida's to take. And after the turbulent last few seasons Florida has endured, that would be cause for the cheeriest of holiday seasons.