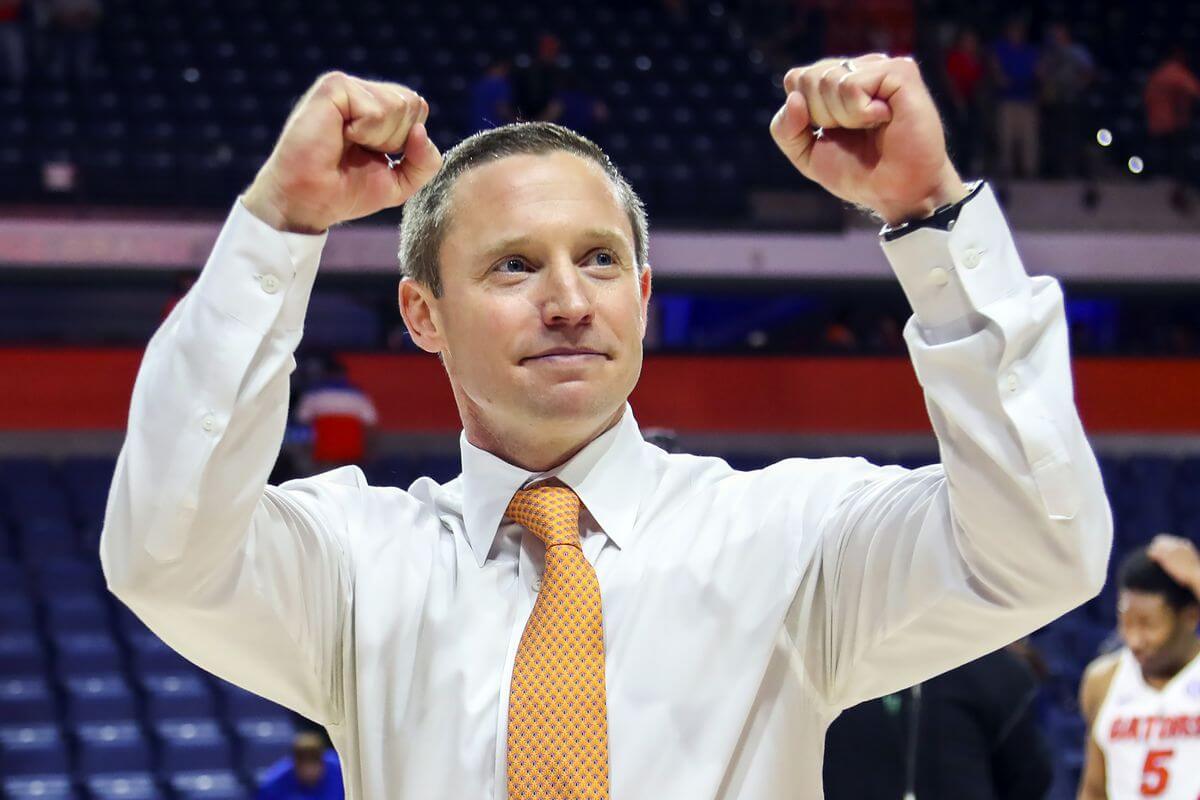 It's no exaggeration to say that Florida's 2019-20 basketball team is the most highly regarded team the school has had in Mike White's tenure. Tonight, the Gators will begin their quest to match those high expectations against North Florida.
So with only a few hours to go before the season tips off, let's meet the 2019-20 Gators.
New personnel
It all starts with the new blood. Traditionally, White has not been the kind of coach that recruits one-and-done type players, but he broke with that tradition this past recruiting cycle and signed a pair of them. And these two guys will ultimately go a long way toward deciding this team's fate.
Scottie Lewis is the first of these. He's Florida's third best signee of all time according to 247Sports, and the best guard the school has ever had not named Bradley Beal. Kentucky, Duke, Kansas, Villanova and LSU, among others, all went after him, and he picked Florida, so that's the first thing you need to feel good about him.
Then comes his film, where he displays his off-the-charts skill set. He's not an overly threatening scorer, but he's one of the best 6'6 rebounders I've ever seen coming out of high school, is more than good enough as a passer to facilitate the offense if need be and is absolutely lethal in transition. To boot, he could be the best on-ball defender Mike White has ever coached in his life. If he develops his jump shot throughout the course of this year, and gets it to be good enough that opponents have to respect it, he's as surefire a lottery pick as any. Or more relevant for our purposes as Gator fans, he could very well be the catalyst to the school's sixth trip to the Final Four.
Tre Mann is the other instant-impact freshman, rated ever so slightly below Lewis but no less of a threat. A healthy offer list that includes Kansas, North Carolina and Tennessee should, as is the case with Lewis, serve as sufficient proof that top coaches around the country agreed with White's glowing assessment of him. Mann actually got the start over Lewis in Florida's exhibition game against Lynn, which means that the separate type of nightmare that Mann presents to opponents can sway White to lean on him just as heavily as Lewis.
Florida's a very deep team this year (more on that in a little bit), but that depth is about the only thing standing in Mann's way of a freshman All-American season. When he wants or needs to, Mann can take over a game at a level that Reggie Miller would be impressed by. He's a dead-eye three point shooter who's equally happy feeding his teammates and distributing the ball around as he is draining seemingly low-percentage threes or dancing around a pair of big men for a layup. He's a creator, plain and simple, for all five Gators on the floor.
And then there's the… not quite elephant, per se, but more of the behemoth in the room that needs addressing, former Virginia Tech star Kerry Blackshear Jr. In short, Florida added a 6'10, 250 lb. Swiss army knife to its starting lineup who, unlike the freshman, we all know for a fact can produce at the collegiate level- because he's done it for the last three years. But Blackshear really put himself on the map last season with the Hokies, where he averaged 14.9 points, 7.5 rebounds and .8 blocks a game.
As you can probably tell from those stats, Blackshear is capable of doing all the things that Florida has sorely missed out of its big men in recent years. He is a dependable scorer near the basket who can post up and who you can just feed and watch him go to work. He's also got a solid jump shot, an uncanny ability to draw fouls and then a 73% free throw rate (last year). Translation: he can score from near the rim as well as from several feet away from it, including the free throw line. And yes, he's a dominating paint presence on the other side of the floor, too, who can clean up the boards and limit second chances for opponents. Simply put, White hit the offseason lottery with him.
Development of returning pieces
With all that giddiness about the new pieces, though, comes a caveat: Florida is going to need its veterans in the program to step up if the Gators are to make a serious run in March.
To me, sophomore guards Noah Locke and Andrew Nembhard are the X-factors. Locke was actually a better shooter from outside the arc than he was inside it, percentage wise, at least, and was a solid defender even after getting injured last year. Nembhard was a good facilitator of the offense, with a very good jump shot and top-notch passing skills. But both had glaring holes in their games and were far from NBA products at the end of last year, so both returned for their sophomore years (Locke didn't even really think twice). How these two players grow from last year to March of 2020, and even from tonight to March of 2020, will be everything.
Nembhard isn't a bad on ball defender, really, but he could clearly be better at this aspect of the game than he is. Particularly when he's matched against bigger opposing guards. And he was much better at catching and shooting than he was creating his own shot. He seems to release the ball a little lower than he should, which could be accounting for his inconsistency, so that's certainly another thing to watch.
Similarly, I wouldn't say Locke is bad at dribble-driving, per se; he just needs to get better at it than he is. He's always going to be a shooter first and foremost, but he could make things a lot easier for himself if he proves to opponents that his ability to take it to the hole is something that needs to be accounted for. And I would venture to guess that being completely healed will instantly make him a stronger defender than he was at the end of last year.
And then there's returning sophomore small forward Keyontae Johnson. Johnson is a strong dribble-drive option who can get you some stats if you let him play enough. Averaging 8.1 points and 6.4 rebounds a game despite averaging 23 minutes of game action last season is sufficient proof of that. I'm not sure that I quite trust him to take the big shots since he plays on the same team as Blackshear, Mann and Locke, but if nothing else, his athleticism and feel for the game makes him a dependable bench piece and a strong starting option against a bigger team.
The starting lineup(s)
White tipped his hand a little bit in the exhibition game against Lynn: he can and likely will play with this pending the opposition, so it doesn't seem fair or even accurate to just say "OK, this guy will be the 1, that guy is the 2, he's the 3…" and so on. Because Florida doesn't really have a true 1-5 lineup, but rather an ability to play five guys with their own diverse skill sets, so that's not a bad thing.
Put aside lessons for being late to a team meeting or not hustling or something like that, an unusual need to start a "big" or a "small" team, or the obvious stuff like injuries, illnesses or family emergencies. For an important game: my best guess is that Florida will line up with Tre Mann, Andrew Nembhard, Scottie Lewis, Keyontae Johnson and Kerry Blackshear, and Noah Locke will be the sixth man.
That leaves lots of room for tweaks and rotation, of course. Omar Payne was considered a solid four star big man coming out of high school and was probably the favorite to start at center had Blackshear not come along. When Florida needs to go big- and assuming he develops to a point where White can trust him with extended minutes- I wouldn't rule out Blackshear and Payne both starting, with Blackshear shifting over to the power forward role and Payne being the true center.
The rotation
I think it's a fairly safe bet that Florida is going to use at least eight guys in their "I trust this player to play extended minutes" rotation: Locke, Nembhard, Johnson, Blackshear, Payne, Mann, Lewis, and to a lesser extent, freshman guard Ques Glover.
But Florida's roster appears to break down this way, at least to start: Locke, Nembhard, Mann and Lewis are the guards, with Lewis able to spell a small forward if need be at times. Johnson and Blackshear are the true forwards, though I'd expect Blackshear to see a lot of minutes as the center as Payne grows and develops. And Payne, as well as Gorjok Gak, are the centers. (Unfortunately, the past few years have put me at a point with Gak where I refuse to see him as anything other than an emergency backup solution or filler option if Blackshear and Payne are in foul trouble, until he proves otherwise.) Jason Jitoboh is promising down the road, but right now my guess is he's headed for a redshirt.
So: I expect White to heavily feature his top seven guys, and utilize nine in total in non mop-up situations.
The Strategy: what will Florida do?
Everything I've ever heard or seen tells me that White is smart enough to let his players do what they do best. So look for this year's team to have the widest range of potential reliable game plans of any team in White's career.
White likes to be a dribble-drive guy by nature. Sometimes, that's worked at Florida, and sometimes it hasn't. But now Florida has the best dribble-drive personnel it's ever going to have, so you can expect a lot more attacking of the rim from its guards. Naturally, the more of a threat the Gators prove to be with the dribble drive, the more other things open themselves up- like feeding Locke for an open three, or drawing two defenders over to the driver before feeding Payne or Blackshear for a dunk.
That's going to be a welcome adjustment for Florida, because last year was arguably their worst at dribble-driving under White. They simply weren't good at it, which forced the Gators to place all their hopes at winning the game into making threes. When they didn't- which was more often than when they did- Florida would lose because they had no other reliable method of scoring points. But an increased ability to finish around the rim- from guards to forwards to centers- should open up more pick-and-roll opportunities.
Florida also has a legitimate interior presence for the first time since John Egbunu was healthy in Blackshear, and in a backup role, Payne. Rebounding misses and getting easy put backs or tip-ins is never a team's preferred way of putting the ball in the basket, because, you know, they'd rather hit threes of score off of set plays, but it's inarguably a major boost to Florida to have this safety net even intermittently. Having Blackshear, Payne and even Lewis around to create some second chance opportunities could by itself make an enormous difference. And of course, that means you can look for Florida to feed the post significantly more frequently than a year ago.
Defensively, it's all going to depend on opposing personnel, but it's clear that Florida as a whole should be even better on this side of the floor. Florida's top seven guys range from adequate to strong on-ball defenders, but there are going to be times against weak shooting opponents where the Gators apply a zone. However: the increase in his average player's on-ball defending skills makes me think White will lean a little heavier on man defense this year than he did last year, and that- along with his team's depth- leads me to believe the Gators could increase the frequency of its press.
Lastly, you've got your miscellaneous plays. Baseline out of bounds plays are White's bread and butter, and his creativity in this area is worth at least a free bucket or two a game. Florida has always been strong in transition, and they've never had a roster as well equipped to run as this one, so look for those numbers to grow this year. And with a team as deep and well conditioned as this one appears to be, look for Florida to push the tempo at times and try to wear opponents down.
Team expectations
Where do I begin to talk about what a team should accomplish when it's built in a fashion unlike any other team this coach has ever had?
On paper, this team is a Final Four contender, plain and simple. The Gators are as naturally talented as any team in the nation, a statement that very much includes the usual championship contenders like North Carolina, Kansas, Kentucky, and so on. And this year, Florida has a wide array of talent that can do different things: a paint presence (Blackshear and Payne), reliable three point shooters (Locke, Mann, and to a lesser extent, Nembhard), natural facilitators of the offense (Nembhard, Lewis and Mann), guys who can score off the drive (Blackshear, Lewis, Mann, and to a lesser extent Nembhard), solid all around defense (pretty much everyone), rebounding presences and shot-alterers (Payne, Blackshear, and to a lesser extent, Lewis).
But we've heard that before under White. Remember two years ago? Now, that was a very different collection of players, but the point is that everyone thought the Florida team that had just come off an Elite 8 appearance and returned Chris Chiozza, KeVaughn Allen, Kevarrius Hayes and Keith Stone and added Jalen Hudson, Egor Koulechov and Isaiah Stokes was going to be a national title contender. Indeed, that team started off the year ranked #8 in the country, and rose to #5 after a 5-0 start and taking Duke down to the wire in the #PK80 championship game. And then came a smackdown on their home court by FSU followed by another ugly home loss to Loyola-Chicago. Florida never really recovered, plummeting out of the national rankings entirely and finding itself 17-11 with three regular season games to go before finally pulling itself together and winning its final three regular season games (two of which came against top 15 ranked opponents) to earn itself a #6 seed in the NCAA Tournament. Florida would then play to its seeding and lose in the Round of 32 to Texas Tech.
This year, of course, feels markedly different. The Gators have a surplus of natural talent this time around, whereas that team was very good but nobody would mistake anyone on it for a lottery pick. But there is still that precedent of drawing high expectations only to fall well short of them under White, and it cannot be completely ignored.
Another thing that can't be ignored, though: White is definitely learning on the job. He learned that he needed a big man coach, so he went out and got Al Pinkins. He learned that he needed a dependable big man after signing one in his first three recruiting classes, so he went and got Kerry Blackshear as a "now" solution, and signed Omar Payne and Jason Jitoboh as "later" solutions. And he learned that while Nembhard and Locke are valuable pieces, you need top-tier talent to win, so he went out and got Scottie Lewis and Tre Mann. It feels to me that it's about time all that learning translates into results, not just as a fan but as a realist: White is undoubtedly a highly intelligent basketball mind, and now he's combining the things he already does well as a coach with doing those other things that he struggled with well.
So: in the wildly uncertain world of November 5th, I would label this team as such: a lock to make the NCAA Tournament, a fairly safe bet to make the Sweet 16, and anything beyond that will rely on the Gators' draw, their injury situation, how well they're playing in early March and, as an overarching rule to pretty much anything, how closely the newcomers come to matching their sky-high expectations.
But if we're talking purely potential? This team is as certain to win a national championship as a team can possibly be in the uncertain college basketball universe.