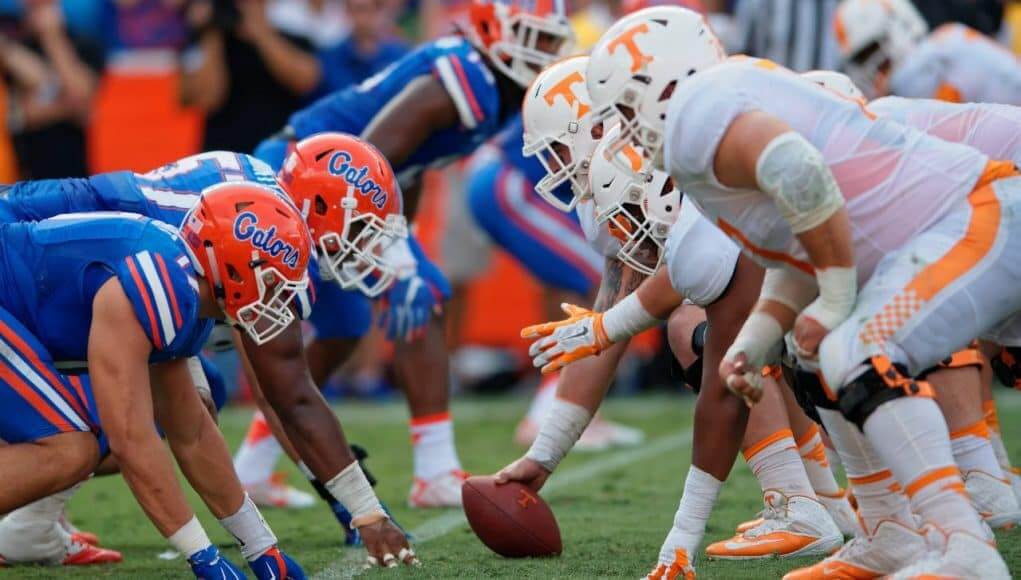 Previously previewing:
Game one: Miami Hurricanes | Game three: Kentucky Wildcats
TENNESSEE VOLUNTEERS (2018: 5-7, 2-6 SEC)

Head Coach
Returning starters
2018 offense
2018 defense
Jeremy Pruitt
9 offense, 7 defense
326 YPG/22.8 PPG
377 YPG/27.9 PPG
2nd year (5-7)
91%, 75% of stat production
122nd/109th in FBS
50th/75th in FBS
All time series: Florida 28, Tennessee 20
Last meeting: Florida 47, Tennessee 21 (2018)
Introduction: the good news for Tennessee is that they return a large percentage of their pieces from a year ago. The bad news is that those pieces were responsible for a woeful 2018 season in which the Vols lost half of the twelve games they played by 25 points or more, lowlighted by a gruesome 38-13 rout at the hands of Vanderbilt. Nobody is questioning the defensive mind of Jeremy Pruitt, and he's recruiting about as well as anybody possibly could on Rocky Top these days, but anybody who remembers the Will Muschamp days knows those two strengths alone won't cut it. The Vols should certainly be better in 2019; the question is by how much. And if the answer isn't "appreciably better," the Gators' domination in this rivalry should continue without a hiccup as the venue moves back down to the Swamp, where Florida hasn't lost this game since the current cycle of recruits were breastfeeding.
Offensive breakdown
Did you watch Tennessee in 2019? Good, then you know the names. Jarrett Guarantano is back for his second and final trip to Gainesville, where he nearly pulled off a daring twilight robbery two years ago before his counterpart Feleipe Franks upstaged him with one of the greatest plays in the rivalry's history. But Guarantano is a better, more comfortable passer and a better leader now than he was then, and while nobody is going to mistake him for a Heisman finalist, he may find himself on some All-SEC honorable mention lists if he can demonstrate that consistently throughout the season. He only threw three picks last year, and if he can keep that number low while upping his other numbers (1,907 yards, 12 TD's in 2018) he could be a legitimate threat.
The big uglies are going to need to be put through the wringer this offseason, though. Ty Chandler (630 yards, 4 TD's last year) and Tim Jordan aren't bad runners, but even a below average offensive line could have sprung them for time and a half as much production. Instead, the Vols' porous front crippled the entire offense last year by allowing way too many negative plays and assured Tennessee a dead last place finish in the SEC in rushing yards per game. There's talent up there, particularly if former five star recruit Trey Smith can stay healthy, but this area is a question mark until further notice.
If the line steps up, though, Guarantano could have a big year through the air. He's got all three of his top targets back in Marques Callaway, Josh Palmer and fifth year senior Jauan Jennings. That's 1,514 yards of receiving production right there, and that number would undoubtedly be much higher if Guarantano had had more time to throw last year. At tight end, the Vols are set with Austin Pope and Dominick Wood-Anderson both back.
Offensive grade: C+. It's all on the offensive line. With a strong line in 2019, the Vols could have a top 25 offense. With a line anywhere near as bad as it was last year, the Vols will likely finish outside the top 100. Without knowing how this unit will step forward this year, I'm relegated to giving out a neutral C+ grade.
Defensive breakdown
The Vols' front three is going to have to reload, but there are pieces there to do it. Emmitt Gooden and JUCO transfer Savion Williams will take on starting roles inside, while Matthew Butler and John Mincey will likely rotate playing time on the outside. Maybe these new guys will be able to generate some pass rush, as though Tennessee's defense wasn't bad last year per se, it never could get into the backfield.
The Vols are significantly more experienced at linebacker, though, and maybe they can help with that. Darrell Taylor returns to his edge rusher position, and he's athletic enough to play both a true DE role as well as a traditional OLB spot. Elsewhere, standout middle linebacker Daniel Bituli (79 tackles in 2018) returns, as do fellow inside linebacker contributors Will Ignont and Shanon Reid. Meanwhile, Taylor will be complemented on the other OLB spot by some combination of Deandre Johnson and Kivon Bennett. Then there's freshman Quavaris Crouch, a former high four star recruit who is as much of a lock to see playing time as any true freshman in the country.
The secondary isn't quite as experienced, but there's plenty of youthful depth back there. Sophomores Bryce Thompson and Alontae Taylor aren't the biggest cover corners you'll find, but they're pretty strong guys and coaches seem confident in their ability to play press coverage after a full spring watching them cover the Vols' trio of talented wideouts. For depth, there's Baylen Buchanan at nickel. And then there's safety Nigel Warrior, perhaps the co-crown jewel of this defense along with Bituli. The senior finished second with 64 tackles last year, and should be complemented/backed up by the inconsistent but talented Trevon Flowers, Theo Jackson and Shawn Shamburger.
Defensive grade: B-. Defense is Pruitt's forte, so you can't expect the Vols to struggle too much here. Still, until the Vols develop a dependable pass rush, they're susceptible to getting worn down and eventually wilt late in games.
Key Matchup: Tennessee's receivers vs. Florida's secondary. Florida's defensive backfield gets a major boost with the return of Marco Wilson, and that should give the Gators the slight edge on paper here. But it's far from a guarantee that this secondary will shut down Tennessee's pass catching trio of Jennings, Callaway and Palmer, if for no other reason than that the three have a history of burning Florida that dates all the way back to 2015. The unit that many call DBU will get its first true test of the season against an opponent that, if blocked for properly, could be very, very dangerous.
Florida key to victory: invade the backfield and create negative plays. It's simply not fair to ask Florida to replicate its six forced turnover performance from last year's tilt in the Smokies; merely shutting down plays before they begin will suffice. The Gators have a decided advantage in the trenches when the Vols have the ball; if it plays out that way, Florida will be fine. If not, things could get interesting far deeper into the game than they should.
Tennessee key to victory: a big game from Guarantano. This is going to require three things: strong blocking from his friends up front, his receivers creating space for themselves against Florida's stout secondary, and Guarantano himself pulling the right levers. If all three happen, the Vols could turn this game into a Big 12 style shootout.
Fun fact: Florida had its well known streak over Tennessee snapped in 2016, a streak that reached eleven games and looked like it was well on its way to becoming twelve before Tennessee ripped off 38 unanswered points in its 38-28 win. But what some newer Gator fans may not know is that the Gators have dominated this rivalry well before that streak began in 2005.
Florida hasn't just won two straight, or thirteen out of fourteen. Florida has also won 21 out of the last 26, and 26 out of the last 33 games in this rivalry. Not since World War II have the Vols strung together three or more straight wins over Florida, and that was part of their ten straight wins to begin the series. The all time series score sits at a deceptively close 28-20 margin, but since 1954 it's been 28-10 for Florida, and since 1976 Florida holds a 26-7 advantage. Yes, there was 1998, yes, there was 2001, and yes, there was 2004. But the fact is that since 1993, South Carolina has beaten Florida more times than Tennessee.
The Gators have stuck it to the Vols in pretty much every fashion imaginable, too. There have been blowouts (1994, 1995, 2007, 2008, 2018). There have been one point wins (1969, 2006, 2014, 2015). There's been a game where Florida DE Alex Brown recorded five sacks (1999) and a game that Jabar Gaffney won with a touchdown catch that Vol fans still refuse to acknowledge to this day (2000). Most recently, there have been game winning 63 yard touchdown passes (2015, 2017). And even when the Gators are at their worst, they still find ways to beat the Vols (2011, 2013, 2017). It's as one-sided a series as it can possibly be while still somehow holding the title of "rivalry," and with another Gator win or two, that title may start to dissipate.
Overview
Tennessee pretty much has to take a step forward this year by default. When you return as much production from the prior year as the Vols do, it's pretty hard not to. And indeed, if the offensive line can take a major step forward in 2019, I expect Tennessee to take a mammoth step forward and, thanks to an easier schedule, win at least eight games, if not more.
But it's really hard to be able to think that this Tennessee team is going to be able to come into the Swamp and pull off the upset. Florida is strong pretty much everywhere opposite Tennessee's strengths, and the Gators have a monstrous advantage in the trenches. Guarantano is solid, but it's going to take the game of his life to beat Florida and I'm not sold on his offensive line being able to give him the time to make the decisions necessary to do so.
Tennessee will figure out a way put up a fight, and it's going to be one of those games where the longer it stays close, the more the advantage shifts to the Vols as they gain confidence. Florida has the better coaching staff, though, and that's ultimately going to make the difference. Down late, Dan Mullen dials up the perfectly called game winning touchdown drive, Feleipe Franks executes it satisfactorily and LaMical Perine plows into the end zone with a minute to go to put Florida on top. Moments later, Jabari Zuniga will blow through the Tennessee line for the strip-sack, and Florida will pounce on it to end the game and make it 27 out of the last 34.
Projection: Florida 24, Tennessee 20