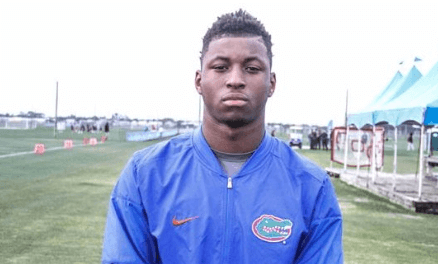 Florida's 2019 recruiting class is the best in the country by pretty much every metric, and now their 2018 class just took a big step toward catching up.
The prize catch this time is Iverson Clement, a consensus four star running back from the New Jersey side of the Philadelphia suburbs. Clement is listed as a very high priority target on our Recruiting Big Board, and boasts a monster offer list that includes traditional powers Michigan, Ohio State and Penn State, along with Michigan State, Baylor, Tennessee, South Carolina, Nebraska and North Carolina. His decision ultimately came down to Florida and Michigan State.
And Florida it was.
Various people have indicated that Clement was particularly intrigued by the Gators because of the coaching staff's promise to give him reps at running back despite a silent perception among other schools that he would be better used as a slot receiver. He was originally thought to be an Ohio State lean by some, but he grew close with Florida's coaching staff in recent months and that was pretty much that.
Clement brings a rare blend of power and speed to the table, and thus could compete for carries right away, even with would be senior starter Jordan Scarlett established in the running back rotation. Perhaps most importantly, he's a smart runner. He's very patient, waits for the hole to develop and is very quick to see it and then get to it. He's equally capable of running through defenders as he is running away from them, which makes him an ideal back in any number of scenarios and thus a potential terror for opponents.
The Gators now have six commitments in the class of 2018, half of which have come in the last week. If Jim McElwain and his staff can keep what they have going, going for the rest of this recruiting cycle, Florida will have one hell of a class.