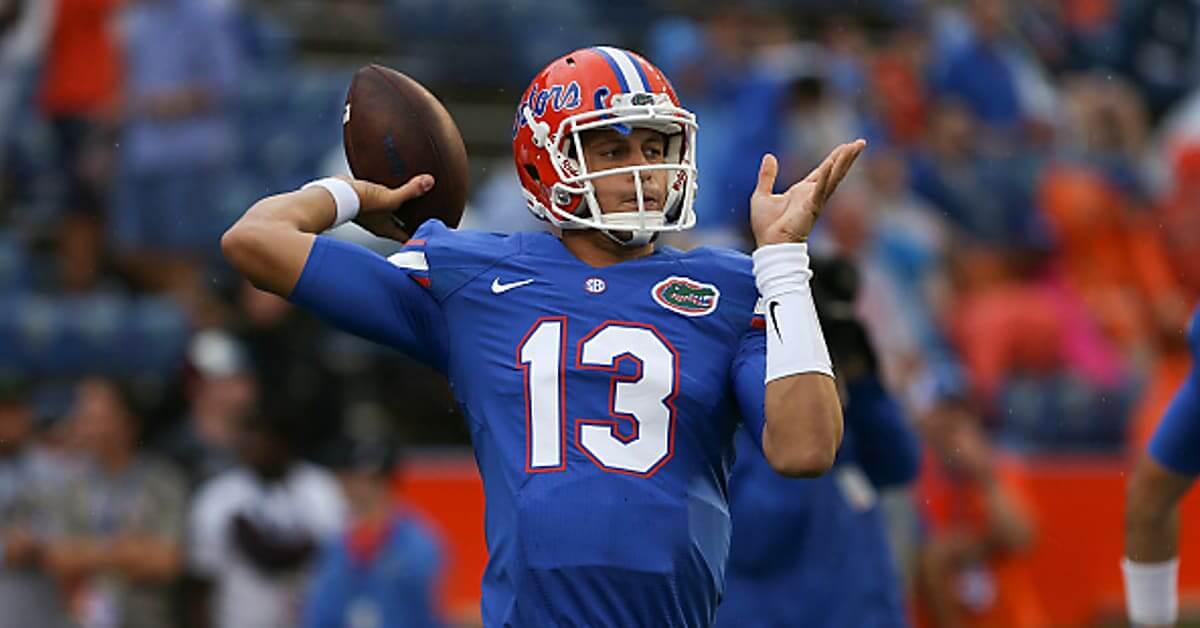 With just eleven days until kickoff, reality is beginning to set in: it really, truly is football season. The question is, and can be repeated for almost two thirds of the available 28 potential offense, defense and special teams positions: who will be playing?
Glad you're curious. Over the next three days, I'll be projecting the Gators' depth chart on all three phases. Today, we start with the offense, with a few notes beneath the projected depth chart.
(Key: Teal background denotes a 2016 All-SEC selection. Bright green background denotes a returning starter. Light green background denotes a key contributor, defined as somebody who played in and recorded a stat in half of Florida's games last year. A * denotes the player has been suspended indefinitely due to off the field issues.)
Florida Gators offensive depth chart
Position
1st
2nd
3rd
QB
Feleipe Franks
Malik Zaire
Luke Del Rio
RB
Jordan Scarlett
LaMical Perine
Mark Thompson
WR-X
Antonio Callaway*
Josh Hammond
Daquon Green
WR-Slot
Brandon Powell
Dre Massey
Kadarius Toney
WR-Z
Tyrie Cleveland
Freddie Swain
James Robinson
TE
DeAndre Goolsby
C'yontai Lewis
Kemore Gamble
LT
Martez Ivey
Kadeem Telfort*
Tyler Jordan
LG
Tyler Jordan
Brett Heggie
Richerd Desir-Jones*
C
TJ McCoy
Tyler Jordan
Brett Heggie
RG
Fred Johnson
Kavaris Harkless
Antonio Riles
RT
Jawaan Taylor
Tyler Jordan
Fred Johnson
-Note number one, which I'm sure outweighs everything else combined to most readers: the QB play. Yes, Malik Zaire has gotten a lot of hype this offseason. But his experience at Notre Dame is limited to a Music City Bowl victory against LSU that he had a month to prepare for and a win over a Texas team that finished the year 5-7. Franks, for his part, has spent a year in McElwain's system, and while he's still occasionally making mistakes in practice, those mistakes are happening far less frequently than they once were and he's shown tremendous improvement from this time last year. Jim McElwain may rotate the two initially, and I doubt he gives a definitive answer on the starter any time soon, but I'll be stunned if Franks isn't the permanent starter by October.
-Next, don't be fooled by Tyler Jordan being listed as the starting left guard. He's a Swiss army knife lineman, with the experience and tools to play at either center, guard or tackle, and play at a level that Mac feels comfortable with. Brett Heggie has had a great offseason as well, though, and while I gave the edge to Jordan because of his veteran status here (which can also be written as "Heggie has never played a down of college football,") it would not shock me if McElwain inserted Heggie into starting duty here and use Jordan as the football version of a sixth man- one who can play equally well at whichever spot he's needed.
-Florida's slot receiver situation is very interesting. And very promising all the way through the three deep. Powell's experience gives him the starting edge in most people's projections, but Massey brings game changing potential to the table and could find his name in some All-SEC discussion by season's end. And then there's the true freshman Kedarius Toney, who we got to meet in the Orange and Blue debut. Don't count him out, either.