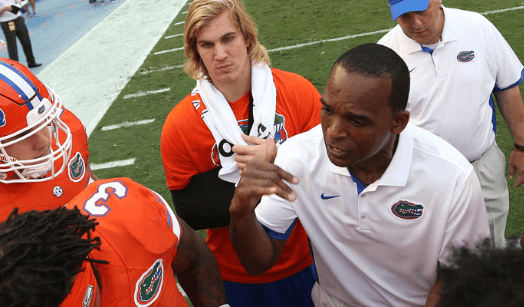 In the wake of Geoff Collins' departure, the Gators have named a new defensive coordinator for the Outback Bowl.
Maybe even beyond that.
Jim McElwain has promoted linebackers coach Randy Shannon to the DC role for the Outback Bowl against Iowa, saying "he'll be calling the defense." Shannon will also fill Collins' role coaching the safeties this month. He'll give up his role as linebackers coach to quality control assistant Mark DeBastiani.
McElwain has said that he won't make the official hire for his next defensive coordinator until after the bowl game. And that seems to be a strong indication that in reality, this next month is a trial run for Shannon.
In the short term, promoting Shannon feels like the only real logical move McElwain could make, as he has by far the most experience coaching a defense. Remember, Shannon was the defensive coordinator for the Miami Hurricanes under Larry Coker from 2001-2006, winning one national championship in that time and was an overtime loss to Ohio State away from a second. Those Cane defenses consistently finished in the nation's top 25 in every statistical category, and the strong reputation he built earned him the head job there after Coker was fired. Compare that resume to the other Gator assistants, and… exactly. No comparison.
It's that same resume, combined with the job he's done in Gainesville, that has him as a realistic candidate to take over the DC role on a full time basis. It feels like Shannon is getting a trial run this next month, but it also feels like McElwain really wants him to be his coordinator. He's done a fine job as linebackers coach in his two years so far at Florida, and has done a fine job on the recruiting trail. And it would save McElwain what could be an exhaustive search as we enter the home stretch of this recruiting cycle, and continuity in a coaching staff is always a plus when it comes to recruiting. As often as recruits are told they should commit to a school and not a coach, the result is that they frequently don't.
So let's wait and see how the Gators' defense does next Monday before running a full cost-benefit analysis on Shannon, because he's getting his first real chance to run the show with the players he recruited and developed. But assuming the defense does a good job against Iowa, McElwain's DC search is probably over before it begins.