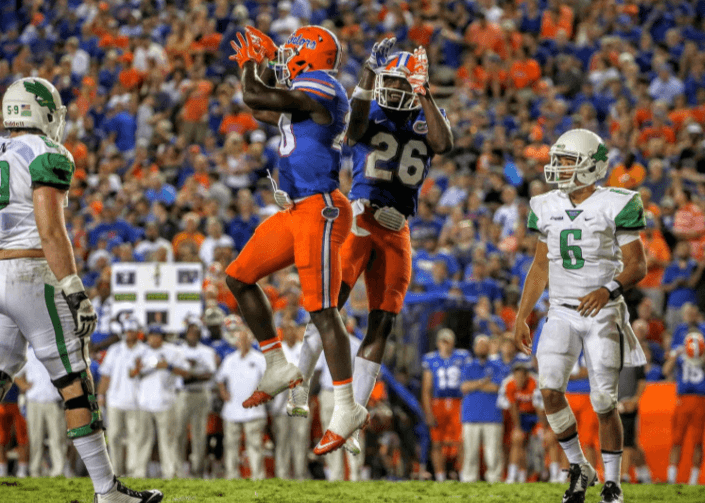 On a day in which the Gators put on a defensive display for the ages, losing their starting quarterback didn't make one ounce of difference.
It might next week.
If Florida's defense plays like it did this past weekend, though, it might not.
Florida overcame an up and down offensive performance and eleven penalties to bludgeon North Texas, 32-0, thanks to a swarming, opportunistic defense that just looks better and better every week. The win puts the Gators at 3-0 for the second straight year under McElwain.
The first clue that North Texas was in trouble was when Caleb Brantley blew through the offensive line and dumped Mason Fine in the end zone for a safety on UNT's second snap into the game. That was merely a stage setter, though. Florida finished the game with six sacks, and blew up five other plays for losses. For perspective, North Texas ran 50 offensive plays on the evening, and 11 of them lost yardage. If there was a time in which the Gators forced an opponent to lose yards on over a fifth of the snaps, I don't remember it.
Anyway, the totality of the Mean Green's offensive production for the night was 53 yards. That qualifies as the fewest yards the Gators have ever allowed against an opponent, and they've been playing football since 1906. I understand what the talk of the town is right now- the offense, which I'll get to soon- but let's take a minute to think about this. The fewest yards ever allowed. In school history. EVER.
Sure, it was against North Texas, but Florida has faced worse teams with a supposedly better defense than the one they have right now. The Gators faced FCS foe Charleston Southern (6-5) and Sun Belt bottom feeder Florida International (3-9) with their famed 2009 defense. They played the Citadel (4-8 in the FCS's Southern Conference) the year before with the exact same defense. And the examples of great Gator defenses against such inferior opposition go on and on, but you get the point. As far as cupcake teams go, North Texas isn't that lowly, so it wouldn't exactly be expected to set the record against them.
But the Gators' opportunistic defense obviously didn't get that memo. The defensive line of Cece Jefferson, Caleb Brantley and Jabari Zuniga frequently slipped blocks and got into the backfield, causing Fine to rush if not dropping him or his teammates for a loss. And when they didn't, the second wave of Gators, Jarrad Davis and Alex Anzalone, did. Brantley in particular has a nasty array of defensive maneuvers, including a spin move, lateral juke and the occasional truck stick you usually only see from goal line running backs, and all three were on display throughout the night. The collective push shrunk the pocket on almost every single snap, and the constant inability to go through his progressions- even on plays in which he wasn't sacked- had a lot to do with why Fine finished the night 6-22.
On the rare occasions in which Fine did have time to throw, his receivers were, for the most part, blanketed. Jalen Tabor and Quincy Wilson completely shut down Thaddeus Thompson and Willie Ivery, and Marcell Harris and Marcus Maye were never too far away. Harris also recorded a pick on a ball Fine should have kept to himself, and returned it a long way. Go sign that "Get The Ball" board, young fella!
Meanwhile, the Gators had another up-and-down night on the other side of the ball. The scary moment in which Luke Del Rio went down (yes, it was a blatantly dirty hit, and no, there's nothing we can do about it) may be what most people remember from this game. However, lost amid that injury was the fact that Florida had four running backs finish with 45+ yards, and all four scored touchdowns. Those four touchdowns, a failed two point conversion, the aforementioned safety and a field goal by Eddy Pineiro, added up a 32-0 beatdown.
It could have been even worse if the Gators had taken advantage of opportunities in the red zone.
Florida went for it on fourth down on two different drives that stalled inside the UNT 5 yard line, and converted neither. Mark Thompson was blown up on a slash play on the first one, and Del Rio's pass fell incomplete on the second one. Before those two drives, Florida had a chance to turn the heat up on UNT real quick with a touchdown right after the game opening safety. But the Gators stalled inside the 5 on that drive, too, and settled for an easy field goal by Pineiro.
Making matters worse, the Gators drew 11 penalty flags on the night, including pass interference calls on back to back plays. Florida's defense clamped down immediately after, but that was against North Texas. You'd hate to find out if they're capable of doing so firsthand against Tennessee, right?
No, that kind of performance isn't going to cut it against Tennessee, a team that's looked nothing like the top ten team they were picked to be before the season yet is still far better than anybody the Gators have played so far. And for that matter, neither will a performance like the one Florida turned in last year against the Vols, featuring a parade of missed tackles, bad offensive line play for three quarters, and dropped passes.
But the flip side of this all is much brighter. I've got a whole week to preview this game in more depth, and will begin to do so soon. For now, though, remember this: losing Luke Del Rio isn't the end of the world for this game. It might be if the Gators played in the SEC Championship Game next week, but they don't. And the reason it's not the end of the world for this game is because the Gators have a defense that's not just loaded with NFL talent, but playing its best ball of the year. Now, that defense faces a Volunteer team with a weak offensive line and a quarterback in Josh Dobbs who, already well into his third year as the starter, remains a major question mark.