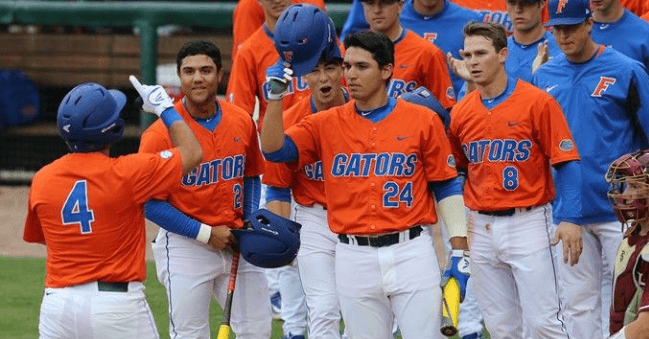 It's been a few months since I wrote up this season preview of Florida's baseball team, and not much has changed. Rather, things have evolved, and progressed.
Florida has gone from being a preseason #1 team to a #1 overall seed in the NCAA Tournament. They've gone from a team loaded with talent and promise in February to a team that's exhibited that talent and validated that promise in June. And they've gone from being the favorite to win it all before the season started to the favorite to win it all before the postseason starts.
In short, the Gators are the textbook example of how a clear cut national title favorite can and should live up to its expectations in the regular season.
But with the regular season over, it's time for this team to take the next step. Sure, the Gators set a school record for regular season wins, but they've more or less been in this exact spot before. As the respective regular seasons wound to a close, the Gators' 2010, 2011, 2012, 2014 and 2015 teams had generated postseason hype through the roof based on extraordinary regular seasons… and none of those teams won a national championship.
Now, why is this team different?
Well, for lack of a better way to put it: this is the best team Kevin O'Sullivan has ever had at Florida, and quite possibly ever will. There is no weakness on this Florida team. Nor is there anything close to resembling one.
Florida's pitching staff, while usually pretty damned good, is by far the best in the country. The Gators have six, count 'em, six guys who could be pitching in the MLB within the next five years: Logan Shore, AJ Puk, Alex Faedo, Dane Dunning, Brady Singer and Scott Moss. And I wouldn't count out relievers Kirby Snead and Shaun Anderson someday joining them in the bigs. The Gators aren't just loaded with star pitchers, they're overflowing at the brim to the extent that their sixth best pitcher would be a weekend starter for 90% of teams across the country.
The Gators' offense has been the question of late. Though he's still batting over .300, JJ Schwarz can't possibly match the ridiculous numbers he put up last year, and he's still probably their best hitter. Whatever you want to attribute it to (personally, I point to pitching JJ Schwarz and Buddy Reed more carefully) Florida's bats have been hot and cold for much of the year. And this was never made more glaringly obvious than when Peter Alonso went down with a broken hand.
But even without their best slugger, the Gators' offense was still good enough to launch a run to the SEC Championship Game, beating Mississippi State (#3) and LSU (#7) along the way. How about this for a hot streak? In Alonso's absence, we got to see the emergence of seldom used outfielder Danny Reyes, who banged out six hits for the week. And I feel like somewhere in this paragraph, I should throw in the fact that Schwarz silenced any talk of a "sophomore slump" by recording seven hits and being named to the all-tournament team.
Oh, and if you don't already have enough reasons to believe in this team yet, Florida will get Alonso back on Friday.
Yet I feel that after all that, it's worth repeating the warning. While perhaps not quite as hyped up as this team is, the Gators were nonetheless regarded as favorites by many in five of the last six years, and received much of the same buzz that this team is. So even after presenting the argument that this team is different from… meaning better than… those teams from a roster standpoint, it's still hard for me to declare that this is the Gators' year- though it very well could be.
Florida can hit, and they can pitch. Select a game that Florida has played this year at random, and you're almost guaranteed to pick a game that contains a shining example of just how good Florida is at some area of the game. Digest that for a second, and then remember that the Gators' failure to hit in the clutch- which scrolling through the results of their 2015 season would show that they did quite well- was ultimately their downfall in their two losses to Virginia at the College World Series.
It all boils down to this. The Gators have to get clutch hits in this tournament, or they're not winning anything. We know this team has the pitching to win it all, just like they did last year. And we also know they're quite capable of hitting, but let's see them do it in big situations this year. Otherwise, this team will join its friends from 2010, 2011, 2012, 2014 and 2015 as immensely talented teams that couldn't take home the big prize.
So as the first pitch of the Gainesville Regional (which I'll preview tomorrow) draws near, remember. Florida has the talent to get itself to Omaha, and to win the whole thing. But talent, ability and potential don't lead to a championship. Coming through with big hits and big outs in key situations does.
Then again, Florida is the most talented team in the country. And with the experience they gained in Omaha last year, you have to think that they're as well equipped to perform in crunch time as anybody.