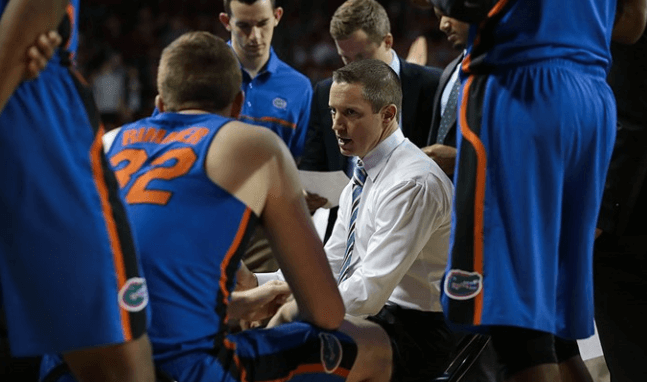 Florida's first round game against East Tennessee State has been labeled as an upset special by many fans and analysts. Of course, it's always enticing to pick upsets in your bracket pool, but I took a deeper look at the Buccaneers, and I'm having a hard time seeing it.
EAST TENNESSEE STATE BUCCANEERS (27-7)
Coach
Rankings
Offense
Defense
Steve Forbes
KenPom: 64th
41st
107th
Record: 51-19
RPI: 54th
79.9 PPG
69.4 PPG
Breakdown: point guard TJ Cromer is capable of taking over any game he's involved in, so Florida must account for him at all times. But the Bucs don't score 80 points a game with just one reliable scorer. Seniors Tevin Glass and AJ Merriwether have emerged as complemental offensive components, and both can score on drives to the hoop as well jumpers. This isn't just a high powered offensive team that can shoot the three ball, it's an experienced team that's adept at spreading the wealth, moving the ball around the perimeter and scoring on drives. The versatility among their guards is why they score almost 80 points per game.
That said, ETSU has done this all against suspiciously weak competition, (174th toughest strength of schedule) and they haven't had to face a defense anywhere near as good as Florida's. Besides, their offense isn't that much more productive than Florida's, as the Bucs average 1.6 more points a game than the Gators- and again, that's against significantly weaker competition. The Buccaneers did take down Mississippi State in Starkville, but they also lost at home to Tennessee. Those were the only two so called "FBS" opponents they played, so hard to put a lot of stock into those numbers.
Also, a popular talking point among analysts picking the upset has been Florida's loss of John Egbunu, but ETSU doesn't have size down low, either. Negative negated. The Bucs do rebound fairly well despite their lack of a true center (they typically play either three guards and two forwards or four guards and one forward) but Egbunu's loss opens up a hole for Florida that ETSU is not equipped to exploit, so without that working in their favor on either end of the floor, it's advantage Florida pretty much everywhere you look.
ETSU wins if… Kasey Hill has a horrible game defensively and allows Cromer to explode for 30 points or more. Hill has taken a beating from fans for not being able to do most of the things that the prototypical point guard can do, but he's a tremendous on ball defender who has shut down some of the nation's best. If Cromer is held in check, the entire offense falls apart. (Alternative answer: ETSU wins if Florida shoots 2-35 from three point range and gets out rebounded on top of that.)
Florida wins if: they play Gator basketball. You know. Play great defense, force turnovers, score in transition, and get a few threes from Canyon Barry, KeVaughn Allen and/or Justin Leon.
Key stat: Florida forces 15 turnovers a game. ETSU turns it over 15 times a game. Given how deadly Florida is at scoring in transition, the Buccaneers better be careful with the rock.
Verdict: Mike White's squad is bigger, faster, deeper and more battle tested than the Buccaneers, and they'll be playing a de facto home game to top it all off. Barring nap time in Orlando or a 10% shooting night, Florida should win comfortably.
Prediction: Florida 82, East Tennessee State 59