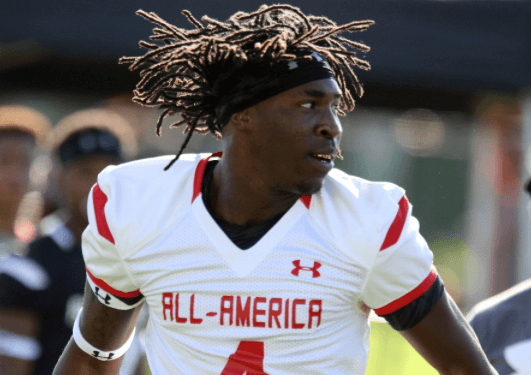 Oh. My.
After a circus of a recruitment process that featured Florida pulling his offer, prized wide receiver James Robinson has signed with Florida after the Gators re-extended the offer. He also held offers from Oklahoma, Clemson, Alabama, Ohio State, FSU, LSU, Michigan, etc. You know the drill. He's got an offer from pretty much every major school in the country.
And now he's signed his letter of intent to be a Florida Gator, capping the wildest recruitment process I've seen in a long time.
By now, the story has made the rounds to every corner of the internet, but it's worth a quick refresher. Robinson was caught with marijuana on his official visit to Ohio State two weekend ago, resulting in Ohio State yanking his offer. UF initially claimed that it didn't affect their recruitment of him- and then two days after the incident, Florida administrators forced Jim McElwain to yank his offer too. At best, McElwain appeared to salvage his rep as a great human being by calling coaches of smaller schools and vouching for Robinson, trying to help a kid he'd recruited and grown fond of find a nice home.
And suddenly, today- a change of heart. Florida administrators (whether that's Scott Stricklin, admissions people, etc. I don't know and am working to find out) reversed their decision and allowed McElwain to re-offer Robinson, who accepted in a heartbeat.
Of course, there's a lot more of this story to unearth; for those updates, please keep checking our Signing Day tracker.
As for what Robinson brings? He's a fast, physical receiver who is incredible with the ball in the air, somewhat reminiscent of Tyrie Cleveland. His great route running and sure hands, combined with his speed, figure to put him in serious contention for a starting spot next year.
And that means that the Gators' Signing Day- which was already a rousing success prior to this stunner of an announcement- is now better than anybody could have ever hoped for.