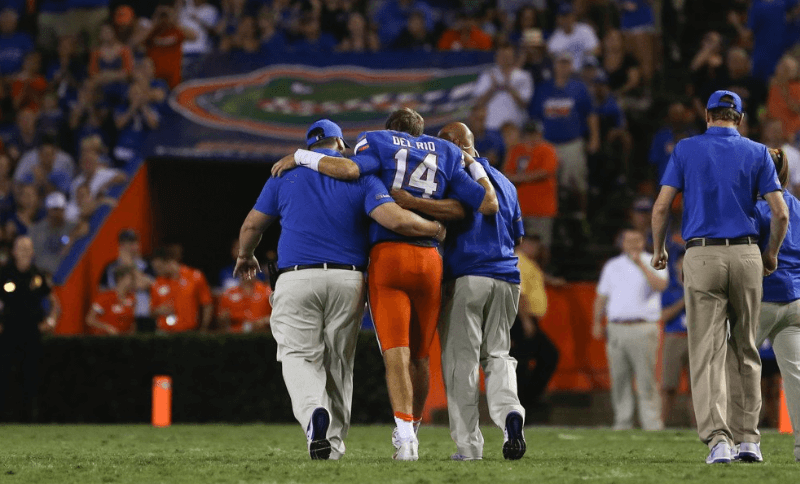 To answer the question being asked by every probably single Gator fan in existence: it's bad, but it could be worse. A lot worse.
Florida QB Luke Del Rio left last night's 32-0 blowout win over North Texas with an apparent knee injury after being hit low and late by UNT's Joshua Wheeler. The good news was that he walked off the field under his own power, and obviously wasn't hurting too much to pump up the crowd on his way to the locker room; even though you can still walk off the field unassisted with a torn ACL in theory, at least we knew that there was no broken bone like we saw Jeff Driskel suffer in 2013.
Anyway, Del Rio's injury is said to be a sprained knee, and will not end his season, as first reported by SEC Country. Every case of a knee sprain is different, as there are so many different variables that go into it (location, severity, how fast the swelling goes down, etc.) so there's no distinct timetable for a recovery based on any type of "sprained knee in sports" history.
However, a source not only confirmed SEC Country's report to me, but said that Luke Del Rio "could potentially be back for LSU." The source went on to explain that Del Rio's injury took place in the outside of his left knee, and that it will be impossible to know anything for sure until the swelling goes down. My source, and therefore, I, know nothing more than that right now, and whenever anybody does get more information- whether that's me, SEC Country, the Florida Gators' media team or anybody else- it will become available then.
At 3:30pm, a second source confirmed to me that Luke Del Rio is expected to be back for LSU. "It would take a setback for him not to be," the source told me.
Both sources also confirmed that Del Rio will not play against Tennessee or Vanderbilt.
Without Del Rio, Florida will have to turn to Austin Appleby, a transfer who played sparingly at Purdue. The one advantage Appleby has over Del Rio, amusingly enough, is experience in road games. Appleby has started games at Iowa, Nebraska and Minnesota, so playing in a presumably hostile environment in Tennessee should be nothing new for him. Del Rio, on the other hand, has never started a game on the road in his career.
In any case, let's hope for the best for Del Rio, but let's also remember that we could do a lot worse than a former Purdue starter as our backup QB. And oh yeah, Florida beat Tennessee in 2013 and 2014 with backup QB's who were thrown into the fire; now Florida has a week to get their backup QB ready. So let's get away from that ledge.