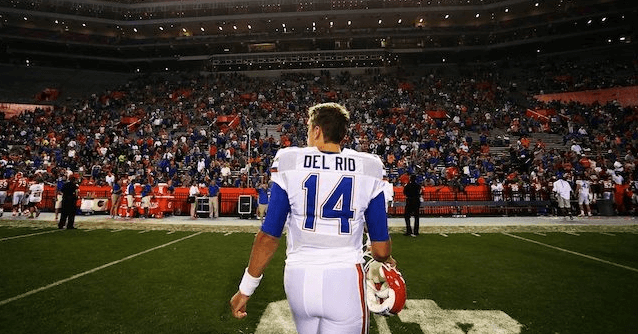 We're now in the home stretch of the offseason; football is just a few weeks away. What better way to make that final push than by breaking down the Gators' roster, position by position?
We'll start with the quarterbacks.
The leader: Luke Del Rio. This is the third major college football team Del Rio has suited up for, so you just knew he'd be ready. And as he proved in the spring game, he was more than ready. He doesn't possess the cannon for an arm that Drew Brees has, but what he lacks in arm strength he more than makes up for with accuracy, craft and smarts. He's demonstrated an ability and willingness to hit receivers on a wide variety of routes throughout the spring, and he knows when to cut his losses on a play, i.e. take a sack or throw the ball away and not make things worse. Del Rio has earned his teammates' respect, and it would be a shock if he didn't start against Massachusetts.
The second in command: Austin Appleby. A lack of blocking at Purdue forced Appleby into more mistakes than he should have rightfully been charged with, but there's no skirting around the fact: he threw 19 picks at Purdue. That's admittedly a concern. Since arriving on UF's campus, though, he's looked great, frequently hitting a wide array of throws in practices and scrimmages. The experience he got at Purdue wasn't all good, but it's made him a more mature, polished player. He throws a pretty enough ball with above average accuracy, and has really improved his decision making Pencil him in as the backup.
The dark horse: Kyle Trask. There's a weird story surrounding Trask. He never even started a game for his high school team, and only came in during garbage time- and when he did, he flourished. Most assumed he was headed for the bottom of the depth chart upon arrival, but he's already made his way past once-presumed backup Feleipe Franks. Like Del Rio, Trask is a smart kid who won't make too many mistakes.
The key to success: hitting safety valves. As mentioned earlier, this is something Luke Del Rio does a great job of. A running back's primary job is to carry the football, and the most important trait a running back can have is field vision. Running with the football is what they were made to do. The more Del Rio lets them do it in the passing game, on screens and checkdown throws, the easier time he'll have padding his stats, and thus, the more confident he'll be.
The outlook: Jim McElwain's track record of developing quarterbacks is outstanding. Now, he gets his hands on the smartest quarterback he's ever worked with. Del Rio grew up around the game, and so he's ahead of where many of the previous quarterbacks began under Mac. If his offensive line can give him the time he needs to make the good decisions he's capable of making, Del Rio could thrive. To put this in a cookie cutter: there's every reason to be excited about the QB position.
The verdict: The Gators will be good, not great at this position- but then, McElwain doesn't need a great quarterback to win a national championship. He just needs a decent one, like Greg McElroy or AJ McCarron. If the Gators don't win a national championship, QB play won't be the reason, because even if Del Rio gets hurt, suspended, or otherwise removed from the active roster, he's got two more than able backups in Austin Appleby and Kyle Trask ready to take over.