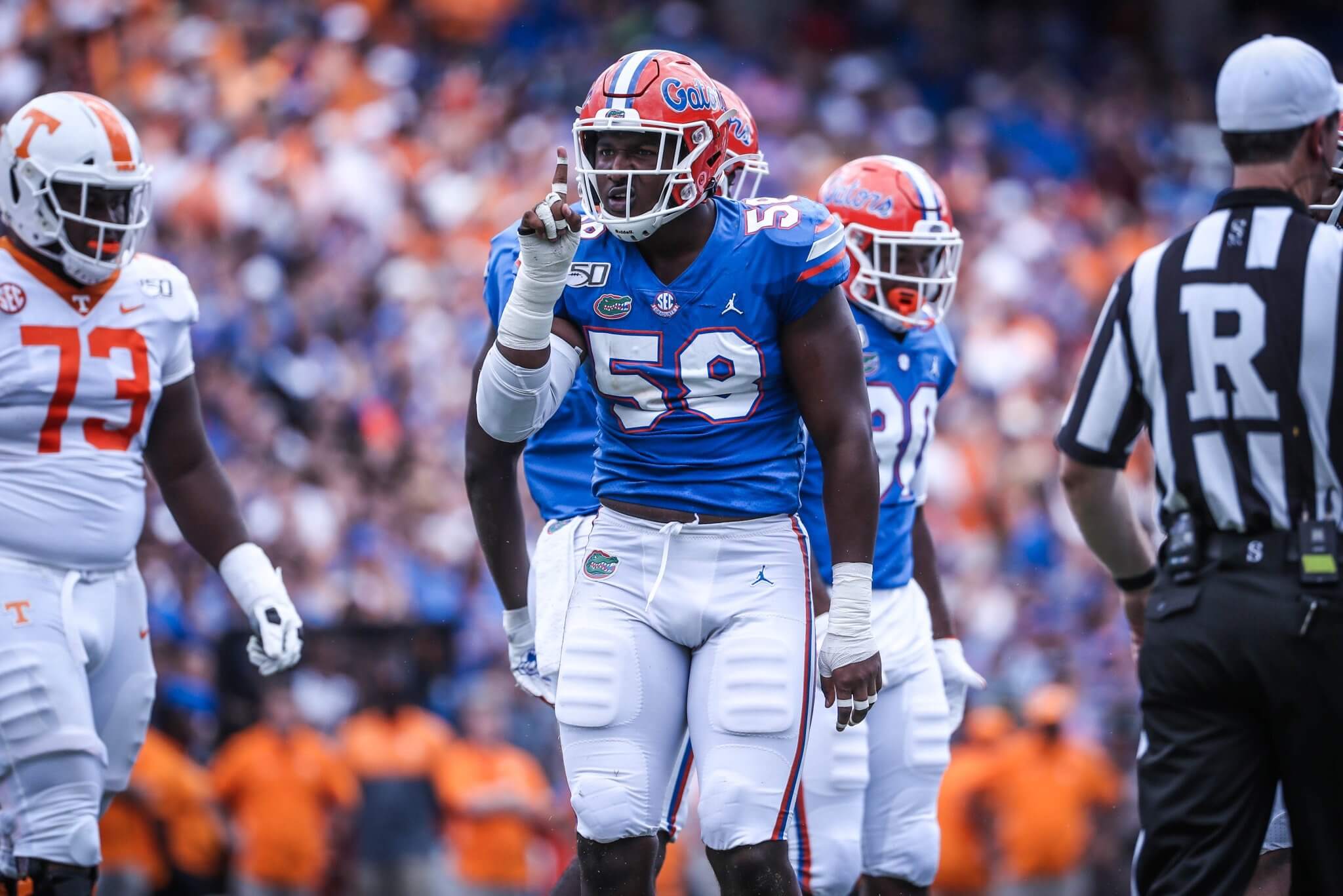 Having broken down the Gators' offense against Tennessee earlier this afternoon, it's time to complement it by going through Florida's defense.
Let's start off with a classic third and Grantham play three minutes into the game. He has his best [healthy] cover corner in Marco Wilson playing way off man on 3rd down. Meanwhile, at the top we can see he has no issue with asking a younger corner to play in the face of the WR. I understand that many offenses utilize heavy bunch formations in order to force defenses out of playing bump and run on WRs, but this isn't bunched in the way offenses usually use it. Additionally, I see no reason why Grantham can't have Marco playing up on the line of scrimmage, maybe shaded to the outside shoulder of the WR. I'm obviously no DC, I never will be, but you don't need to be to know that this is just a bad defensive call.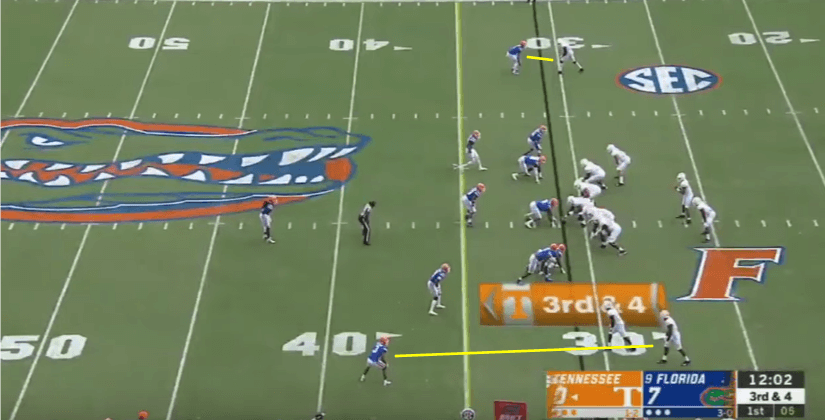 It's clear to me this is man defense across the board, which doesn't really matter when you ask Marco to play eight yards off his man and he runs a quick hitch route to get open. The off coverage also allowed Jauan Jennings to pick up enough steam to force two defenders to miss tackles.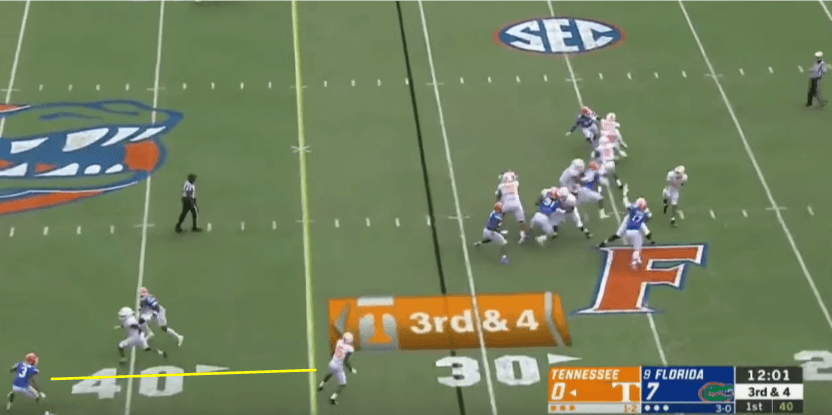 Fast forward to the second defensive series. As a general rule, I tend not to be too negative on a defense that walked into the field and had to defend a short field since it's not their fault. And when they do things well, they get additional praise. Like Jonathan Greenard, who saves a TD here. I can't tell if he contemplated covering the receiver out of the backfield and then decided to dart into the backfield, but whatever the case is, he bats this pass down and keeps the Vols out of the end zone. And on the very next play, Jennings dropped a pass, Florida's Trey Dean did not, and Tennessee wound up with zero points on this drive due to Greenard's athleticism and instincts.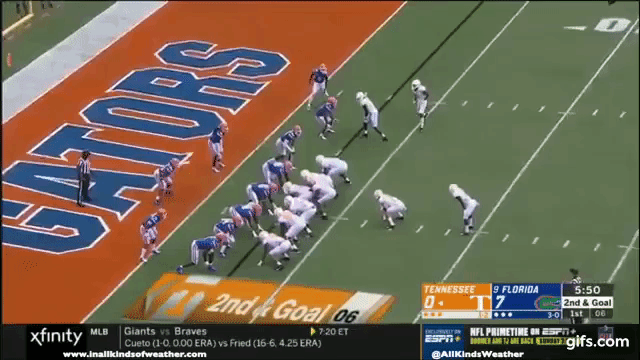 What is this, Grantham? Luckily- and stop me if you've heard this before- Tennessee is really, really bad. A WR drop in the endzone resulted in a interception, and an accurate pass here is a TD. I try to stay away from the what if game in sports, especially in football, but you could make an argument that Florida should be down 14-7 right here. The score made it look like our defense played a fantastic game when up to this point Tennessee has left two touchdowns on the board with just bad execution.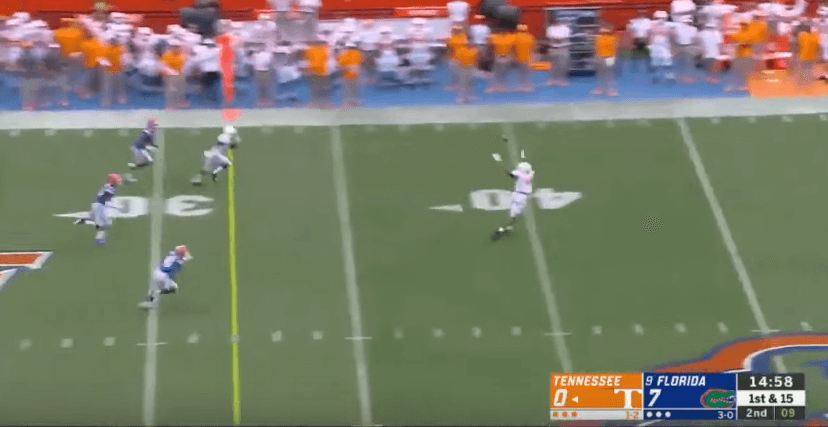 The first interception of Marco Wilson's career is probably going to be his easiest. My guess is the WR was supposed to run a hitch here. Right place, right time for Marco. Yes, he bobbled it, but screw it, a pick is a pick.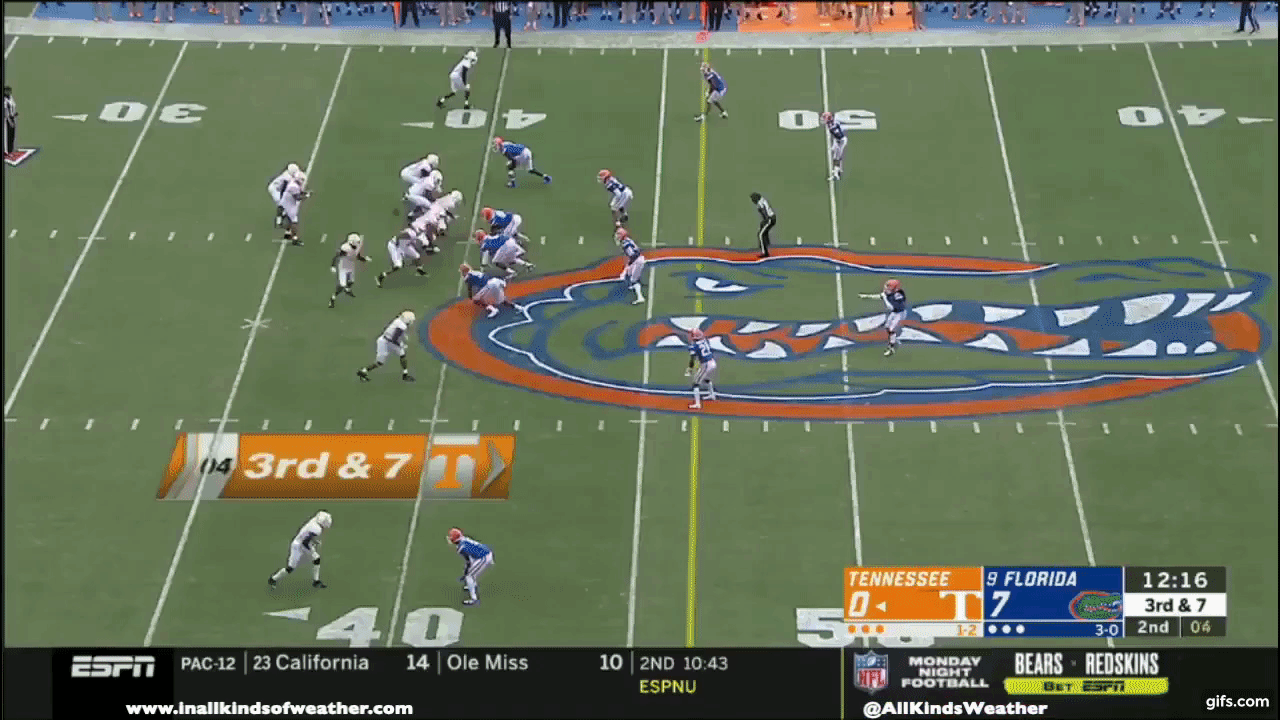 I feel I owe it to David Reese when he plays well. I've been rather loud in terms of discussing how overrated he is based off ProFootballFocus tackle stats, but good linebackers make plays at the line of scrimmage. He's been sticking out in positive ways more and more recently, and man… is this a heads up play here.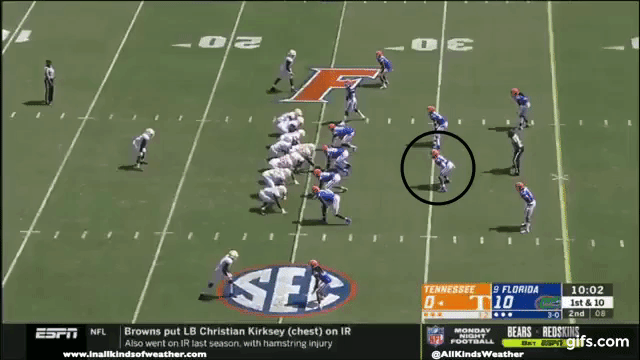 Ancum is a guy that doesn't seem to get talked about much, but this is the second time in this game that I have watched him throw aside an OG for Tennessee and get into the backfield for a play. This time, it results in a sack.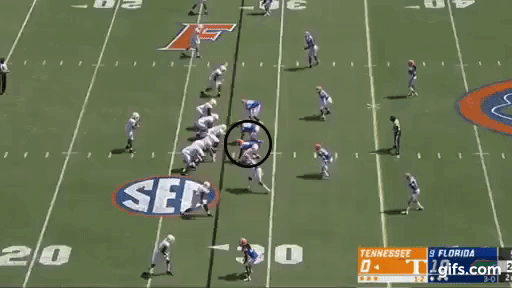 If I asked you, based off this still image, whether Shawn Davis made the tackle. What would guess?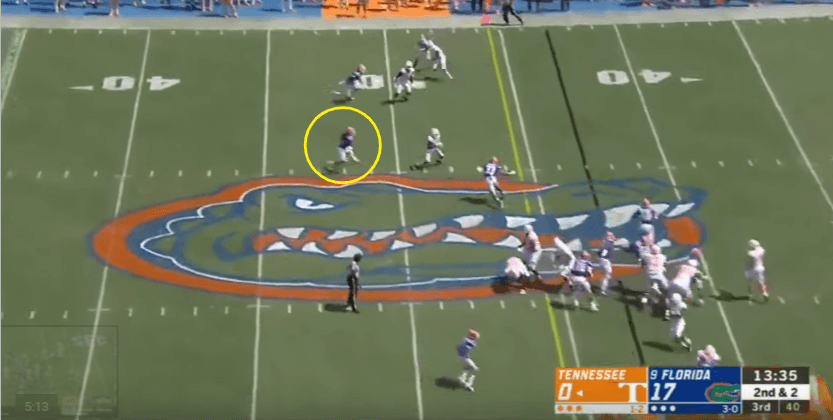 The answer would be a badly missed tackle that allowed the WR to gain an additional 15 yards. The sad part is that Davis is arguably the best safety on the team. But this isn't really a pattern for him specifically, so we'll just chalk that up as a bad play and move on.
Next up I want to feature good DB play from freshman Chester Kimbrough. The first highlight I have no issue with the coverage, just like a week ago with Marco vs. Kentucky, sometimes the coverage is good, or great, and the throw and catch is just better. This is tight coverage by Kimbrough, he's a couple inches off from tipping this pass. Nothing he can do here, Jarrett Guarantano made a great throw.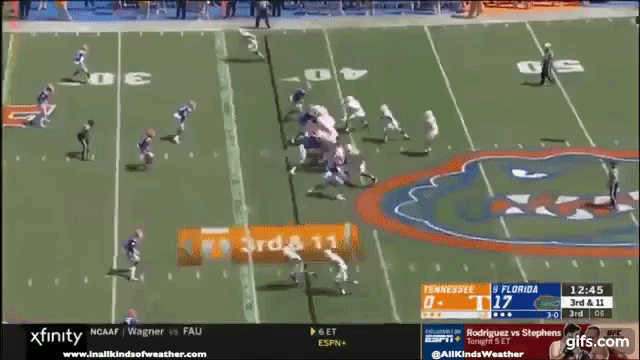 The second play is Kimbrough again, he jumps the in route and breaks up the pass. Though one of the lesser heralded corner signees, he could be a great one.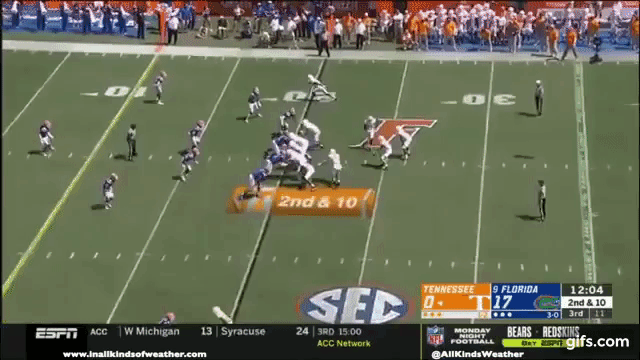 It looks like Marco Wilson is over the rust that caused him to look quite terrible vs. Miami. His coverage was, on the whole, superb vs. Kentucky and I've seen nothing but smart play from him vs. Tennessee. He keeps his eyes on the QB here and breaks off his route to jump the route that he spots the QB targeting. Excellent technique, excellent instincts and Burney benefits from both, diving for the ball and snaring the interception. Also, the pass rush from Jonathan Greenard helps force the throw to be a little less accurate.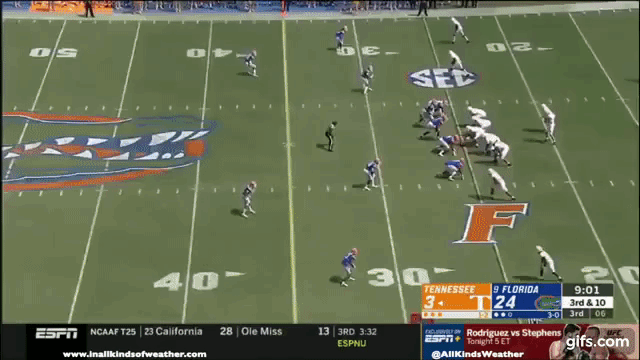 It seems as if the staff has slowly been bringing Burney into the game plan defensively. He had the pick earlier (thanks to Marco) and here you see that speed a guy like Burney can bring to the run game from the linebacker position.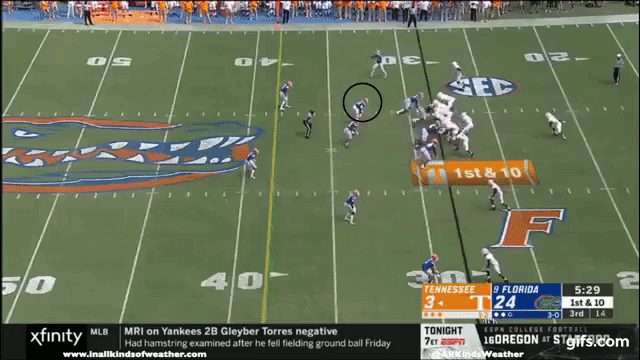 Presented without a long description, the Tennessee ball carrier gained seven yards on this play. Not good. Chances are that Grantham lost his mind in the film room when he watched this play again.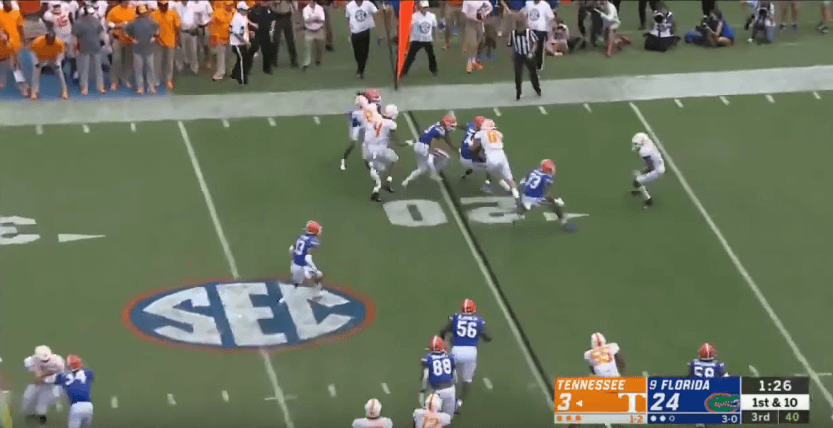 Greenard is a great replacement for Jachai Polite. He flashes similar quickness and possibly a better ability to punch the ball out. This is his third forced fumble of the season. Note how he uses a nice step to the outside to get the RT to commit and shoots inside to make a play on the ball carrier.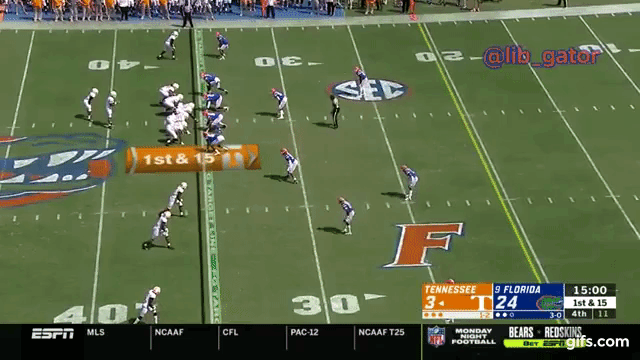 True freshman Khris Bogle gets the sack here, but I wanted to point out the pass rush from both Bogle and another true freshman, Mohamoud Diabate, who creates some havoc from the backside. This is probably best stylized as a half sack given to Dunlap and Bogle. Based off early returns, I'd like to see Bogle not get a redshirt, he's a reliable backup pass rusher who hasn't looked overwhelmed yet. Florida could really use him this year as the games get more serious.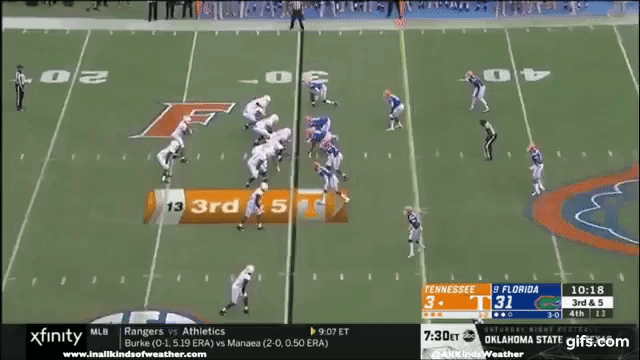 Conclusion
My biggest concern with the defense was that a properly coached Tennessee team that isn't going to battle Vanderbilt for last place in the division very likely takes this game to the half at 17-17 as opposed to 17-3. The first turnover of the day was a ball that some may say was a high throw, I didn't think so, I thought Guarantano put the ball in a fine spot, it was a flat out drop from Tennessee's hero that just happened to fall in the hands of a Florida defender. Moments later, Tennessee OC Jim Chaney got a Tennessee receiver wide open behind the Florida defense, and Guarantano flat out missed him. I have not yet seen anyone on social media discuss the breaks the defense caught early on, but I implore everybody to realize that this game could have played out very differently if Tennessee scores on those two plays. It's much easier to play defense with a comfortable 17-3 lead than it is coming out of halftime with pressure on you to keep a bad Tennessee team from taking a lead.
But, the game played out how the game played out, the defense looked locked in and focused from the 2nd quarter on and outside of a couple broken plays, guys did their job. The defensive line wreaked havoc on Tennessee's OL, and many holds that were not called in this game that would have put Tennessee's offense in a worse spot of holds were consistently called on Florida's defensive line. I was mostly pleased with the pass rush despite Zuniga being out of this game.
I think the corners on this team are solid, Florida caught a break with CJ Hendersons injury only knocking him out for the Kentucky, Tennessee and Towson game (I'm simply assuming he doesn't play in a game Florida doesn't need him at all in). That is three games that freshman corners have earned important experience and all have shown that they are not big downgrades in terms of their pure cover ability. When CJ is added back to the fold, you can comfortably shut down the top 2 WRs on the offense and filter things into Dean, Elam, Kimbrough or Hill without concern of them blowing their assignment.
My biggest concern overall, as I will update on a weekly basis, is that I still don't trust Grantham to consistently call a strong game. The safeties on this team worry me. Davis is the best of the bunch and we'll see if Stewart gets back into rhythm to give us a more reliable twosome at safety. But sometimes I feel simple is good. Why is it that a guy as good as Marco is not consistently in WRs faces on 3rd down?? I only pointed out the instance once, but there were multiple instances on 3rd down where corners were playing off coverage by 8 yards on 3rd and 5 or less. And just because the play call worked vs Tennessee, doesn't mean it will fail miserably vs a team like Georgia who heavily utilizes 3 yard slants and hitch routes, which Fromm will eat you alive off of. Keep it simple stupid. I will continue to scream into the void until we consistently have CJ and Marco in the faces of WRs. You have arguably the two best pure cover corners in the SEC on your team, why, why, why have them play off coverage?