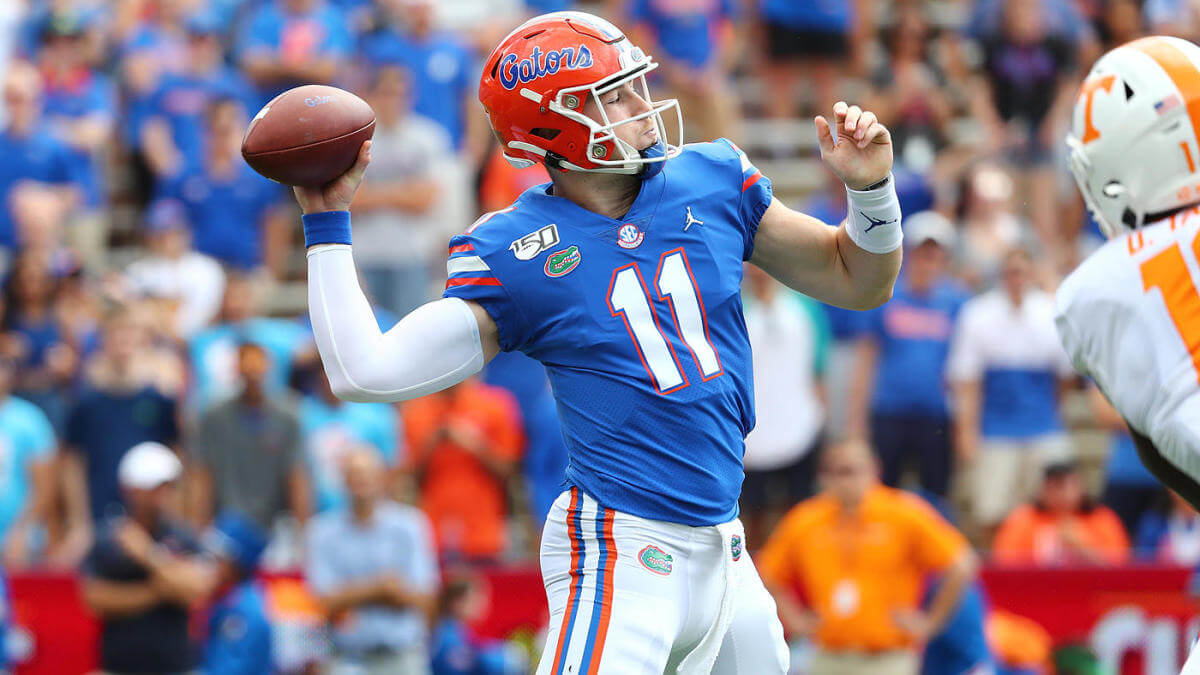 It's always more fun to do these film room sessions after a comfortable victory that makes us all feel good, and that's what we have on our hands after a 34-3 obliteration over Tennessee on Saturday.
But I'm making one small change to the format of these reviews: instead of breaking down these reviews by half, I've broken them down by offense and defense. That just makes it easier to keep track of any and all trends we see.
So we'll start with the offense.
Florida's first passing play of the day is a big one, pass protection is perfect and I have nothing negative to say about Jean DeLance here.  Trask stares down someone to his right but comes off the look to find Grimes deep. It is not a great throw, but it is an adequate one, Grimes does a good job adjusting and coming back to the ball. I do think this is where the team will miss Franks, his arm strength was great, but I've never personally been a fan of any quarterback whose best attribute is his arm strength. Trask does a good job this game showing why I tend to believe arm strength is extremely overhyped for the QB position.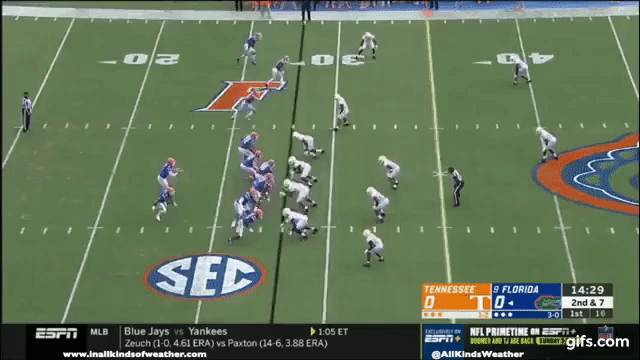 For whatever reason, Perine has some major issues with how he runs the ball this year, the mental lapses from this guy is quite frustrating to watch. His vision from prior years just isn't there. The OL carves out a hole to the left, it's clear as day, yet somehow Perine misses it and runs directly into a wall.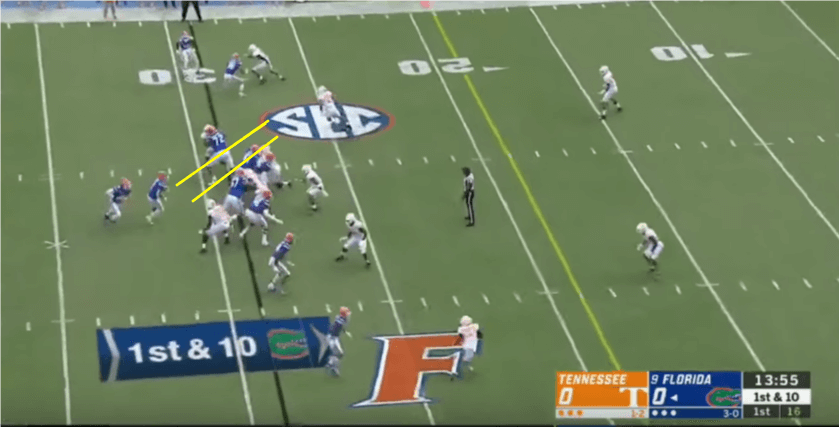 Yellow is, to me, clearly where this runs goes, red is where Perine is. You can't see him because he decided to run into a wall.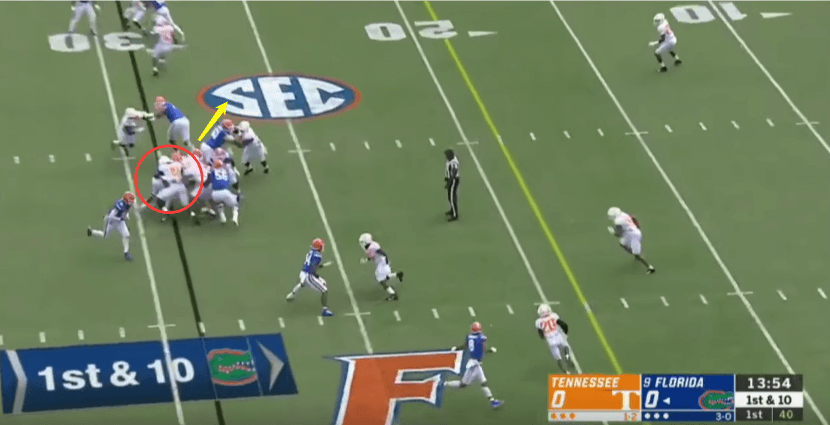 First passing TD of the day for Trask gets this look.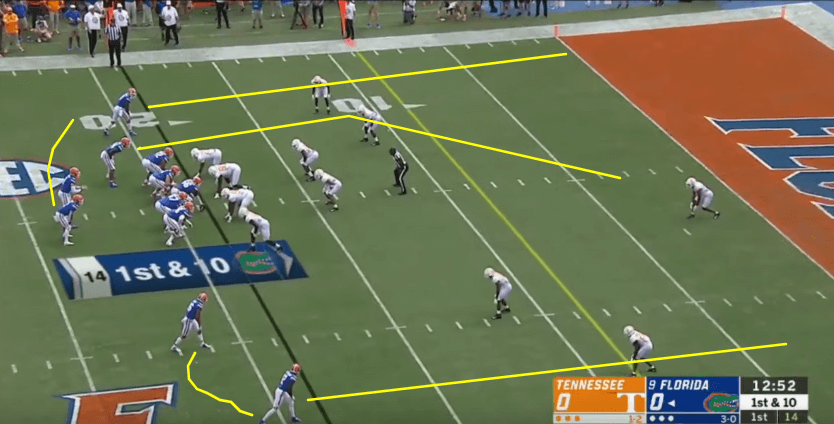 I am a big fan of Kyle Pitts at the TE spot. If used properly, he could lead the SEC in catches at that position. The linebacker tries to bump him at the top of his turn in the route and it does absolutely nothing to Pitts' route. I like the ball location by Trask; Pitts is 6'6″ and Trask puts it where only Pitts can make a play on the ball.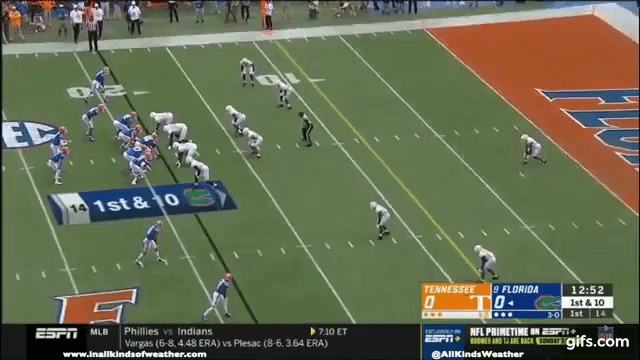 Last week, Jacob Copeland wasn't utilized at all. This week it seems like the staff realized their mistake. I also feel confident that we wouldn't see these quick passes if Franks was in the game. It's difficult to say because he's hurt, but it doesn't seem like a simple coincidence that the passing game looked much better with Trask in the game. He takes what the defense gives him and isn't focused on the home run play all the time. Which is why- and I'll say this one last time for absolute clarity- he said an overall upgrade over Franks. Because he is far less of a liability to make game-losing plays.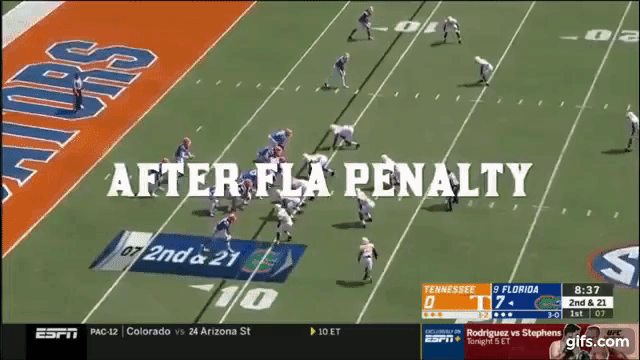 The first really bad offensive snap of the day: the strip sack. Without knowing the blocking scheme, but knowing the general level of DeLance's play at right tackle, I don't get why he is double teaming the end who is shooting into the right guard (Chris Bleich). Tennessee masks this pretty well, no one shows blitz pre-snap and so it's up to guys to be quick in their decision making. Krull doesn't do his best job responding to the pressure, DeLance is way late on spotting the blitz and doesn't turn to block the linebacker until the linebacker is even with DeLance, and DeLance doesn't have the athleticism to make that save.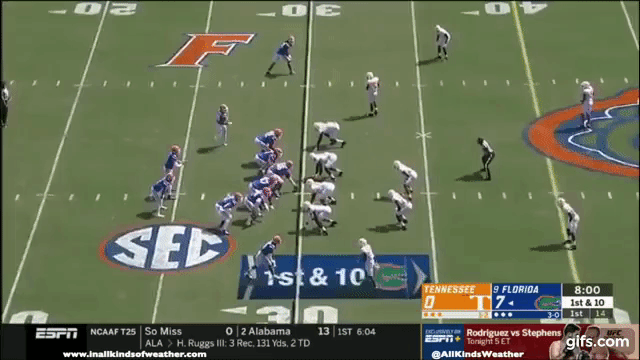 This is another play I feel strongly that Perine botched with more bad vision. I tend to not think especially highly our offensive line's ability to make pull blocks, but I don't see an issue here.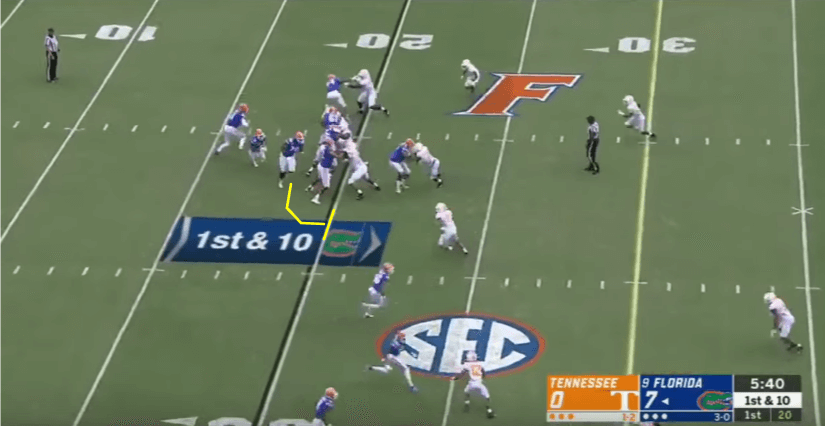 Perine cuts inside while there is a hole to the outside, and I feel strongly that play is supposed to be bounced wide. I could be wrong, but everything about Perine's running this year is consistent with him screwing this concept up.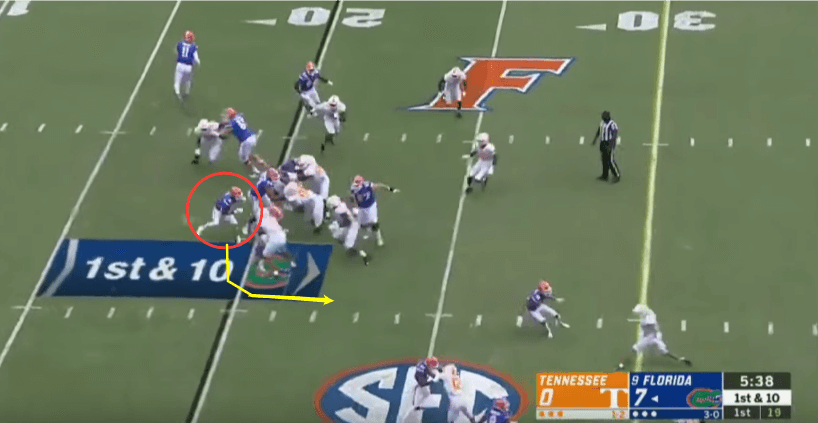 Neil said I would find something to complain about with Heggie, but I haven't yet. I've been waiting for a good play to pop out that shows me why he won offensive linemen of the week, and this is a good play. He's locked onto his block the longest of any linemen on this play.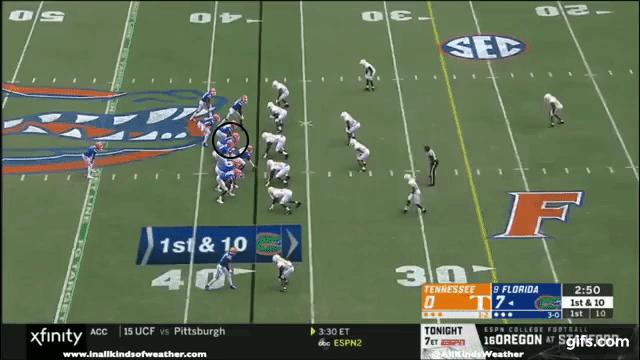 I caught some minor criticism on Twitter for criticizing this play call on 4th down. The run game has been inconsistent up to this point, Trask is not the runner Franks is, which isn't saying Franks is a great runner, but it's not really Trask's game. If your best play call here is a Trask QB power run, I'd rather you just kick the FG with the reliable Evan McPherson.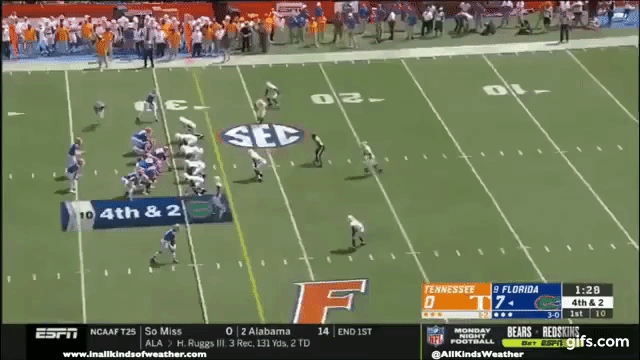 Two things I want to quickly point out here. This is the third time Pitts has been open for a catch on this same route. Secondly, Heggie has been moved to RG. Perhaps he's been moved to give DeLance help. Speaking of Delance, watch him at the right tackle position. If the ball isn't out quickly, Trask gets sacked. Your RT should not be getting blown up like this. I mean this in the absolute most strictly football related, non personal way: Jean Delance is a huge issue at RT.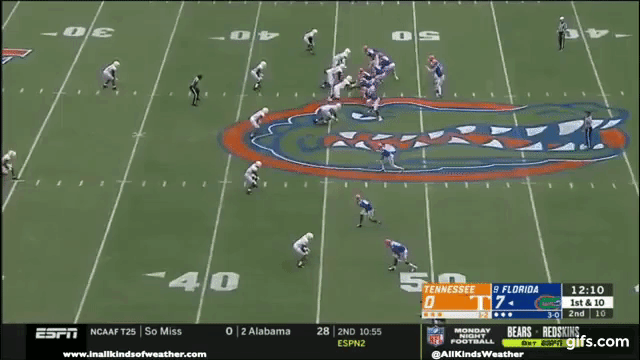 This is the first mistake by Trask that sticks out the most so far other than the under thrown ball. The defender has Krull well defender here but I think if Trask was to lob this ball into the corner of the endzone, he gives Krull a solid chance to make a catch. He has the defender shielded off here so he can make a play on a ball thrown there. But then again, Trask's vision is somewhat obscured here, and at least he cuts his losses by throwing it away rather than doing something catastrophic. After all, the drive still ended in three points.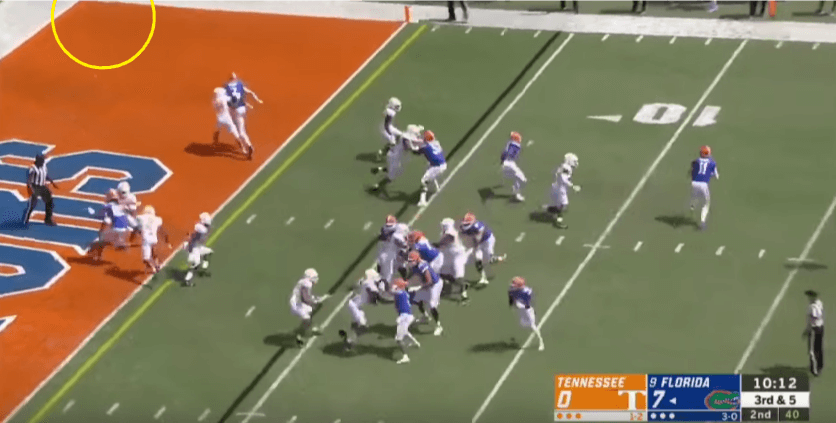 Tyrie Cleveland has excellent hands. His entire NFL draft highlight package is going to be the bomb from Franks the last time Tennessee came to the Swamp, and making contested catches in tight spaces like so.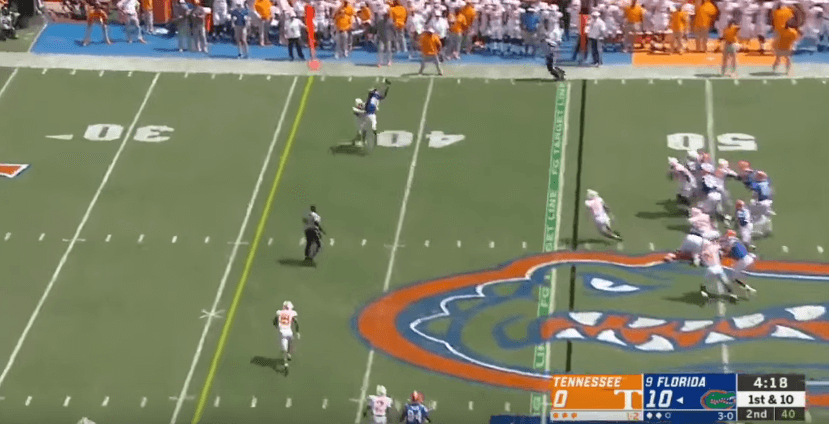 A lot of football fans will try and take away from quarterbacks who can find holes in the zone. To many people, it's only impressive when a QB can complete passes against man coverage into tight space, and Trask has done that plenty this game. But it's been a consistent theme that if you run zone vs. Trask, he will find the hole quickly and put the ball into the soft spot, just like he did here. So give Trask some credit. Also, kudos to Malik Davis for the blitz pickup. Well done, sir.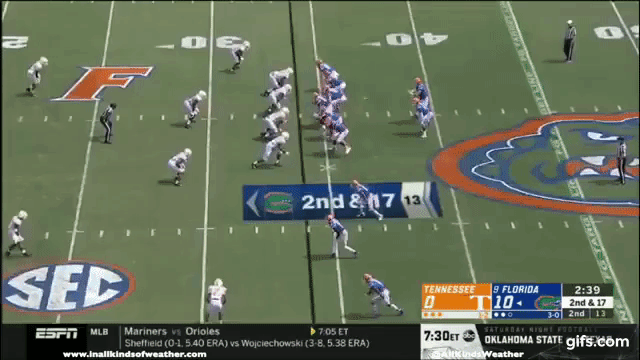 I do love seeing offensive linemen running 10+ yards downfield on screen plays.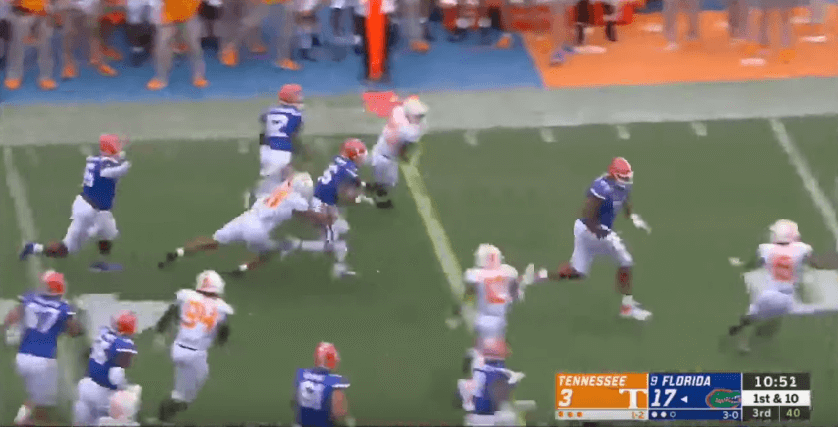 Onto the touchdown that put the game away. I think Tennessee was in a cover 3 here, but I'm still shocked that Swain got this open from the 29 yard line. Well-coached defenses (which means, not Tennessee) aren't getting burned this badly with the ten yard long end zone helping keep things compact. Regardless of the bad defense by Tennessee and the safety biting hard on the same Pitts route that has killed Tennessee all day, Trask gets the ball out at his last step in his drop and the OL holds up. Result: easy touchdown.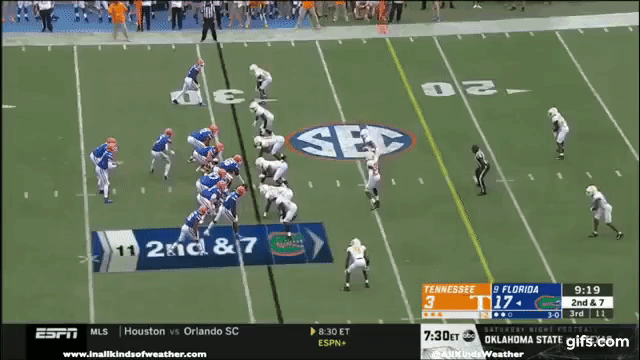 Here's where Neil was right, that I would find something to nitpick about Heggie. To be fair, even if Heggie does his job, I'm not sure the outcome of this play is any different, as Krull fails to stay locked into his man for much longer. It's also worth pointing out that Trask rotates between quickly getting the ball out and then having his internal clock tell him he has 3 seconds longer than he actually has. This isn't a complete shock for a guy who hasn't played much since his freshman year of high school, so that's definitely correctable with reps.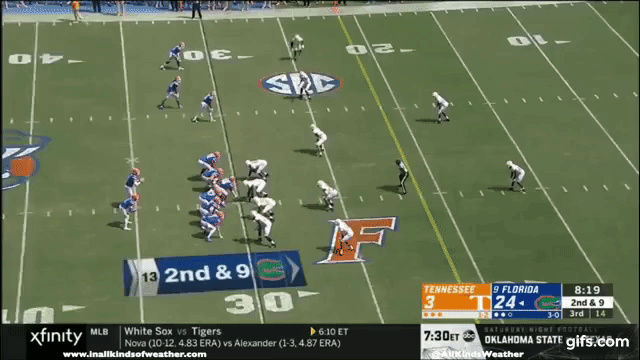 This is the first of two interceptions from Trask, and I put this one entirely on Trask. The corner has safety help over the top, this has to be an absolutely perfect pass, and even then I'd still put my money on the double team separating the pass. This just shouldn't be thrown.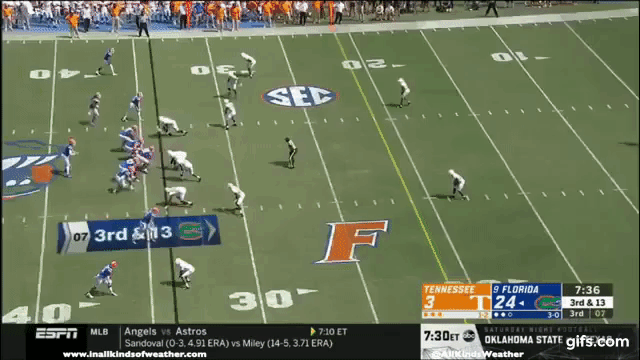 This next play is an example of why I still struggle to view Florida as a team that can win the SEC East. Auburn, Georgia and LSU all have more talented defensive lines than Tennessee. Tennessee's usage of delayed blitzes targeted at Florida's tackles is something other coordinators will notice on tape and look to abuse going forward. In this instance, DeLance once again just fails to engage in a block and hold onto it. Forsythe gets targeted this time with the delayed blitz and though he mostly did well this game, he looks just as lost as DeLance on this play as he tries to make a recovery block way too late. I'm not sure if Trask accurately senses the pressure and holds on until the last second or if he just gets lucky, but this is half a second off from possibly being another strip sack.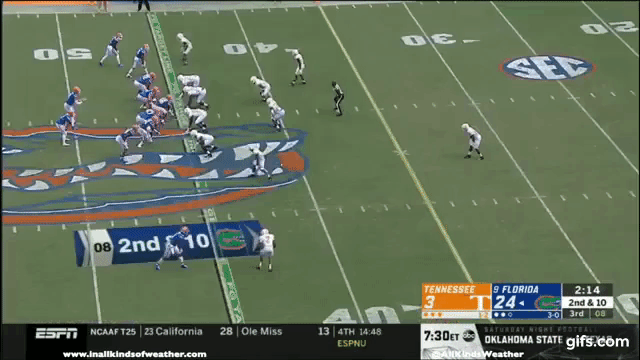 I am mixed on this next interception from Trask. Grimes is 6'5″ and I have no issue with throwing him 50/50 balls- especially in a game that you're winning 24-3- but this looks similar to the earlier interception where the corner has safety help over the top and Trask tries to fit the ball into a tight area. Sure enough, it's batted around and then picked.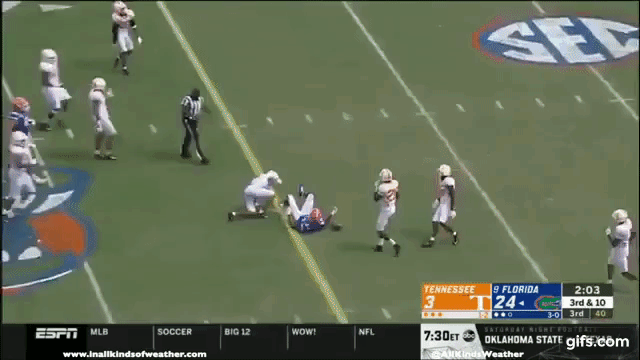 Copeland being fast isn't some impressive development, he was one of the half dozen or so WRs that has committed to Florida post-Harvin that has gotten the Percy comparisons. He drops this ball, but I'm simply showing the separation on this route, and it's nothing complicated, he's running a 9 route. Just go, and he runs right by the CB. If he's going to drop a touchdown pass, it may as well happen on a drive that ended in a touchdown anyway in a game that Florida won by 31 points, right? No harm, no foul.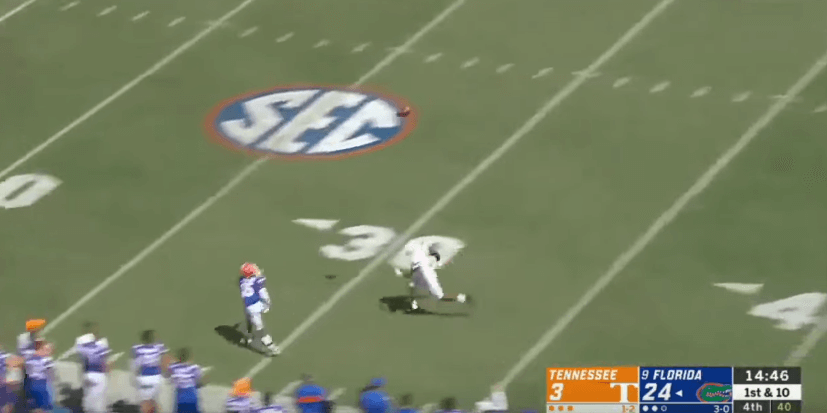 This is what Emory being in the game does for Florida's struggling running game. The three defender I have added arrows to all have eyes on Emory. The deepest defender is extremely hesitant to commit to the RB because of the threat of Emory to pull and take off himself.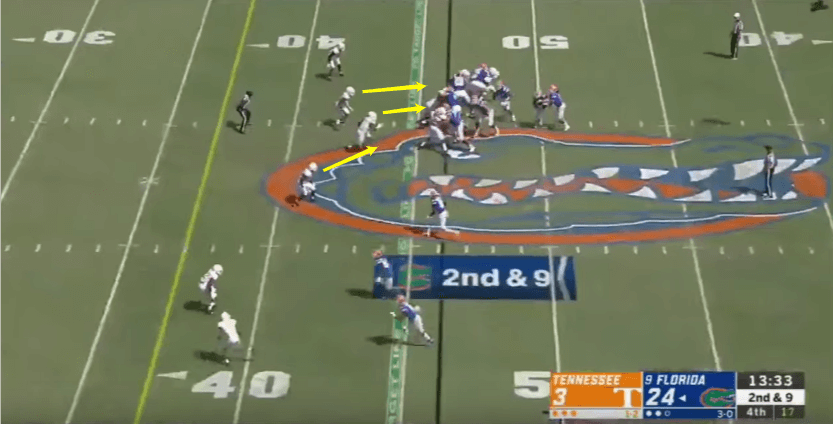 By the time the defenders commit to Perine, he's got a bit of room to run (yellow is his actual running path).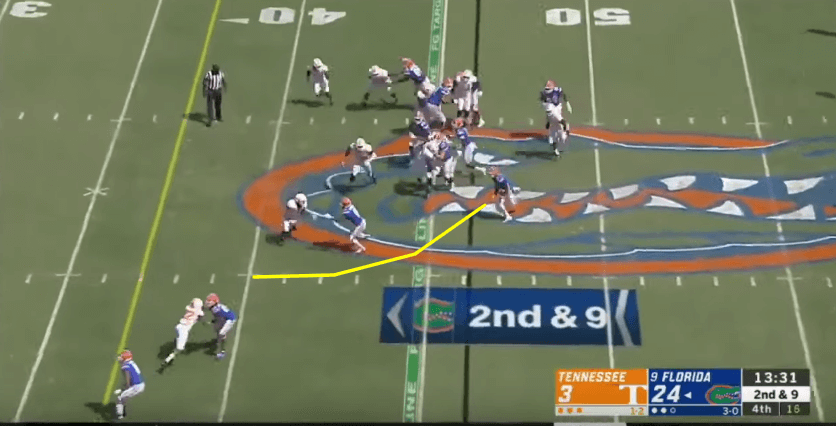 Here is another example of a play where Emory's mere presence creates a running lane. This is also well blocked by the OL, but the read option causes the defender to stop and read Emory (yellow), generally what would happen with Trask or even Franks most of the time, would be the defender just crashing down on the RB and making a tackle from behind (red), but the defender waiting creates a crease that Perine runs through (blue).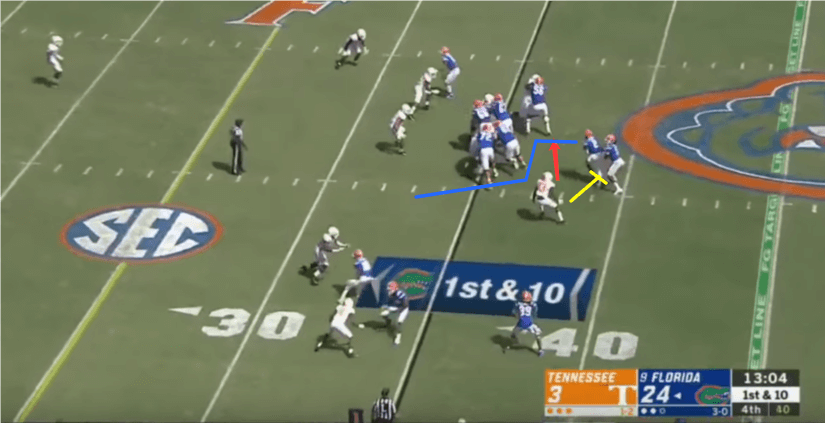 Three runs in a row with Emory at QB have resulted in gains of 10+ yards. It's not a coincidence. The concept is the same on the next play, too. The closest defender to Emory would probably crash the RB give if Trask was in. He reads Emory, the linebacker deep also is reading Emory, because of the design of the prior two plays I think this call had the bottom defender  try and take the C gap away from off tackle. All this creates a nice lane and a nice gain.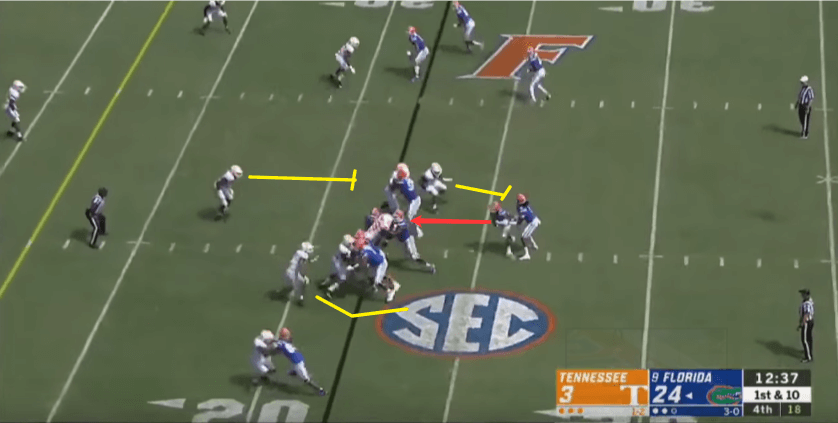 By the time all three of the defenders I pointed out realize what's going on, you see where Pierce is in relation to them, circled in blue. Easy 12 yard gain.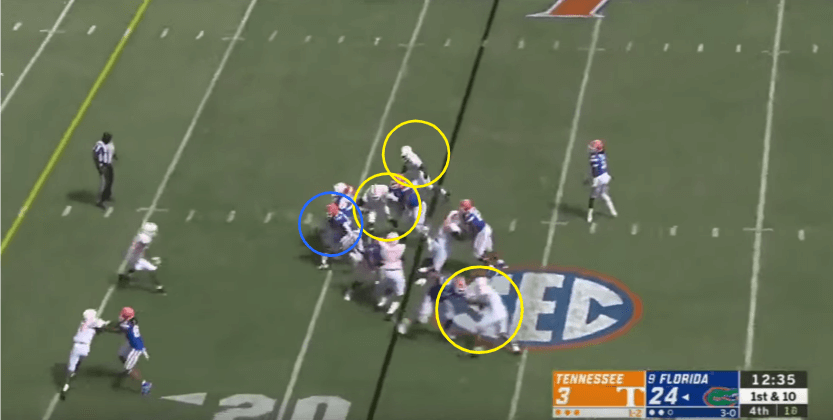 The fourth run in a row from Emory results in no gain, I think at this point the defense approached Emory at QB as a "prove you will pull and hurt us, otherwise we're done giving you respect." No one read Emory, everyone is crashing right to the RB. About time.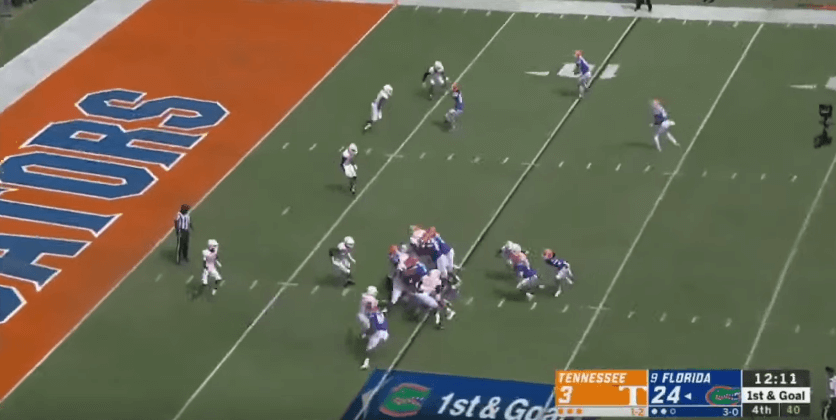 Another run with Emory in at QB, but this time the play call is an RPO. Three WRs run true routes, none of them block. The route structure clears out the left side of the field and Pierce just needs to make one guy miss, which he does and takes it in for the TD.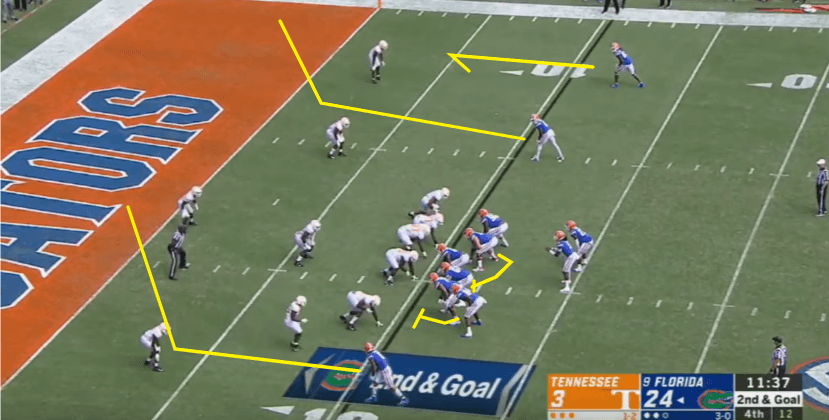 This is exactly how I would like to see us package Emory into the game when the competition gets better. I don't believe you can utilize Emory like you did Tebow (I'll show below), because of his smaller size. Rather, I like going five wide. Spread the defense out, if they don't respect his throwing ability, you can check to quick pass.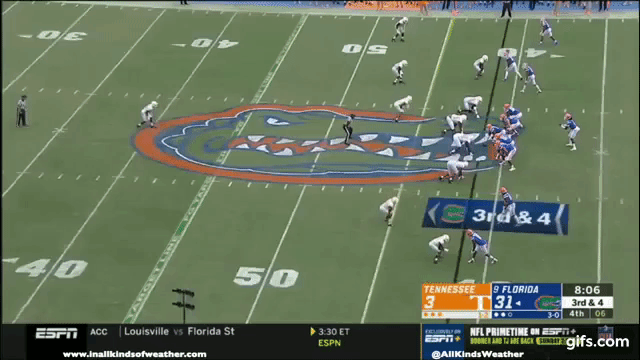 This is generally the Tebow smash formation we were used to. Maybe in time we can run something similar to this, but this OL struggles to run block right now, so forcing the defense to potentially only put 4 in the box (3 DL, 1 LB) creates running lanes that a smaller bodied guy like Emory can take advantage of. We'll see if we actually stick with the five wide look for Emory.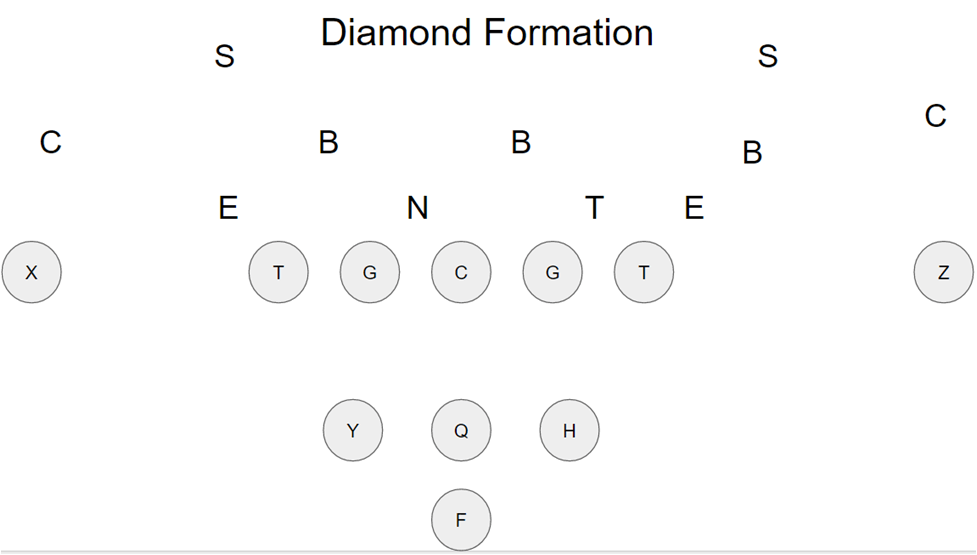 So, I'll just come out and say it plainly: Tennessee is bad. Really bad. Look at this: 4th and 4 and the odds of Emory throwing this late in the game are probably slim, they look at this Florida formation and have both linebackers lined up on the right side of the formation. This makes the read option all the more easier when Florida is also pulling its RG and TE.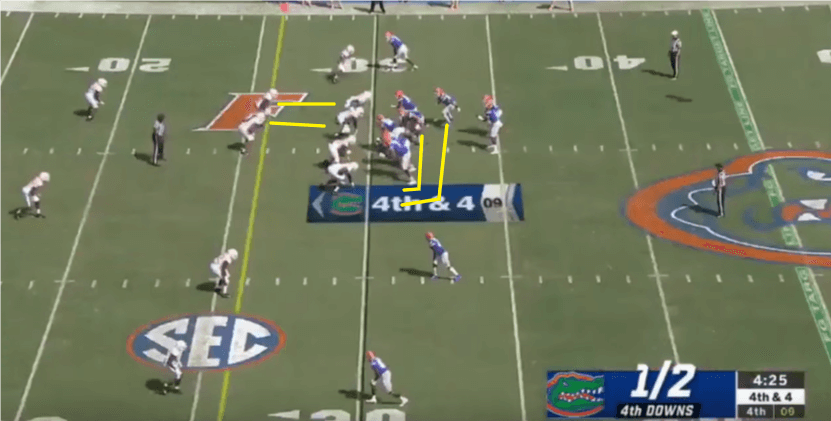 Here is what everything looks like as the ball is handed off to Pierce. You can see the amount of room he has to run- and of course he converts this into a first down.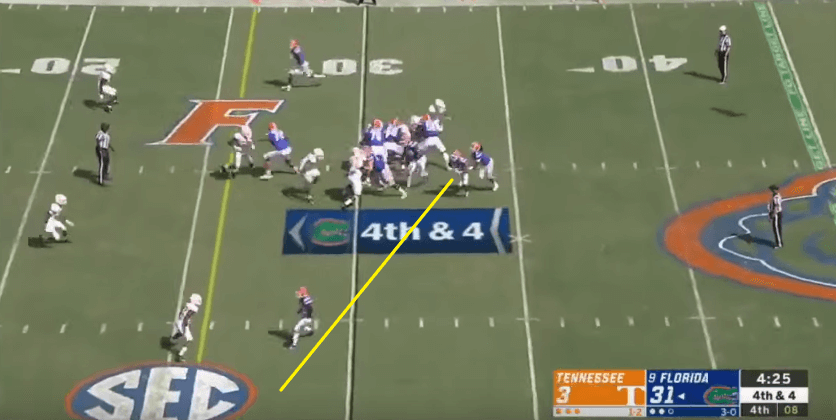 Conclusion
I'm not going to beat around the bush here, but this offense is better without Franks at QB. Let's just accept that, file it away as a fact and move on. The offense scored 19 straight points vs Kentucky under Trask and put up 24 points in three quarters with Trask in at QB (the remaining 10 being with Emory taking snaps for either a majority or the entire drive). 24 points isn't ground breaking, as I did with the defense with a "would of, could of", if Trask throws a couple balls differently, that's probably 31+ points with him and the offense hits 40+ points on Tennessee.
It's important to keep in context that Trask was a lightly recruited high school QB, though. He was unranked when Florida offered him and he committed, the start vs. Tennessee was his first start since he was a freshman in high school and he already looks extremely comfortable running what Mullen is asking him to run. That's definitely impressive on Trask's end, but it fits the growing pattern of Mullen being able to get the most out of his quarterbacks.
Next item on the conclusion agenda: Tennessee is bad. Did I say that already? I didn't log this exactly, but I feel comfortable saying that 3/4s of the pass completions in this game came off the post route, or something in the middle of the field. I know for a fact every single catch Pitts made in this game (4) came on the post route. Two of the touchdown passes came on post routes. You'd think that at some point, Tennessee would try to take that away, and they never did.
Starting with Towson, I am going to start working on logging more stats for the game, such as which side Florida ran the ball off of better. I played around with logging it today but it's not 100% on point. What I can tell you is this: Florida had four runs of 10 yards or more go to the left side of the offensive line, while no such runs went to the right side of the offensive line. That's another indication of the liability DeLance is. The longest run to the right by a RB was for four yards, the longest run overall was an 8 yard run by Copeland on an end around. Heggie moved around between LG and RG in this game and most of his time at RG was in pass protection, so I'm not sure there is a complete 100% correlation between Heggie at LG and Floridas runs going that way. This is something I'll look into more going forward because I noticed this in the Kentucky game too.
Lastly, I will be very interested to see how Florida utilizes Emory in the offense. The offense was a lot more successful with Emory in than I thought they would be. I didn't realize teams would be that hesitant to crash on the RB with him in at QB because I wasn't completely confident in Mullen actually giving Emory the responsibility to pull. But based on offensive line blocking and a RPO or two called, it's clear that Mullen isn't simply just asking Emory to hand the ball off to a RB. The best the running game looked vs. Tennessee came with Emory in at QB. They struggled mightily, again, with Trask in at QB. I don't think Franks caused defenses to have much concern about his ability to hurt you with the run. Trask isn't slow, but he definitely doesn't present a speed threat at the QB position so DEs and OLBs will comfortably crash the RB when Trask is in. This is an interesting dynamic because Emory opens the offense up more, which if he ever takes over the starting QB job means he could bring Mullens full fledged attack that I'm still not convinced the fans have seen yet.
But it's hard to sit here and say Trask doesn't deserve to continue being given the starting snaps with how comfortable he is throwing the ball. Auburn is going to be quite a step up for this offensive line, and I'm interested to see how the offense looks then.