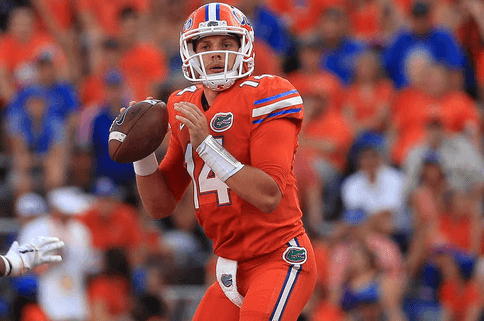 Florida's 45-7 smack down of Kentucky on Saturday, one we all admittedly enjoyed, was little more than a formality. Yes, the Wildcats played the Gators close in 2014 and 2015, but the blowout this weekend was merely the latest chapter in a 30 chapter book titled "The Streak." 30 straight wins over Kentucky is impressive, for sure; only three other schools have ever beaten another team 30 consecutive times.
But in terms of this 2016 Gator team, the streak, combined with just how bad Kentucky is this year in particular, takes a bit of the shine out of the win. And for the most part, it makes it difficult to get a read on this football team.
That is, except for Luke Del Rio. Because while better competition is needed to gauge where the Gators' offensive line, defense and skill position players are really at, we saw the raw intelligence of Del Rio for the first time in its entirety.
Florida's starting quarterback played well against Kentucky, no doubt. Nobody would argue that he was a highly effective leader. The problems come if his performance was to somehow be interpreted as phenomenal, because as the game film shows, it wasn't. And better yet, McElwain let him know it wasn't.
One play in particular stands out. Near the end of the first half, Florida was leading Kentucky 17-0 and looking for more. Del Rio had tight end DeAndre Goolsby wide open on a corner route, but instead tried to force it into double coverage in the direction of Brandon Powell, deep in the middle of the end zone. The ball hit the shoulder of cornerback Derrick Baity, who remained focused on Powell and never turned back around for the ball; had he done so, he would have had an easy interception, which would have given the Cats the ball back with two minutes left in the half; Kentucky would then receive the second half kickoff. So this error had the potential to be a complete momentum shifter, and very well could be against better teams, but turned out to be inconsequential in this case as Florida scored a few plays later.
I counted two really bad throws by Del Rio on the day, with the aforementioned play being one of them. The other was a ball he overthrew in the direction of Antonio Callaway, who could have kept running. He missed on some other throws, but none were really of the "what the hell is wrong with you?" variety. And nobody's perfect, so while always coaching your players to try to achieve perfection is certainly a good thing, it's not worth pitching a hissy fit about them like McElwain did about the ball to Powell.
Del Rio, to his credit, took it like any good quarterback would, admitting that he had room to grow instead of brushing it off, and that's part of why I really like him. And on the flip side, Del Rio did make some really nice throws, demonstrating his understanding of what type of ball needs to be thrown in certain situations, such as the rainbow ball to Callaway for the 78 yard touchdown. Had he tried to throw a laser, the ball wouldn't have had the ability to come down over and beyond the defender, and would have been batted down or even intercepted. Instead, he put some touch on the ball and led Callaway perfectly so that he caught the ball right in stride.
Some other balls needed to be rifled in there. The touchdown pass to Brandon Powell was a quick slant route that opened up a passing lane that wouldn't be there for long (or at least wouldn't against good defenses.) Del Rio immediately noticed the opening and flung a bullet right to him. And on the play before the ball he tried to force to Powell in the end zone, Del Rio was pressured and made a great throw to Powell on the sidelines despite being off balanced. Had he tried to aim that throw instead of just gunning it, he would have been righteously picked.
Put simply, we learned that Del Rio gets it. We've heard all about how he's a coach's son, how he dazzled in practice and how he's a very smart human being. But now we have two weeks of game film to see for ourselves that he's all he's been hyped up to be: a crafty kid with thousands of situations plugged into his head regarding who to throw the ball to and how to get it to them. That doesn't go away. Defenses may get better, passing windows may be smaller and he may be harassed more, but he's not going to lose that tremendous football brain that's made him so effective.
No, he hasn't been perfect. He's missed some throws here and there, made a few questionable decisions and occasionally drawn his coach's ire. But he's a monumental upgrade over Treon Harris, and he's shown the leadership skills and decision making ability to grow into a star- and maybe even a champion.