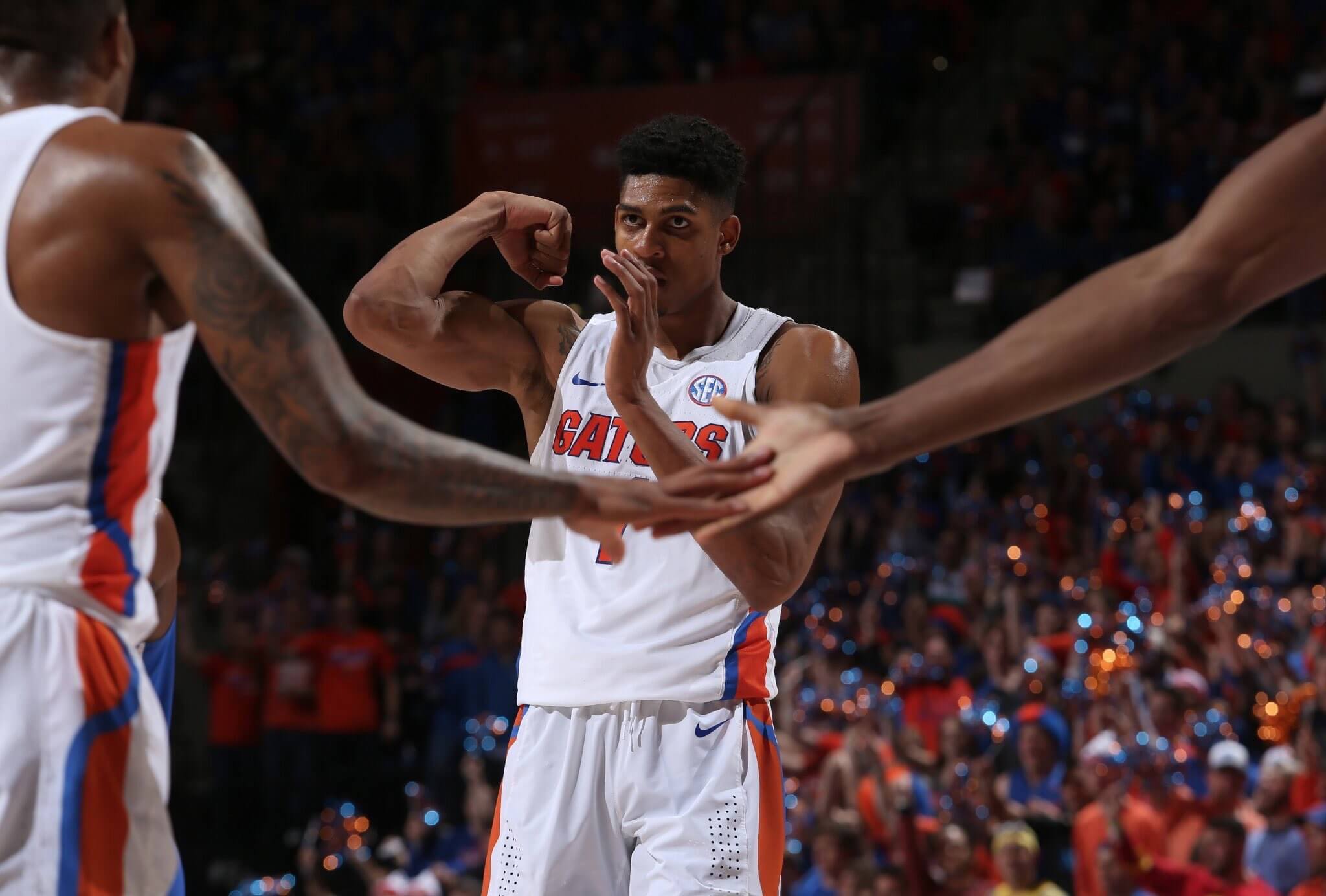 Virginia entered the NCAA Tournament with the nation's highest ranked scoring defense. It left the NCAA Tournament with a historically inept performance against the nation's most opportunistic defense- and maybe the nation's hottest overall team, too.
Devin Robinson and Justin Leon each posted a double-double and Florida held Virginia to its lowest scoring total in its NCAA Tournament history with a dominating 65-39 victory over the Cavaliers. Only on one prior occasion had Virginia been beaten in an NCAA Tournament game by more than 25 points- and Florida was responsible for that one too, a 71-45 spanking of the Cavs five years ago in Omaha.
This one was even more anticlimactic thanks a devastating 21-0 Gator run.
Florida led 19-17 late in the first half when the barrage started. The carnage spanned eight minutes of game action plus halftime and when the Hoos were finally able to break the spell, they'd surrendered 21 consecutive points, two thirds of which came from Justin Leon. That incredible stretch of ineptitude was partially why Virginia finished the night an eye-poppingly bad 29% shooting from the floor. It was also why Florida was able to win so comfortably despite not getting much production out of its two best players, Canyon Barry and KeVaughn Allen, for the second straight game.
Then again, perhaps that's this team's charm. Rather than leaning on stars and resting the team's fate on their shoulders, the Gators have instead grown accustomed to letting whichever of the seven potential playmakers they have has the hot hand on a particular night lead the way. Against ETSU, it was Robinson; tonight it was Leon, who drained a trio of threes during the aforementioned 21-0 run. And when a team hits threes like that, the Cavs' famous pack line defense is essentially rendered useless.
On this night, though, it was the Gators'  defense that ruled. London Perrantes and Marial Shayok combined to shoot a miserable 4-21 from the field, thanks to being blanketed by Kasey Hill and Chris Chiozza. The 39 points Virginia finished with comfortably qualified as their worst offensive output of the season, and had Mike White not called off the dogs and pulled his starters in the final minutes, they would not have even come close.
Virginia didn't exactly help themselves out, either. The Cavs turned it over 11 times, four of which were miscommunications where the ball was literally thrown to nobody and sailed out of bounds. UVA also missed six layups on the night, and had another one blocked. And worst of all, they put the Gators on the free throw line 18 times, of which they made 11.
White's team will leave Orlando with a pair of wins by a combined 41 points. Not bad for a #4 seed that many "experts" said wouldn't even survive their first round game. But given the day's events, this team is suddenly smelling a lot more than just a trip to the Sweet 16.
Up next is a rugged Wisconsin team that, with an upset of Villanova earlier today, has magically cleared a foreseeable path for Florida to do what seemed impossible only a week ago- book a ticket to the Final Four. The Badgers have a size advantage, but are also significantly weaker offensively than Villanova and thus won't engage the Gators in the type of track meet they wouldn't be able to win with anything less than the best efforts of both Barry and Allen. Should the Gators get past the Badgers, their Regional final opponent will likely be Duke, a team that they played tough on the same floor that they would play them on again almost four months ago.
And this all seems real now, because just eight days after flopping out of the SEC Tournament with their third loss of the season to Vanderbilt, the Gators are suddenly two wins away from returning to college basketball's biggest stage. This team has plenty of issues, from the lack of size John Egbunu's ACL tear leaves them with (although sleep on Gorjok Gak and Kevarrius Hayes at your own risk) to the recent struggles of Barry and Allen. But the NCAA doesn't hand out the trophy to the best teams on paper, the most naturally talented team, or even the most deserving team.
No, the NCAA hands out the championship trophy to the team that wins six (or in the case of a First Four team, seven) consecutive games in its postseason tournament. How those wins come to happen is irrelevant. And Florida, despite its flaws, is a third of the way there.