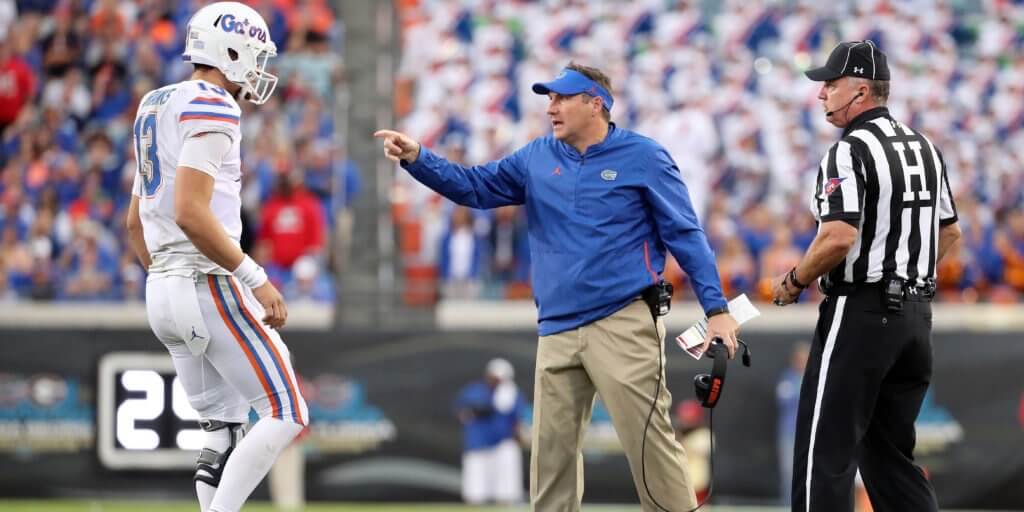 Side note: this is a guest article written by a Gator fan who keeps his real identity private, but who is active on Twitter @whostheboff.
Pretend for a minute that instead of the garnet & gold of Florida State, the Gators were facing a similarly-colored University of Minnesota team this weekend.  They, too, sit at 5-6.  Would Gator fans expect a win?  I bet they would.  After all, computer analytics
have the Golden Gophers as the 61st best team in the nation (Gators are 24th).
So why, then, do most Gator fans seem to be in the fetal position about playing FSU,
which actually is one spot WORSE than Minnesota in computer rankings.  What is it about  that stupid spear that seems to have Gator fans reaching for the Xanax?
Yes, FSU has beaten the Gators 5 years in a row, an all-time high.  But let's look at
the state of the teams during those years (based on the same computer rankings):
2013: FSU #1, UF #53
2014: FSU #16, UF #26
2015: FSU #12, UF #28
2016: FSU #8, UF #14
2017: FSU #28, UF #67
As you can see, FSU has been better than the Gators every year for the past 5.  That, my
friends, is why they've won.  They had the better coach and roster every single time.
Now, let's look at 2018.
Offensive efficiency:
UF #33, FSU #106
Defensive efficiency:
UF #26, FSU #36
By now the average Gator fan is thinking "BUT FELEIPE FRANKS!"
I'm glad you brought that up:
Feleipe Franks:  58.2%, 7.4 Y/A, 20TD, 6INT, rating 140.5
Deondre Francois: 57.8%, 7.0 Y/A, 14TD, 10INT, rating 123.6
Let's be clear.  This is a game the Gators should not only win, but win fairly convincingly.
Yes, FSU has a lot of talent, but other than their game vs Wake Forest, they have been
BAD im pretty much every game.  They have averaged under 20 points per game vs power 5 opponents.
They lost by 23 to Syracuse.  They lost by 19 to NC State.  Their best win was a squeaker
at home vs Boston College (#34 in computer rankings), who, had their coach not been afraid
to go for it on 4th & 1 at the FSU 40 yard line, probably would have won the game.
It boils down to this.  Unless FSU plays VASTLY better than they have all year, coupled
with the Gators playing VASTLY worse (and don't bring up Mizzou, which checks in at #17 in
computer rankings), this is a Gator win, probably by a comfortable margin.
So, the next time you want to curl up in the fetal position on the topic of FSU, just
pretend they're the Minnesota Golden Gophers.