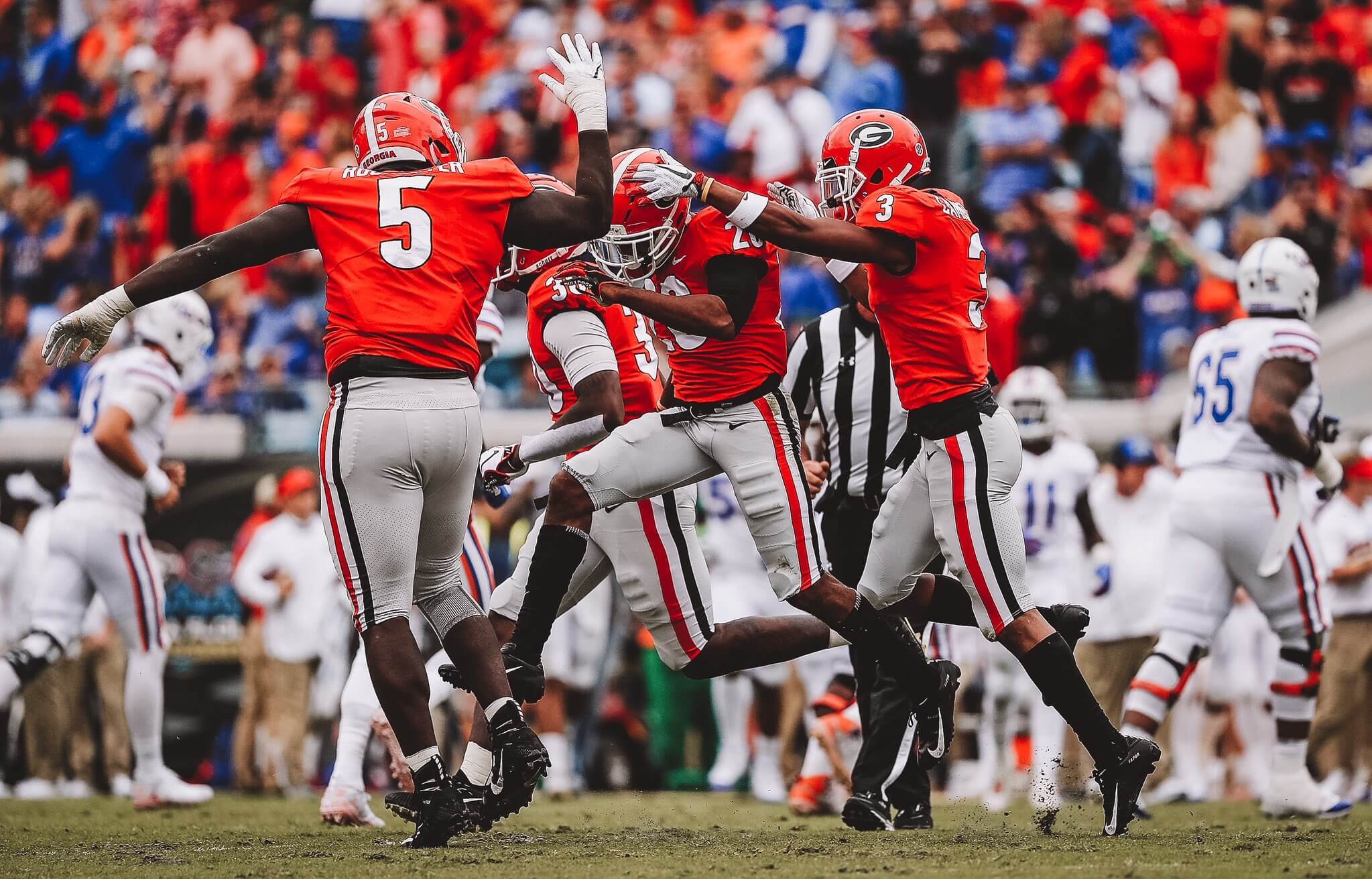 Florida had the better coach. Georgia had the better team. 
Chalk up a data point in favor of the old Bobby Bowden saying, "you win games with Jimmy's and Joe's, not X's and O's." In other words, as creative as Dan Mullen was, and as admirably as his Gators fought, Georgia- the team with by far the superior sum of talent- was too much for Florida. And when it was all said and done, all Mullen could do was fling his visor in frustration after yet another loss to Georgia.
Mullen can't reasonably shoulder the blame for his third loss to the Bulldogs in his fourth game against them, though.
Though the Gators hung in for three and a half quarters, they were ultimately doomed by horrendous quarterback play, a profound lack of depth in the secondary, and an inability to make big plays on either side of the ball. Feleipe Franks turned in arguably his worst game of the season, totaling a paltry 105 yards through the air- just one more than Georgia's DeAndre Swift rushed for- and Jake Fromm made a habit of abusing backup corner CJ McWilliams, including twice for touchdowns, after starter CJ Henderson left the game with an injury. You want a scapegoat for such a frustrating issue? Sure, if you insist: blame Jim McElwain for not recruiting better talent across the roster, because the players he did recruit got thrown into a situation they would otherwise have no business participating in, and consequently got exposed by a very good opponent. And it killed the Gators.
The first clue that Florida was headed for a loss was on the inaugural snap of the game for the Gators, when Feleipe Franks overshot a wide open Van Jefferson on a flea-flicker that Mullen dialed up to try to grab momentum. A good throw, and Jefferson would have scored with ease; an adequate throw, and Jefferson would have at least had a 30+ yard gain. Instead, Florida had nothing to show for the separation Jefferson had aside from an incomplete pass. Moments later, Jordan Scarlett fumbled, and Georgia's Richard LeCount took it back inside the red zone. That led to Fromm hooking up with Jeremiah Holloman over CJ McWilliams on the left side of the end zone painted in the red Georgia wordmark and a 10-0 Georgia lead. The frustration mounted when Florida appeared to have a nice drive going that looked like it could net some points, but Franks ruined that idea with an ugly interception on a woefully under thrown ball down the left sideline.  
To their credit, the Gators punched back. Florida spliced together an impressive 14 play, 76 yard drive that featured heavy doses of LaMical Perine and Jordan Scarlett, a cameo by Emory Jones, and one nice throw from Franks to Josh Hammond that Franks capped off by willing himself into the end zone- a solid display of guts and selective memory after a cataclysmic start to the game, to be sure. The Dawgs then ended the half by knifing through Florida's defense on a suspiciously conservative defensive drive called by Todd Grantham and kicking a field goal to double their lead to 13-7 at halftime.
To their further credit, the Gators punched back again. Franks was misfiring left and right throughout the first 30 minutes, but came right out of the locker room to hit a crossing Freddie Swain on an absolutely beautiful 37 yard touchdown strike that split through the closing safety and corner. It was, truth be told, an astonishing turn for Franks, and an extremely impressive play given the absolutely awful start he had to the game. To put all the ugly mistakes he'd made to that point out of his mind and make a throw like that is to be commended- a throw that, by the way, gave Florida its first lead of the game.
It didn't last long, though.
Back came Georgia on a seven play, 72 yard touchdown drive that put the Bulldogs ahead for good. Again it was Fromm to Holloman for the score. Again, it was on the left side of the end zone painted with the red Georgia wordmark. And again, it was McWilliams who got roasted on the play. Try as he might, McWilliams just couldn't hang with the bigger, faster Holloman, who jawed at him on his way back to the bench.
The aggravation with the modestly talented Gators reached a fever pitch when, down 20-14 and backed up to his own goal line, Mullen called an ill-fated designed QB run for Franks. The idea behind the call was to provide some breathing room for Florida to run the offense. Instead, Franks provided some breathing room for Georgia on the scoreboard by fumbling the ball away and setting the Bulldogs up with a first and goal from the one. It was only because the Gators' defense staged an incredible, seven play goal line stand that featured a pass interference penalty on McWilliams to set up a fresh set of downs that Georgia only got three, and not seven, points out of Franks' error. Wonderful as the effort from the Florida front was, though, Georgia did push its lead to two scores.
The Gators had one more flurry in them, though. Florida drove across midfield and promptly sent Jones back in for another cameo. Jones launched a beautiful deep ball to Van Jefferson, who would have caught it for a 49 yard touchdown had Georgia's Tyson Campbell not (smartly) tackled Jefferson for an obvious pass interference call. Per college rules, that's not a spot foul, but a mere fifteen yard penalty. Florida then went back to Franks, sputtered as expected and settled for an Evan McPherson field goal.
Then Georgia put it away.
Florida's defense, which had on the whole played extremely well despite not generating much of a pass rush or being able to do anything about McWilliams getting tormented, finally caved. The Bulldogs mounted back to back touchdown drives, first scoring on a 24 yard pass from Fromm to Terry Godwin before Swift delivered the coup de grace with a 33 yard touchdown run.
And thus, Georgia had its second straight win in the World's Largest Talent Disparity. 
Florida is making strides to narrow that disparity, though, as best demonstrated with its elongated goal line stop. The Gators, already well ahead of schedule in year one under Mullen, are on pace to reach a New Year's Six Bowl if they win out- and given that Florida will almost surely be favored in each of their last four games, that's no longer a pipe dream, but a real possibility.
Yes, Florida still has an unwinnable quarterback situation, and no depth to speak of in the secondary. But keep in mind that this is not Mullen's team. Thus, this is as bad as a Dan Mullen team is likely to ever look.
And that means that it only gets better from here.